Enterprise Content Management Trends in 2015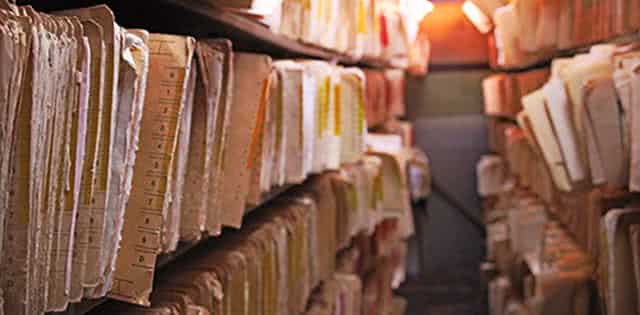 Listen — do you hear that noise? Yes friends, that distant low-frequency rumbling is the sound of oncoming change in the exciting world of enterprise content management. From the expansion of applicable users to the adoption of new features, 2015 is bringing a new wave of trends that are looking to reshape the content management landscape for the better.
For those of you who don't already know, enterprise content management (or ECM as we like to call it) is defined by the Association for Information and Image Management as "the strategies, methods and tools used to capture, manage, store, preserve and deliver content and documents related to organizational processes."
In other words, ECM is how businesses organize their content and make it easily accessible to employees. As ECM systems maintain their place as the linchpin of many a successful business, it's important to stay on top of the latest innovations to ensure your organization finds a match with the most advanced solution possible. Below, we've compiled an overview of the ECM industry's next evolutionary steps, so that you can select the right solution for your company.

Enterprise No More

2015 is looking to take the "enterprise" out of enterprise content management. Since information is coming at companies of all sizes from more directions and in larger quantities than ever before, ECM is no longer an option exclusive to business' biggest players. Small and medium-sized companies are discovering that content management is becoming increasingly important to utilize in today's fast-paced environments, and ECM providers are responding with new product strategies.
With the latest enterprise content management trends, we're seeing ECM platforms broaden their customer focus through the sectioning of their API-centric services like cloud/advanced storage, real-time file sharing and synchronization with mobile devices. As has become standard in other industries, organizations can now pick and choose services to create a custom solution that works the way they want it to, regardless of size. This way, small and medium-sized businesses can get the ECM benefits they desire without breaking budgets.

Mobile Content Management

Mobile devices are here, and they are here to stay. It almost goes without saying that having an ECM solution that includes fully featured mobile support has never been more important; half-baked mobile integrations with limited functionality are no longer going to cut it. In 2015, the best ECM software will include the ability to access, optimize and edit documents, ensure compliance, monitor security threats and share content while on the go, if not be close to 100-percent mobile compatible. By empowering you and your team to stay connected, a mobile-supported ECM platform will give your organization that extra leg up on getting the job done.

Hybrid Cloud Solution

A big trend this year is increased security. While cloud features are currently all the rage, keeping the entirety of your company's sensitive information stored remotely is appearing to be less of a convenience and more like a potential liability. In turn, many ECM solutions are starting to shift their hosting to hybrid solutions. Having a hybrid solution combines the conveniences of cloud infrastructure with the security benefits of keeping important data stored locally. Rather than choosing one or the other, the ECM providers of 2015 are becoming both flexible and safe. When looking for an ECM platform, check to see that it has the options that meet any and all security needs in regard to hosting.

Collaboration and Social Tools

At the pinnacle of an era of social media adoption, it's no wonder that 2015 finds vendors injecting similar social tools into the bloodstream of enterprise content management. True collaboration now goes deeper than just file sharing. The best ECM platforms have risen to the top with strong combinations of communication and efficiency features, like integrated team and task management, which are designed to produce measurable results. With these tools, ECM in 2015 can help your employees define their workflows and project spaces in one central place, leading to faster and stronger work output. Facebook-style communications like commenting, tags and notifications are also making their way in to the best solutions, offering teams a means to connect more intimately. Some ECM providers, like Huddle, even integrate with fully fledged social networks (such as tibbr) in order to foster a positive, goal-oriented community within an organization.

Open Source Systems

Open-source ECM platforms like Alfresco are on the rise, and provide many unique advantages for businesses in 2015. Firstly, with a larger pool of eyes looking at and improving the code for your software, you're more likely to have a system that quickly irons out the kinks, squashes any annoying bugs and stays up to par with the latest security features. Compared to proprietary software, you'll receive much more for your money in terms of both features and overall reliability.
In addition, features will be easier to integrate into your existing architecture with open source, resulting in a greater level of viability for your business for the long term. If your company is bold enough, a smart implementation can leverage open source platforms to your advantage in powerful ways.
Comparing all the best ECM solutions can be quick and easy with our informative Top 10 Enterprise Content Management Report. When you're ready to look at your options, take a peek and download the report for free here!
[Image courtesy of Marino González]