From the Community: ERP for Manufacturers of Non-Standard Products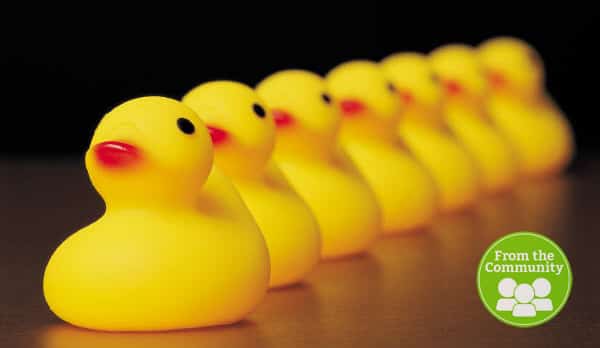 Welcome to From the Community, where we highlight questions from our community members. Join us each Friday as we dive into the featured inquiry. To submit your questions, head over to the Business-Software Community.
Despite the wealth of information Google delivers with each search query, it can be difficult to find unbiased, helpful information about business software. For instance, even with thousands of white papers and blog posts on ERP software, most implementations still fail. Luckily, we're committed to answering your ERP business software questions as thoroughly as possible.
This week's question comes from Linda P., who is looking to find an easy-to-implement, inexpensive ERP for manufacturers of non-standard products. Linda isn't the only ERP buyer who seeks a solution that's both inexpensive and easy to implement. For many businesses, a rough ERP implementation can result in little to no ROI from ERP systems. For manufacturers of non-standard products—such as job shops and other businesses that produce made-to-order products—the time and monetary costs of a failed ERP implementation can be disastrous.
A Non-Standard Manufacturer's Unique Needs
Manufacturing companies need a robust ERP solution that can manage every aspect of the business, from demand planning, supply chain management, shop floor operations, HR, marketing, financials, MRP, inventory, CRM and sales. Without a comprehensive, multi-faceted ERP, manufacturers will find that many important processes fall through the cracks.
More so than with standard manufacturing companies, non-standard and made-to-order product manufacturers have unique needs. These businesses must operate with supreme accuracy to effectively produce various custom runs and orders. More than anything, non-standard product manufacturers need flexible software that can handle a variety of demands with precision and efficiency. For many businesses, a general, run-of-the-mill ERP solution doesn't provide the specialized functionality needed. The right ERP solution will help manage and streamline changing requirements, inventory management and production processes.
The Best ERP for Manufacturers of Non-Standard Products
We've rounded up some of the top ERP solutions for manufacturers that produce custom products. Each of these solutions is affordable and relatively easy to implement (of course, keep in mind that every worthwhile ERP solution takes skill to implement correctly).
1. IQMS EnterpriseIQ
EnterpriseIQ is a robust ERP solution that's fully scalable to handle the needs of all sizes of

manufacturers. Aside from a comprehensive collection of ERP modules such as CRM, accounting and BI, IQMS also provides solutions that can benefit made-to-order manufacturers and job shops. With pre-configured bills of material (BOMs), manufacturers can choose from a variety of industry-specific and standard BOMs that are defined by the manufacturing processes for complete flexibility. Additionally, EnterpriseIQ can automate BOM configuration on the fly to meet customers' specific, ever-changing requests.
EnterpriseIQ also offers advanced inventory management tools that can store, track and fulfill orders based on real-time information from the manufacturing floor, warehouse and vendors. This function allows manufacturers to react in real time to requirements and requests that are constantly changing. Lastly, a collection of real-time monitoring and data collection tools can be utilized to manage all aspects of production as parts are being made, ensuring a high level of accuracy and attention to detail. EnterpriseIQ is a great ERP for manufacturers of both general and non-standard products.
2. OpenERP
Open source ERP solutions often provide significant flexibility while remaining cost effective and eas

y to implement. OpenERP offers a staggering 3,837 business applications and models, making it a great solution for manufacturers that need pick-and-choose capabilities. The MO for Non Standard Manufacturing Products application lets companies create manufacturing orders (MO) without a defined BOM. This community application will create an MO with just an incoming shipment, while ensuring there are no errors in procurement.
Despite the flexibility and customization properties of OpenERP, these solutions aren't right for everyone. To see if your manufacturing company would be a good fit for this open source solution, browse our From the Community post that covers the pros and cons of open source ERP software.
3. Exact JobBOSS


JobBOSS ERP shop management software was specifically designed for small and midsized made-to-order or contract manufacturers. Therefore, this solution provides numerous tools that can help manufacturers of non-standard products execute successful runs. This ERP solution boasts real-time information on production processes and comprehensive material requirements planning (MRP) that is both flexible and highly accurate.
Most importantly, JobBOSS was built to handle and manage ever-changing prototypes, production processes and manufacturing environments, with an emphasis on providing advanced visibility into day-to-day activities. The company's training and support options can mitigate implementation risks and ensure that your solution will be up and running quickly.
Since it's important that ERP for manufacturers of non-standard products contain specific functionality, be wary of any general solutions that claim to do it all. Thankfully, there are plenty of software options that provide real-time visibility and flexibility to satisfy the unique needs of non-standard and made-to-order manufacturers.
Does your manufacturing business need a flexible yet comprehensive ERP solution? Browse our Top 20 ERP Software report to find side-by-side comparisons of the industry's leading solutions. For helpful blog posts and product reviews on manufacturing-specific solutions, head on over to the Manufacturing research center.