Reduce Fuel Costs with GPS Tracking Software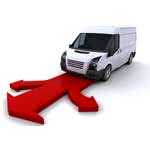 Unfortunately, the cost of fuel isn't something fleets can hide from. We all know prices will continue to fluctuate and there's nothing we can do about it. But, what you CAN do, however, is be proactive in keeping your fuel costs down. A GPS fleet tracking software solution is the ideal tool to keep your fuel costs under control. Here are a few real life examples demonstrating this:
Reducing Idling
A large equipment rental company stated that they "want to save $100,000 on fuel" in the upcoming month. In order to accomplish this, an alert stating "Turn your truck off" was sent via SMS and/or email to the driver of a respective vehicle after seven minutes of idle time, and every two minutes thereafter until the vehicle was turned off. After 15 minutes of idle time the message was also sent via SMS to their Supervisor. In the first full month after implementation, this customer saved over $100,000 in fuel, reducing their total fuel consumption by nearly 28,000 gallons. These cost savings alone nearly tripled the amount of the total monthly spend on GPS tracking software.
Optimized Routes
A large energy corporation decided to implement GPS tracking and navigation in order to efficiently dispatch and communicate with their technicians and provide turn by-turn directions. The dispatch functionality optimizes their routes and sends them out wirelessly to each vehicle's Garmin, leading to significantly fewer miles driven. This company reduced their fuel consumption by approximately 560 gallons in the first month the system was deployed, equivalent to approximately $2,250 in fuel savings with gas at $4 per gallon. They report that they are currently saving almost $200 a month per vehicle by effectively utilizing GPS tracking and navigation. With dispatch functionality alone, they're saving 5 times more than the monthly cost of GPS tracking software service.
GPS fleet tracking software will help you save on fuel costs, which you otherwise wouldn't be able to control. In addition to cutting idle time and optimizing routes, you can also keep fuel costs down by monitoring speeding, unauthorized usage, fuel card fraud, and maintenance.
Want more on GPS Fleet Tracking? Browse additional blog posts, product reviews and top 10 reports using Business-Software.com's Field Service Management resource page.