Google Drive and Microsoft SkyDrive Entering Cloud Storage Space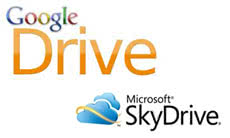 This week, both Google and Microsoft announced their new cloud storage services, bringing up questions of whether rival Dropbox will continue to dominate in the cloud storage and file sharing sphere.
On Monday, Microsoft announced new SkyDrive apps, updates to their cloud storage service, as well as the fact that they're reducing the amount of free storage from 25GB to 7GB. That seems like a huge decrease, but in their statement released Monday, Microsoft determined that 7GB was plenty of space for 99% of SkyDrive users. Existing users who want to keep their 25GB limit are free to do so, and those with over 4GB already in use will be grandfathered in automatically, but those under $GB will need to opt-in manually, and new SkyDrive users will enter in at the 7GB limit.
The new features include deeper integration with Windows 7 and 8, as well as the Mac OS, in addition to Windows Phone, iOS, and Android apps. If you've ever used any sort of cloud storage system, then SkyDrive will seem pretty obvious to you as bears a striking resemblance to Dropbox and Apple's iCloud; but it's still a huge step for people who use Microsoft products almost exclusively. Now that it's available on Mac, even those who use a Mac at home but a PC at work can benefit from SkyDrive's new capabilities. However, as one of those people myself, I don't anticipate signing up for SkyDrive anytime soon.
I will, however, be signing up for Google Drive. Google has been teasing the world with it's "GDrive" for nearly six years, and they've finally started rolling it out this week. Perhaps in response to Microsoft's SkyDrive announcement? The basic service is free, of course, giving users 5GB of free storage before you have to start paying up, but that's nowhere near enough for businesses that want to make use of Google Drive. On that front, Google Drive as a business app will be available as well. At the moment, it's available for PC, Mac, and Android devices, with iPhone and iPad capabilities coming at some other point in time.
As someone who uses a ton of Google Apps both at work and at home, I can definitely see the appeal in Google Drive. Dropbox is a terrific, simple, easy-to-use service for storing my files in the cloud, but their free space only clocks in at 2GB, which can't even compete with what Google Drive and SkyDrive are offering at the outset. My Google Drive account hasn't been enabled yet, so I'm curious to see how it will stack up compared to Dropbox.
As far as the paid storage goes, Microsoft is winning that battle. Google Drive storage is pretty expensive, with 25GB at $30/year and 100GB at $60/year. Microsoft on the other hand is offering additional storage on SkyDrive at 20GB at $10/year, 50GB at $25/year, and 100GB at $50/year. However, Google Drive has even more storage plans available, up to the terabyte level, and that pricing structure can be found here. Clearly, Google wants to be the preferred cloud solution for companies of any size, not just for personal cloud storage.
What do you think of the players so far? Can you envision your company making heavy use of these solutions. If you already use SkyDrive, let us know in the comments what you think of it.
Want to access more information on top industry trends and news? Browse our complete collection of software news by visiting the News & Trends section of the Business-Software.com blog.