Mobile Business App Review: Box Content Sharing and Management

We recently mentioned Box content sharing in our list of the top enterprise startups of 2012, and we realized that we hadn't done a review of their mobile app yet. We'd like to remedy that today by doing an in-depth review of the Box apps for iPhone and iPad, especially since they're currently running a promotion in which anyone who has Box for Personal automatically gets upgraded to a 10 GB account if they download the app to their iOS device. That not only doubles the amount of storage that you have on Box, but it also blows Dropbox and Google Drive out of the water in terms of free storage.
Now on to our review of Box's iPhone and iPad apps. Both are free to download in the app store, and setting up a Personal account with Box is free as well.
Box Content Sharing on iPhone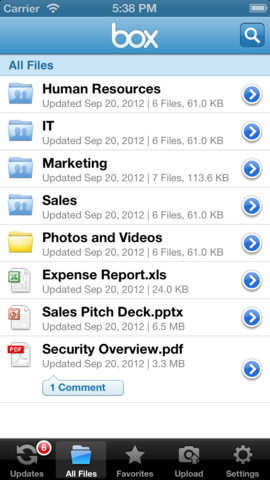 Everything that you can do in Box is pretty much available on the iPhone app (full feature list here), except for creating new documents. The UI is very simple and easy to navigate, which is of the utmost importance in being able to manage your files. There's a handy search bar at the top of the screen that makes it even easier to find what you're looking for, and  you can upload photos and videos easily, as well as create new folders. You have the option to view your files in other applications, like Dropbox and Evernote, but I don't really see what the point of that is since you can view your documents in Box as well.
For whatever reason, you can't edit files from within the app, but that functionality is made possible by integrations with third party apps like Polaris and Documents To Go. While it might grow a little tiresome to move back and forth between two apps in order to edit your files, it certainly beats not being able to do anything except look at them. Also, both of those apps are kind of expensive ($9.99 and $16.99 respectively), so unless you're really the sort of person who absolutely has to be able to edit files on your iPhone, you're probably not interested in investing that kind of money in a document editor.
Aside from the file editing and creation hiccups, the Box iPhone app is great for viewing and collaborating with others on your content. At the very least, you can leave comments on your files to remind you to change or edit something later.
Box Content Sharing on iPad
The iPad Box app also includes all the same functionality as the iPhone app, but it has the added benefit of giving you the ability to create and edit documents through free third party apps, like CloudOn. Since the apps are universal, there's really very little difference in features between the two, but of course being able to create and edit files is a big bonus on the iPad since you have so much more real estate to work with. For whatever reason, iPad app developers seem more willing to give away their services, and so finding a free file editor for your iPad should be no problem.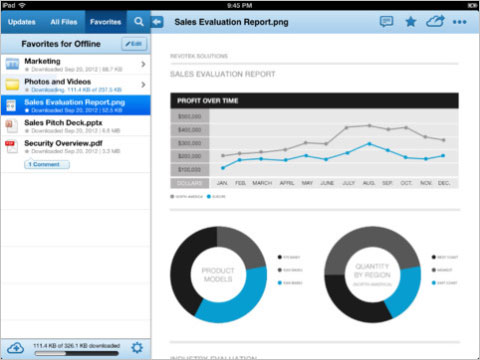 The iPad app is also consistent with the general UI of the iPad's systems, with menus that dropdown on the left side of the screen, making it very easy to navigate. The only issue I had with it related to the collaboration features. Even though you can see that a file or folder is shared with other people, you can't see who those people are or send them any @ replies in the comments (which you can do in the web interface). I feel like this is kind of a major oversight since a lot of the appeal of Box is being able to share and collaborate with others.
Box Content Sharing: Bottom Line
Despite the few inconveniences, these are two really solid, incredibly useful apps for anyone who wants to be able to share, manage, collaborate, create, and edit documents on the go. Unlike on our list of the worst mobile business apps, Box has actually done things right with their app. Not only do they include a majority of the same functionality as the web and desktop applications, but they're also easy to use with an intuitive UI that continues to get better and better with each new release. Clearly they're working very hard over at Box to put out a superior product, and it definitely shows in their mobile apps as well.
Since a Personal account is free, there's really no reason why anyone and everyone with an iPhone or iPad shouldn't create a Box account and download this app. Give it a try, and then convince your company that they need to start looking into getting Box for Business or Enterprise. If you're just an individual user, as we mentioned earlier there's currently a promotion going where your free account will be upgraded to 10 GB when you download the app to any iOS device. It only lasts until the end of October, so get your free upgrade fast!
If you're looking for more on mobile business apps you should check our exclusive report on the top 10 Mobile Device Management platforms on the market today.