Top 10 Worst Mobile Business Apps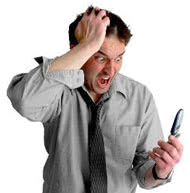 According to reported estimates from Xyologic, a combined total of over 1.13 billion apps were downloaded for iOS and Android in June of this year, and that number is continually growing as more and more people make the switch to smartphones. It isn't exactly necessary (yet) for a software vendor to offer a mobile counterpart to their solutions, but providing an app that's barely more than a viewer does not count as having "mobile functionality." In no particular order, we've compiled a list of the top 10 worst mobile business apps—apps that should (and could!) be offering something more than what their mobile experience currently is.
The criteria for determining which apps made it to this list is based on 1) user reviews in the App Store/Marketplace, 2) frequency of updates, and 3) overall functionality of the app as detailed in the app's description and compared to the parent software/solution. Also, this is restricted to those available in the Apple App store (sorry Android users!). Have you downloaded a terrible mobile app that didn't make it to our list? Let us know in the comments below!

Salesforce's mobile app comes in at 2.5 stars overall (6822 reviews), but only 2 stars for the latest update (26 reviews). With comments like, "Chatter + this app = hopeless," and, "Not only doesn't [the app] improve, but it seems like it has stagnated without major updates in [2 years]," it definitely sounds like functionality and usability are sorely lacking in this mobile app. Additionally, Salesforce only allows you to access certain features based on your current Salesforce.com plan; so unless you're an Unlimited Edition subscriber, the only thing you can do with this app is create, edit, and delete contacts.
Worst Mobile Business Apps – QlikView

At least the QlikView Business Intelligence app is free, because having to pay for this buggy app would no doubt drive users insane. Although it claims to have a public demo server, the data never seems to import properly, which may or may not be an issue with app itself. Either way, the current version of the app has only 1 star (out of 5 reviews) and 2.5 stars overall (255 reviews). Apparently, the app demo hasn't been working for at least six months, and QlikTech has done very little, if anything, to remedy the situation.
Worst Mobile Business Apps – NetSuite

Meant to allow you to access your NetSuite dashboard, customer data, and calendars, NetSuite's mobile app apparently doesn't cut the mustard for even the happiest of NetSuite users. Their latest update from December has only 1.5 stars (from 7 reviews), but the average customer rating for all versions is 2.5 (340 reviews). The main concern seems to be that the app doesn't really allow users to do anything with their NetSuite account except view information, and what people really want to be able to do is input data, create sales orders, and update or change deals and cases. Unfortunately, this app doesn't really allow you to do anything on the go except view your account.
Worst Mobile Business Apps – Asana

This one is more of a productivity app rather than a full-blown business software solution, and Asana's web-based task tracking application is free for up to 30 users, but their iPhone app is pretty sub-standard given the fact that their solution doesn't seem particularly complicated. With only 2 stars for the latest updated version (out 0f 70 ratings), and 2.5 stars for all versions (out of 140 ratings), Asana users generally have issues with the lack of functionality and the sense that the app is nothing more than a viewer when it should be a mobile counterpart to the online software. Of course, you can't beat "free," so I'd say cut Asana a little bit of slack on this one since if you aren't paying for their pro versions of the software.

Judging by the dates on reviews, this app has been around for nearly two years. Yet, there are only 43 ratings for SugarCRM's mobile app, and at least six of those reviews look to be submitted by SugarCRM employees. User reviews of the previous version mostly point out the lack of functionality, such as no calendar or open tasks, difficult-to-use search, and the inability to even sort accounts and contacts alphabetically. Though there was an update in March of this year, it apparently only addressed bug fixes rather than expanding on functionality. The description doesn't really go into detail on what the app is supposed to do, so it's difficult to judge whether they're delivering on their promises or not.

Although the average review is 3.5 stars, a closer look at actual comments reveal that the Quickbooks mobile app from Intuit is pretty bare bones when it comes to functionality. According to reviewers, it lacks "even basic bookkeeping functions like profit and loss, or bank balance," and that the "App is good for looking up customer data…not much good for anything else." Despite the fact that there are a few effusive comments, they seem more like spam or fake reviews than comments that come from actual happy users.

Available on both iPhone and iPad, the mobile app for Adobe Connect is apparently full of bugs and doesn't even allow for basic features such as screen sharing. Users complain of the app crashing their iPads, of a "share" button that doesn't even allow them to share with other attendees, and of never even being able to connect to a meeting at all—making the app virtually useless. The majority of these reviews come on the heels of the app's latest update, which was way back in November; so the fact that Adobe has gone nearly 9 months without addressing these issues with a new update makes you wonder they take their app seriously or not.

SAP has a ton of apps in the App Store, but we're going to focus on SAP BusinessObjects Explorer since it has the most reviews. The UI is pretty basic—there's really nothing about it that sets BusinessObjects Explorer apart or makes you even want to swipe through and explore it. Although there are only 50 overall ratings, the majority of the reviews complain of lack of functionality and the fact that the app is so extremely buggy that they cannot even open it after updating. It's a wonder that it even managed to get 3.5 stars overall.
Worst Mobile Business Apps – Zoho CRM

With only 2.5 stars, Zoho CRM's iPhone/iPad app is not making any waves among users. Granted, most complaints center around the fact that the app is not actually free, just free to download. Rather, you have to pay the requisite monthly add-on fee to use the mobile app, which is $3/user/month no matter which version of Zoho CRM you're using. From a functionality standpoint, reviews state that the app isn't good for much more than looking up contact information. Since the most recent update came only a couple weeks ago, perhaps there's been a significant improvement. However, the reviews don't reflect that, yet.
Worst Mobile Business Apps – Highrise CRM

Despite having a loyal customer base that loves this cloud CRM software, the Highrise mobile app from 37signals isn't doing much to impress anyone. The biggest issue seems to be failed syncing, and if you can't sync your information, it effectively makes the app a waste of space on your iPhone. Most of the negative reviews start out saying how much they love Highrise but can't stand the app. One reviewer in particular states, "Bug fixes are nice, but product enhancements are ESSENTIAL to those of us on the go." Without those product enhancements (such as viewing deals and custom fields), Highrise's app is little more than a contact and task viewer.
For more information on CRM apps–good or bad–and how they measure up take a look at our full listing of blog posts on CRM software comparisons.