Top 10 Business Apps for the iPhone
The rise of the cloud paired with the astonishing growth of smartphone usage has given the term "mobile" new meaning. Mobile apps are changing the way we do business, from mobile payments to on-the-go web conferencing and more. IT departments are scrambling to strategize around the influx of mobile devices in the business place, a trend also known as BYOD (Bring Your Own Device). Whether there will ever come a time when desktop and laptop computers are obsolete remains to be seen, but here's a list of the top 10 business apps for the iPhone that everyone should know about. (Click here for the top 10 Android apps for SMBs.) Please note, all apps on this list are for the iPhone and iPad, except where otherwise noted.
If you're a CEO or a salesperson, or if you do a lot of business travel in general, keeping track of your expenses can be a real nightmare. If you've ever lost an important receipt or if you're the kind of person who holds off on filing an expense report until you can no longer remember what you spent and where, Expensify is the app for you. It allows you to enter and categorize expenses on the fly. Rather than holding on to your receipts, you can take a picture and attach it to your expense report. Expensify meets IRS regulations, so you'll never have to keep a single receipt ever again.
Also consider: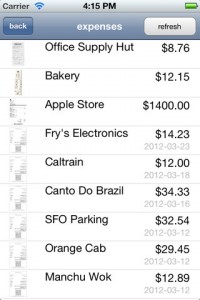 Evernote is the best alternative out there for the standard Notes app. While its note-taking functionality is super easy, the extra features are the real icing on the cake. Evernote lets you record voice memos, take pictures, and add location data, all of which are automatically synced to all your devices, including your desktop/laptop. What's more, the app allows you to organize all your info into categories such as ideas, reminders, etc.
Also consider: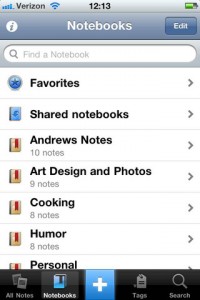 Bento is yet another app to keep track of your day-to-day work while on the road, but this one focuses on every day task management. The app offers a variety of customizable templates such as a to do list, projects, inventory, and more. You can assign due dates, priorities, and more. And while the iPad version far outshines the iPhone app, Bento is a must-have for people who want to make sure nothing slips through the cracks while they're on the move.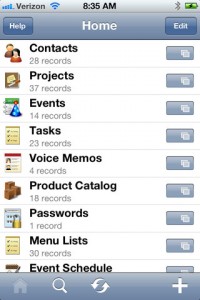 WebEx is a classic: the leading web conferencing solution is also available on the iPhone and iPad. The app allows you to host or join an online meeting on the road. You can view presentations, documents, or a shared desktop from your phone. While it's not currently possible to present anything yourself, you can easily assign presenter privileges to other attendees.
Also consider: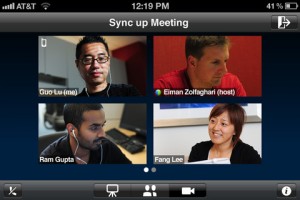 Sparrow on the computer offers a cleaner version of Gmail, with labels, multiple accounts, and a unified inbox. While it's not a complete re-envisioning of the popular Gmail client, Sparrow has found a wide audience due to its user-friendliness. The mobile app carries that same ease of use and clean look over onto your mobile device. Sparrow employs overlaying panes, threads, and search to make your inbox as organized as possible. And the mobile app offers the same integration with Facebook as the desktop app, meaning your incoming messages display your contacts' profile pictures for easy recognition. Skip Google's Gmail app or Apple Mail and go for Sparrow instead.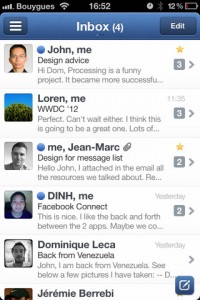 Despite its recent security issues, Dropbox is still a solid player in the cloud storage area, offering 2GB of free storage for all users. Any document stored in Dropbox is secured and can be downloaded or automatically synced to any device, including your iPhone and iPad. Pictures taken with your device can also be uploaded to Dropbox, bypassing Apple's native Photo Stream, which is fickle at best. Dropbox serves as an e-reader of sorts, because documents can be browsed directly in the app.
Also consider: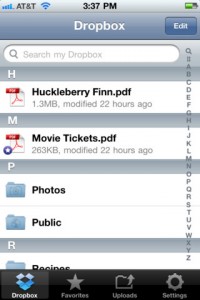 If you need to do more than just view your files, Documents To Go is key. The standard version ($9.99) allows you to create and edit Word and Excel files, whereas the premium version ($14.99) also adds PowerPoint and the ability to edit email attachments. All documents are synced across your various devices for immediate and up-to-date access.
Also consider: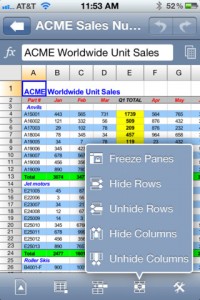 Roambi is a business intelligence hit on both mobile and desktop devices. Specializing in data visualizations and real-time analytics, Roambi has made a name for itself based on its ease of use, the visual appeal of their reports, and their stunning ability to handle everything from basic analytics to big data. Not bad for a free app. Rather than just creating reports, Roambi's app also enables you to quickly share or present them to others. In terms of free BI solutions, Roambi has very little competition.
Also consider: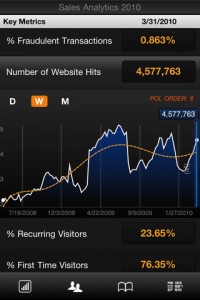 This app may not be for everyone, but considering that QuickBooks is the leading accounting solution for small businesses, it makes sense to include the app version, which has garnered an astonishing 4.5 out of 5 stars in Apple's App Store. What's so good about it? QuickBooks Mobile allows you to create and edit clients and handle a variety of electronic documents such as invoices, sales receipts, and job estimates. QuickBooks Mobile is synced to QuickBooks online, so your data is immediately accessible from anywhere.
Also consider: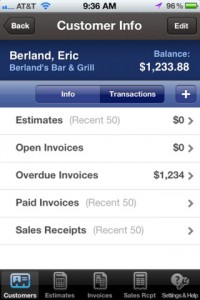 This one is last on the list, because even though iPhones and iPads can do a lot, they can't (yet) do everything a desktop or laptop can. Enter LogMeIn, an app that allows you to log in to your regular computer remotely and access all your programs and documents on your mobile device. The only catch: you'll have to install the LogMeIn app on your home computer before you can access it through your phone or tablet.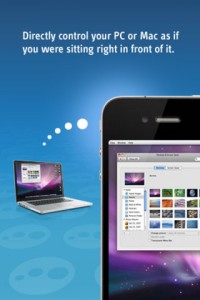 Looking for more reviews of top software solutions and tools? Head over to the Expert Picks & Reviews section of the Business-Software.com blog for top product reviews, deep dives, the best free software and more!