How to Harness the Power of Data Management Platforms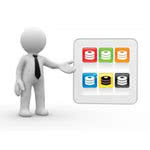 By Chase Bruch
Big Data… the term has received immense attention over the past few years. The reality is that digital information has permeated the world in which we live. Every minute 204MM emails are sent, Google receives 2MM search queries, 100k tweets are tweeted and Facebook users share 684k pieces of content. The volume and velocity of information is astronomical! With the proliferation of data and the understanding of the opportunities it provides, marketers must look to harness this resource with data management platforms (DMPs).
Data Management Platforms
The options for selecting a DMP can be overwhelming! Ranging from relatively cheap to exorbitantly expensive, from complete do everything packages to barebones single channel solutions, the choices are perplexing. There are platforms with built-in attribution modeling, automated optimization rules, cross channel management–you name it–there is a platform that provides it. However while many options exist, there is no clear software operating above and beyond the pack. A technology winner is yet to be determined and this leads to a crowded, confusing marketplace.
To highlight some of the vastly different choices we can start with some of the most popular tools provided by Google. Google Ad Words and Google Analytics are free platforms and a standard in digital marketing management. They are free, effective and generally can get the job done. However for more complex tracking strategies, increased analytical options, and more detailed campaign management, a more robust tool is often required. The pricing and functionality extends dramatically from here with multi-module tools such as Adobe Omniture, Kenshoo, Marin and bluekai, to name a few. While these platforms have their own relative strengths and weaknesses, fundamentally they seek to perform the same functions: manage and aggregate your data in an insightful, actionable and streamlined manner.
Combining Disparate Sources
After analyzing the current landscape, one solution has bubbled to the surface. In order to harness the power of disparate Big Data it becomes necessary to operate outside the "box," literally. The philosophy is to rise above the noise and become platform agnostic. The philosophy is not to commit to a singular and often expensive DMP solution. Instead a marketer can protect against these silos by handling the data sourcing directly.
By moving away from one distinct platform, harnessing the raw data pieces and sourcing this material into a customized in-house database, the data is less constrained. For example one could retrieve paid search data from Google Ad Words, conversion data from Kenshoo, phone call metrics from Keymetric, and bring the different elements together into one space. This accomplishes a great deal of data integration that a traditional DMP cannot handle and embeds a level of ownership and flexibility that is near impossible to gain from current DMP offerings.
Benefits to Platform Flexibility
The benefits of taking control of the data are extensive. For one, granular requests that can often "time out" in traditional browser-based DMPs are no longer a concern. The detailed information is stored in-house thereby mitigating functionality issues that arise with high-volume campaigns. Another benefit of this strategy is the ability to build out reporting and optimization functionality directly from the data. Because the data resides within the marketers' server space, the media manager can get "hands on" with the information quickly and easily, ultimately driving efficiencies and ROI. Finally, another benefit is on-boarding new clients. With a platform agnostic infrastructure it is not an issue if the marketing data comes from Omniture, Kenshoo, Ad Words or elsewhere. The data will be retrieved and placed into a database streamlined to accept multiple sources.
In a complex environment data management is integral to successful digital marketing. Understanding the pros and cons of data management platforms is pivotal to selecting the right tools for the job. In instances when no clear dominant platform exists, a creative in-house solution empowers the marketers to better control the data. Flexibility, customization and automation are all byproducts of a successful in-house platform. By becoming platform agnostic a marketer can break the chains of pre-existing data platforms and create their own optimal solutions to drive efficiency and revenue.
Ready to find the best Big Data BI software solution for your company? Browse product reviews, top blog posts and premium content on our BI resource center page. To compare the leading business intelligence software, download and browse the Top 10 Business Intelligence Software report for free.
[This post originally appeared on Asking Smarter Questions and is republished with permission.]