HR's Next Frontier: Predictive Talent Selection Software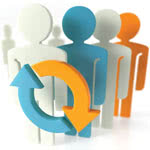 These days, the hiring process seems to run the gamut, from haphazard to extremely stringent; yet, all with pretty much the same risk of hiring the wrong candidate. Hiring best practices have organically changed over time, but at the core, the process remains the same: resume scan, interview, interview, interview and, finally, tedious reference checking (if that).
Even prolific companies like Google, who recently changed their average "29 interviews prior to hiring to 4 to 9," have had to tweak hiring protocol upon realizing that their process offers little insight into how the candidate will actually perform.
But what if organizations did have the ability to predict a candidate's success rate? With automated pre-hire assessments, it's not impossible.
The Ineffective Hiring Cycle
Picture this: you arrive at work 20 minutes early to get settled in. You grab some coffee, log on to your computer, check email (if it hasn't already haunted you the previous night and that morning) and start hammering away at responses. Then a meeting, another meeting, a follow-up from the meeting and… the 2:00 interview you totally forgot about! You scramble to find the candidate's resume and mentally review your standard interview questions while walking to greet the candidate.
What's wrong with this picture? Are the interview questions even geared towards the job role? What about understanding what talents work best in the role? Are the same questions being asked to each candidate across the board? Or, really, is the process just a subjective, off-the-cuff mess? Even the best hiring managers can get caught up in this cycle, relying on subjective, unstructured screening to identify their employee investment opportunities.
The average hiring cycle can take up to 2-3 months, which includes the average manual reference checking time of up to 2 weeks. That's a lot of time spent, or, rather, wasted, when the new hire subsequently performs poorly or leaves. In this age of information, there is a better, more efficient way to predict a candidate's viability: predictive talent selection.
Predictive Talent Selection: The Plan of Action
Predictive talent selection is a method for continuously reducing uncertainty about a candidate's ability to perform well. It removes the gut instinct and disorganization that lead to bad hires.
So, how does the predictive talent selection process work? Through structured, job-relevant activities that incorporate science to formulate a predictive structure. The outline of the process is provided below:
Identifying New Hire Criteria: Through a thorough job analysis, in which anecdotal stakeholder information, standard job profiles, subject matter interviews and employee performance data are compiled, stakeholders gain a deeper understanding of what it takes to be a top performer in a given position. This generates a benchmark for traits, competencies and skills against which candidates can be measured.
Developing a Hiring Strategy & Action Plan: A successful plan includes which hiring tools will be used, when such assessments will be administered, who is responsible for data collection and assessment administration and how the entire process will be measured.
Selection Execution & Management: The strategy and documented plan need be executed, leveraging the initial profile through the entire pre-screen and screening processes. Candidates are measured against the profile through job-relevant behavioral and situational questions that garner deeper insight into the candidate's performance potential. Post-hire performance data is measured to ensure the process is effective and such data is fed back into the system for further criteria refinement.
Predictive talent selection software streamlines these activities, developing a structured benchmark and inherently leveraging that benchmark through initial personality assessments, organized interviewing and automated reference checking. The basis in behavioral science ensures that hiring managers are accessing accurate, job-relevant information. In layering such predictive solutions, hiring managers continuously reduce uncertainty about a candidate.
What's more, with an automated solution in place, data gathering and manipulation is not only instantaneous, but the results are more easily shared with stakeholders. In layering such predictive solutions, hiring managers continuously reduce uncertainty about a candidate.
Better Hires in Less Time
Taking a more objective approach to hiring seems like a no brainer-and it is. Using predictive talent selection software not only streamlines the process by mapping a succinct plan for both the hiring manager and other stakeholders, it better aligns the selection process with key business objectives, such as improved customer service, sales or increased retention rates. The scientifically grounded software covers the process from pre-screening all the way to automated reference checking, offering up to 90-percent timesavings in certain activities.
The new hiring frontier is here, and it has arrived in the form of behavioral science based predictive talent selection software.
Want more information on the top HR software solutions? We've compiled helpful product reviews, blog posts and premium content on our human resources research center. To compare the top HR software products by pricing and key features, download one of our Top 10 Human Resources Software reports.