IBM Chooses Cloud Upstart over Oracle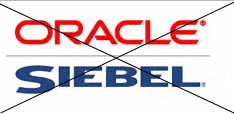 Yesterday, we talked about how giants like Oracle may be losing ground as a hardware provider thanks to the continuing growth of SaaS and Cloud solutions. But, hardware may not be the only segment that Oracle is losing its dominance in. IBM, a leader in its own right as a software and hardware provider, recently announced that it would be dropping Siebel in favor of SugarCRM as its CRM system.
IBM is the second big company to replace Siebel in recent months. Earlier, HP also dropped Siebel for Salesforce.com. Both companies had some of the largest Siebel deployments in the world. But, IBM and HP dropping Siebel may not be a big surprise, considering that Siebel was acquired by Oracle, a rival to both HP and IBM. However, the losses of these two companies do not spell good news for Oracle, which has had to deal with contentions that it has not been nimble enough to keep pace with the changes and innovations in the software space.
IBM's choice to go with SugarCRM and HP to Salesforce.com emphasizes the legitimacy of the Cloud and underscores how these solutions can be used by large, multinational corporations, not just small and midsize companies. And instead of choosing an established vendor like Salesforce.com, IBM went with a relatively new upstart, SugarCRM.
Why SugarCRM?
So why did IBM choose SugarCRM over the other big-name CRM vendors?
For one, IBM executives found the open source foundation of SugarCRM appealing. IBM also found SugarCRM's interface to be intuitive and easy-to-use. And, because it is a large company, IBM chose SugarCRM because of the solution's flexibility in how it can be run—both on premise and in the Cloud. A purely SaaS solution would not be scalable or economical for a company as large as IBM, which ruled out Salesforce.com as an option.
With thousands of employees in offices around the world, it would be more cost effective for IBM to use a private cloud that can be customized—something that SugarCRM allows. In addition, the CRM system would have to be able to integrate with IBM's own tools and technology, such as the IBM DB2 database—which ruled out solutions from a vendor like Microsoft Dynamics. In the end, SugarCRM offered the solution that fit all the criteria IBM was looking for.
SugarCRM Emerges as a Viable CRM Rival
Acquiring IBM as a customer is a huge win for SugarCRM. Founded in 2004, SugarCRM is a relative newbie in the CRM industry and is unique for being one of the first companies to offer both an open source and commercial version of their software. Winning IBM as a customer can help push SugarCRM to the ranks of other CRM titans. This customer win is also a big vote of confidence for SugarCRM and its open source product offerings, showing its rivals that it can compete to win big name companies too.
Want to access more information on software news and recent acquisitions? Browse our complete collection of software news by visiting the News & Trends section of the Business-Software.com blog.