Implementing ERP is NOT Business Reengineering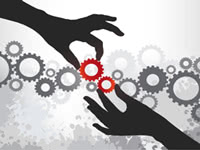 Back in the 1990s, Michael Hammer ignited a wave of business reengineering initiatives across the country with his ground-breaking article: Don't Automate, Obliterate. However, since that time the term "reengineering" has become an overworked word, a catch phrase, and to a certain extent, all things to all people.
The ERP industry is no exception when it comes to dumbing down the true meaning of business reengineering. Most ERP vendors these days use the term rather loosely when describing the benefits of their software, consulting services, and implementation approach.
ERP Implementation vs Business Reengineering
The truth is… business reengineering and ERP implementations are two very different initiates. This is important to acknowledge when establishing ERP benefit expectations and understanding what should be addressed prior to purchasing any software. The first goal should be to fix the business (not jump in with a new software package and attempt to automate the mess you already have).
For example, the goals of an ERP system are to integrate the information flow across the business, realize software-enabled benefits, and take advantage of other improvement opportunities that are somewhat easily addressed (i.e. low-hanging fruit). That is, with ERP the focus is mainly on the software. This includes system capabilities, work procedures that directly relate to software usage, and other activities necessary to install a computer system. Of course, for some organizations the result is a major leap forward. But for others, the highly acclaimed business improvements associated with ERP never materialize.
While ERP software is often touted as a turnkey solution, the fundamental issue is the mere existence of better tools does not necessarily change management paradigms, structural issues, company culture, the departmental silos, and disjointed responsibilities and measurement systems. All of which drive well intended managers and other employees to sub-optimize.
The Art of Starting Over
On the other hand, reengineering is about throwing out the current ways of doing business and more or less starting over. While few take it to this extreme, the focus is on the underlying causes of poor business performance (and most are more fundamental than software). By taking a holistic view of the business and associated business processes, usually plenty of major improvements are possible, without new software.
Just as important, if these issues are not at least partially addressed before launching an ERP implementation, the software side of the project will be in constant conflict with the unaligned organization. This will cause project delays, cost overruns, and compromise your software investment. This is because excessive software modifications and work-around procedures are mistakenly viewed as the easier alternatives to fixing the real business issues.
However, when reengineering occurs before purchasing and implementing new ERP software, there is a greater chance of defining your true software requirements and realizing the benefits of automation and system integration. This is because the requirements and the design of the system are now based on your best practices, not the unaligned organization.
Want more ERP? Browse Business-Software.com's side-by-side product comparisons in our top ERP software reports. You can also check out additional content on open-source ERP and other popular ERP topics by visiting our ERP resource center page.