Implementing Professional Services Automation: Where to Start?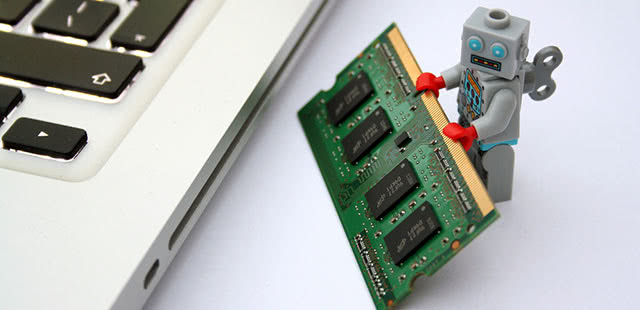 Implementing an all-in-one management system to touch every part of your business is a daunting prospect. However, with careful planning and the right support from your vendor, it is possible to make the transition from your current system a smooth one, and to reap some real business benefits in the early stages of integration.
Implementing Professional Services Automation Solutions: Initial Considerations
First, it makes sense to break the problem down into manageable phases, both to prevent business disruption and also to see early benefits. When deciding which implementation sequence to adopt and how much to fit into each phase, the following considerations are key:
Initial implementation should be as simple as possible
Each phase should make sense to the selected group of users, so it should be complete within the area it covers
Implementation should provide business benefits
It should not disrupt your ability to process business
It should build on earlier phases
It should minimize duplication of effort (some degree of duplication is inevitable, but you should try to minimize it when possible)
As a final consideration, it may be worth taking into account where the new system's functionality most closely matches current practices, and then adopting those sections first. In this way, employees do not need to deal with both a new system and changes to working practices at the same time.
Data Considerations
Without data, no system is useful. Yet with multiple systems, data duplication is inevitable and master data management can be a real problem. By consolidating all of your data in a single solution, these problems can be minimized. However, first you have to get the data in and working. Data in the central solution has a logical sequence of population vs:
Employees
Customers (and Suppliers, Resellers, etc.)
Customer Contacts
Products
Contracts
Projects
Tickets
By populating the data in this order, you maintain the correct hierarchy of references, and data only needs to be entered in once. Eliminating duplicate data entry is an early win for central data maintenance.
Logical Functional Groups
The table below shows the optimum functional group sequences, depending on which aspect of the business has the most to gain. The exact number of phases in the final plan will depend on how the subsequent phases are grouped together: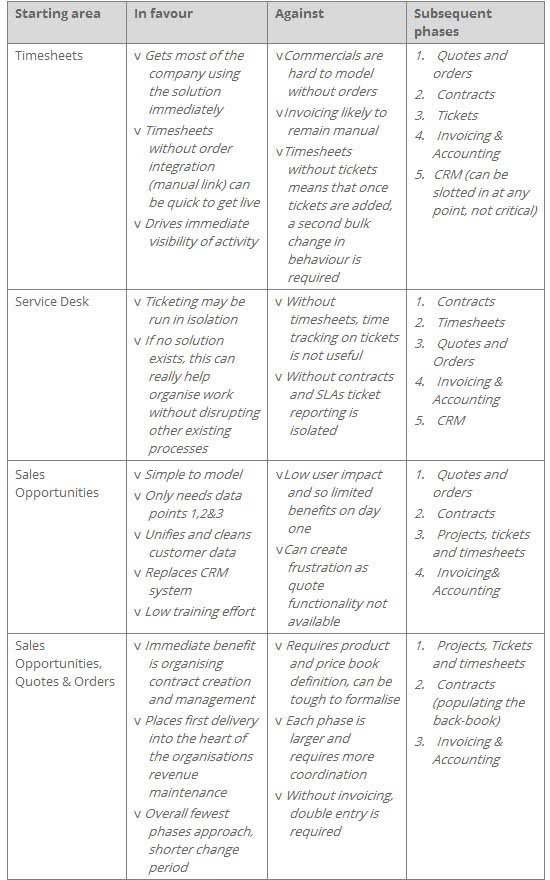 At the end of the day, there is no right answer. Each implementation option achieves benefits, but leaves duplicate activity and data management. The balance to be struck is all about the organization's ability to manage change. A long and cautious implementation with many small phases will be easier to manage, but will remain uncertain for longer. A few large phases get the job over with, but can cause significant uncertainty if not very carefully managed.
Ready to find a professional services automation solution for your company? Download our free Top 10 PSA Software report to compare the leading software by pricing and key features.
[This post was republished courtesy of the HarmonyPSA blog. You may read the original post here. Photo courtesy of Chris Isherwood.]