Let's Talk inFlow: Behind the Software with Co-Founder Stephen Fung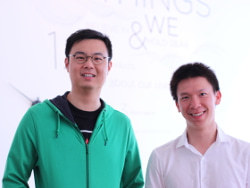 Small businesses have it hard. Their budgets are miniscule, yet the essentials matter. A solution too complex is inefficient, but a solution too simple could be equally detrimental. Small businesses require a rare breed of software that can understand their unique needs and deliver an intuitive solution.
inFlow is an on-premise inventory management system designed with an understanding for its users. We sat down with Stephen Fung (shown on the right), co-founder of inFlow, to chat about the rewarding challenge of providing affordable — even free — inventory management solutions for small businesses.
Let's start from the beginning: How did you come across the need for inventory management software for small businesses? And how did that eventually lead to the conception of inFlow?
About the Company

WEBSITE: www.inflowinventory.com
LAUNCHED: 2007
LOCATION: Toronto, Ontario Canada
Stephen Fung: When my partner, Louis Leung, and I got started in 2005, a company asked us to build a custom solution for their inventory needs. We soon realized that there were many businesses that needed something similar, but there was nothing simple or affordable currently in the market.
We then created inFlow knowing we could help many more small business owners if we developed the ideal inventory software.
After releasing it, we found that quite a few companies were interested. We marketed it exclusively on Google and various download sites such as download.com. Now, almost a half million people have downloaded it! We've been growing and improving it ever since.
From the conception, you offered a free version. What kind of response have you gotten from your free version and how did you come to the decision to launch it with the release of the product?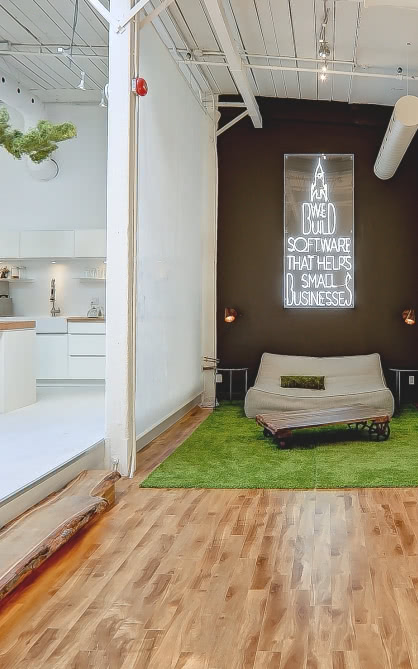 inFlow's new office design even reflects their commitment to small businesses.
Stephen Fung: We thought we could make a better product than the typical enterprise sales product. Many enterprise software companies don't tell you the price. You have to commit, and then they see how much money they can squeeze from you. On top of that, you might still need to pay consultants to customize the solution for you.
We wanted to make something that was easy to set up and as simple as downloading it off of a site to try it out. We figured if the software worked well enough, then the potential customer would go ahead and upgrade it themselves with no need for a salesperson to push them.
We didn't want to just help larger clients; we found there were many small one-man-shops and mom-and-pop operations that could use our help too.
Many of these small businesses were relying on pencil and paper for their inventory system. Some were also trying to use outdated inventory templates in Excel which meant a lot of manual work.
With inFlow, they would have a tool that they could learn quickly and use right away.
So, to help these small businesses out, we released a completely free edition. It's limited up to 100 products and customers, which is enough to get them started. As the business grows, they will be able to pay for the software. Not only does inFlow help people just starting their small business, it also makes sense for companies on a tight budget.
Knowing that the Software-as-a-Service market continues to grow in popularity, what has helped your on-premise solution set itself apart from the competition?
Stephen Fung: Since inFlow Inventory is a desktop system, it's not really a Software-as-a-Service, but we do see the trend moving in that direction.
The majority of the customers that we talk to are still not fully comfortable with putting their complete business in the cloud. Although cloud accounting is popular, there are still a few setbacks that desktop storage eliminates. For example, if you lose Internet connectivity and all your records are in the cloud, you can't print off an invoice when the customer isn't there. That still makes people uneasy. The learning curve of working in the cloud is getting easier to tackle as people learn more about it, but the older desktop methods will still be more accessible for those who prefer to use them.
We get the advantages of the old-school approach — if it's on your computer, you know it's going to work even if you have trouble with your cable or your router. Also, you just buy it once and then it's yours forever, whereas with cloud you have to pay recurring fees for subscriptions. But as a software provider, we want to provide choice to our customers to be competitive. So, we are starting to develop applications for newer software models.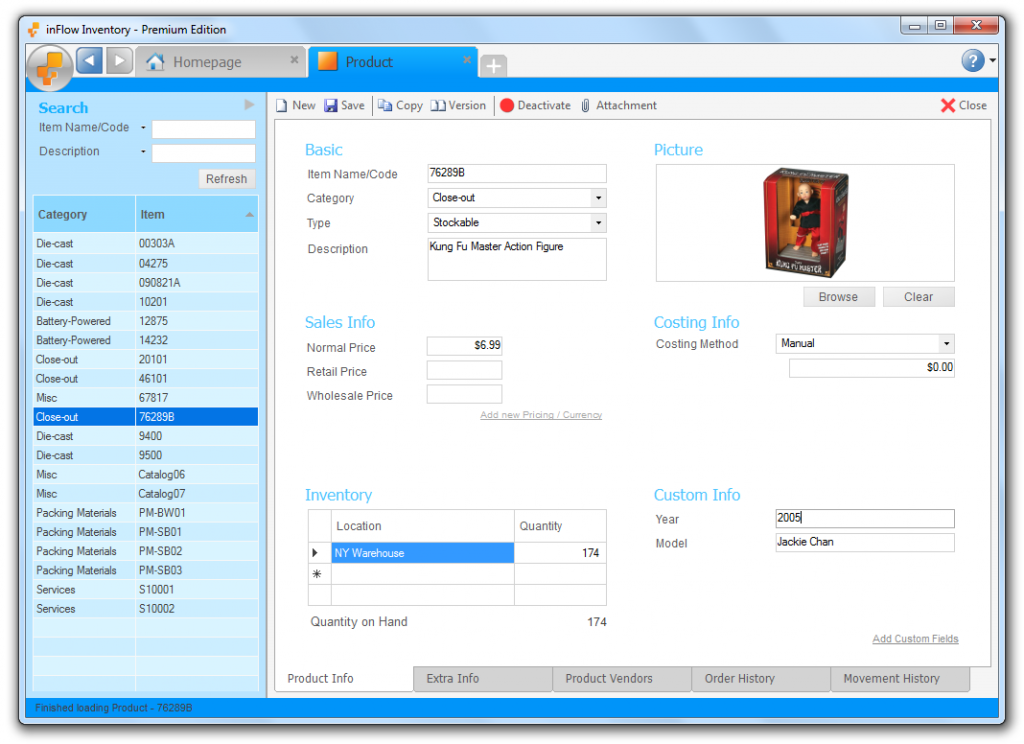 inFlow as an on-premise solution ensures that your records are always on you, with or without an internet connection.
We're working on a new system called Carta, which will follow the Software-as-a-Service model. Based on our experience with inFlow, we've seen that keeping track of items is just one basic need; however, software needs to address a variety of needs. What I can tell you right now is that the new product, Carta, is focused on connectivity.
We're seeing activity and interaction in different places. Most businesses are now using an online store in addition to their typical bricks-and-mortar sales. As a consequence of this, people need to enter their inventory twice – once into their offline system and then again into their online system. We're already addressing this with Carta and we're looking to also address it with inFlow in the future.
Carta makes business operations smoother and more streamlined so small businesses can compete with the big guys.
With inFlow and with Carta you clearly care about small business, product convenience and affordable price. But in addition you guys have decided to make the extra effort to give the inventory management solution a beautiful design. What made you decide to emphasize design?
"

Not only does inFlow help people just starting their small business, it also makes sense for companies on a tight budget.
Stephen Fung: Design has always been a big focal point for us. We believe in our hearts that you should enjoy using the software that you interact with every day. It shouldn't be drab, boring, or depressing. We tried our best to make inFlow beautiful and user-friendly.
Some may say that making software look nice doesn't matter. You might only want to get the job done. However, some studies have shown if you're looking at something that looks nice then you're more likely to want to learn how to use it and use it regularly.
Beyond aesthetics, making software that is intuitive is also critical. For example, if a company brings in a new person, you have to spend significant time and money on training. So, having intuitive software ultimately saves money.
We focus on making software that is both beautiful and useful. I think we've had a lot of success with people being able to figure out how inFlow works without getting buried in a manual. That's something that our customers definitely appreciate.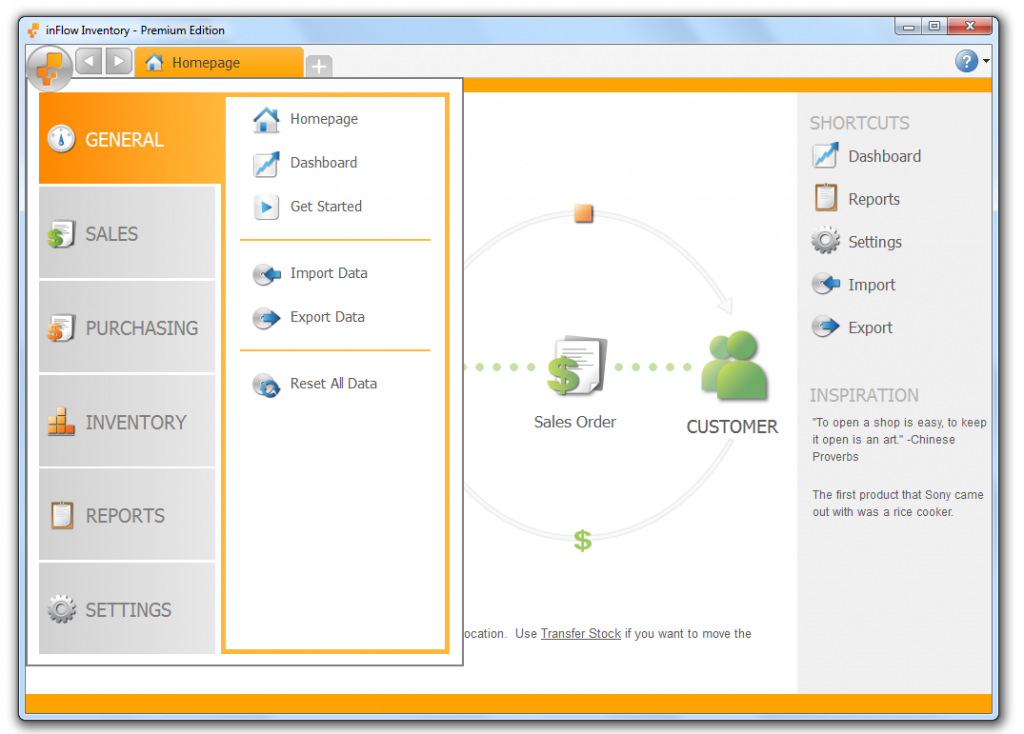 inFlow is designed to be both pleasant to look at and highly intuitive, so there's no need for training or consultation.
You're coming out with version three of inFlow soon. What new features are you excited about launching?
Stephen Fung: With version three, we're focusing primarily on having some powerful features that our customers have been requesting. The headline feature is serial number tracking. It's something that you typically find in more expensive ERP software solutions.
We've also been expanding inFlow's cost tracking capabilities with the addition of FIFO and LIFO costing.
We also do in house user testing, where we bring new users in to see how they interact with the software. We watch their reactions to see where they get confused and make changes accordingly.
Overall, for v3, we've done a lot in terms of making inFlow more powerful and interesting.
What's the largest or maybe the most memorable obstacle you faced or are currently facing with inFlow and how did you or are you overcoming it?
Stephen Fung: The biggest challenge has been ongoing: how do we build something that people can pick up and learn immediately without assistance? Of course we'll always offer help by phone, email, chat or tutorials. However, if someone has a problem and has to get in touch with us, it means we failed.
Both Louis and I are never satisfied. We personally take customer calls and emails, so we know when people are confused or having trouble.
"

[I]f someone has a problem and has to get in touch with us, it means we failed.
For example, in version one of inFlow, we had a strict workflow. But we learned from customers that different businesses have different workflows, and if we were going to make a solution that served many business models, our product would have to be versatile.
In v3, we've enhanced the workflow to have everything summarized on one page while still allowing for granular control. Sometimes the slightest changes mean all the difference but take the most work to implement.
Where do you see inventory management going in the next few years? And where do you think inFlow and your other future products will fit in?
Stephen Fung: We see inFlow as an inventory software system that small businesses can use to run their business on a day-to-day basis. Unlike QuickBooks, which can be frustrating for product based retailers, inFlow was designed around businesses that move items in and out. Beyond just inventory tracking, you can make barcodes, generate business documents and create reports that you can hand off to your accountant.
In addition, we're looking at more ways businesses can interact with their customers, vendors and partners. Making communications streamlined to benefit all parties is going to be the biggest challenge in the inventory software space.
Looking for more information on inventory management software? Browse exclusive Business-Software.com resources on inventory solutions on our warehouse management research center page.