Is Nimble CRM Leading the Enterprise 2.0 Revolution?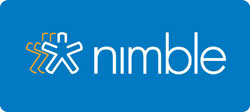 After leaving Goldmine in the early 2000s, Jon Ferrara set out to tackle what he saw as the coming social CRM revolution by starting Nimble. Boy was he ever on track. Now with companies, enterprises, and small businesses all over the world trying to figure out the best way to harness social media, products like Nimble CRM are most definitely going to lead the Enterprise 2.0 revolution by putting social squarely at the forefront of business.
The key aim of Nimble's web-based social CRM is to provide small businesses with a unified platform from which to manage not only their customer contacts, but also their social networking activity. It puts social media, email, and calendars all in one place, making it much easier to connect all the disparate pieces of social information that businesses use in order to maintain and build relationships. With their Nimble 2.0 update released earlier this year, they added unified social notifications, a new user interface, and privacy and marketing integration.
Having such a specific focus on social CRM is definitely a strength in the Nimble CRM platform that will not only inform the way that other CRM software developers approach social, but will also change the way that businesses integrate it into their own processes. Of course it seems deceptively obvious now that CRM vendors need to bring all these disparate social networks together in one easy-to-access place, but at the same time, no other company has approached social CRM quite like Nimble. Rather, most enterprise solutions tack on features or applications to meet the needs of social CRM without actually creating a system that's not only useful, but also feels natural.
It's also important to note that Nimble CRM is built specifically for small businesses, and the fact that they're catering to this market rather than trying to create a solution that serves SMBs and enterprises alike demonstrates a clear focus that will no doubt benefit Nimble in the long run, especially since the SMB market is enormous. Additionally, splitting their focus would probably result in Nimble CRM trying to extend their reach only to fall short in serving either side of their customer base completely.
Another sign that Nimble CRM is on the right track was the news in January that investors like Mark Cuban, Jason Calacanis, Don Dodge, Dharmesh Shah, and Google Ventures have invested in the company, bringing their most recent round of funding up to $1 million. Though Paul Greenberg over at ZDNet has expressed some misgivings over Ferrara's vocal comments regarding Salesforce.com (even as he praises the company for its vision and focus), the general consensus seems to be that Nimble is a worthy company and Ferrara a genuinely passionate and earnest leader.
Nimble CRM has clearly come a long way in the past few years, and it'll be interesting to see just where they'll end up, especially considering the fact that they have big plans to integrate other solutions into the platform, such as Yammer, Quickbooks, Zendesk, and more. In a rapidly changing landscape like social media, there's no telling where social CRM will have to go in order to roll with the changes. Whatever the case, we'll probably see Nimble leading the way.
For more in our ongoing series on enterprise software companies to watch, see our post from yesterday about Pipedrive and our post from last week about Workday.