Looking for the Best Project Management Software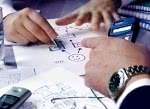 A couple months ago, the Business-Software.com editorial team started using Asana to manage our day to day tasks and projects. While there is much to love – check out our review of 30 days with Asana –  the software has some major gaps in its functionality. As our team began to increasingly rely on Asana, we found ourselves wishing it offered file sharing functionality like Google Drive for real-time updates on communal documents. Secondly, we needed some kind of group chat functionality. As writers whose passion is taking the pulse of the business software market, it's imperative at all times to know what each individual is working on. While Asana increased our internal visibility, we were complementing the software with Google Drive for file sharing and Google Talk for chat. We began to wonder: is there a tool that combines these three things?  First, we asked Asana if those features were planned. As always, their support team responded within 24 hours, but unfortunately, the answer came down to this: "We are considering features to allow for your desired functionality but we have no plans or timelines in the near-term."
A quick Google search taught us there are indeed project management tools out there that offer chat and file-sharing, but the differences between them were vast both in pricing, functionality, and user-friendliness. We decided to try four. Here are our findings.
AceProjects offers more projects (5) and storage storage (250MB) in its free version than any other software on this list. While that's a good thing, AceProject in general is no strange to abundance. The first thing you'll notice when signing up is their busy website. Once you're inside, AceProject is crowded with features and settings that might take a novice a good amount of time to grasp. Of course, it is this richness of features that will make users either love or hate AceProject. Besides managing projects, the software can help you keep track of your time and expenses, while also providing solid reporting functionality and FTP access.
For someone looking for Asana-like simplicity, AceProject may simply be too much. Also, file-sharing is not done in real-time, and the upload process is complex. Upgrading from the free, basic version will run you anywhere from $24/month for unlimited users, 500 tasks, and 5GB storage space to $99/month for unlimited tasks and users and 20GB storage space.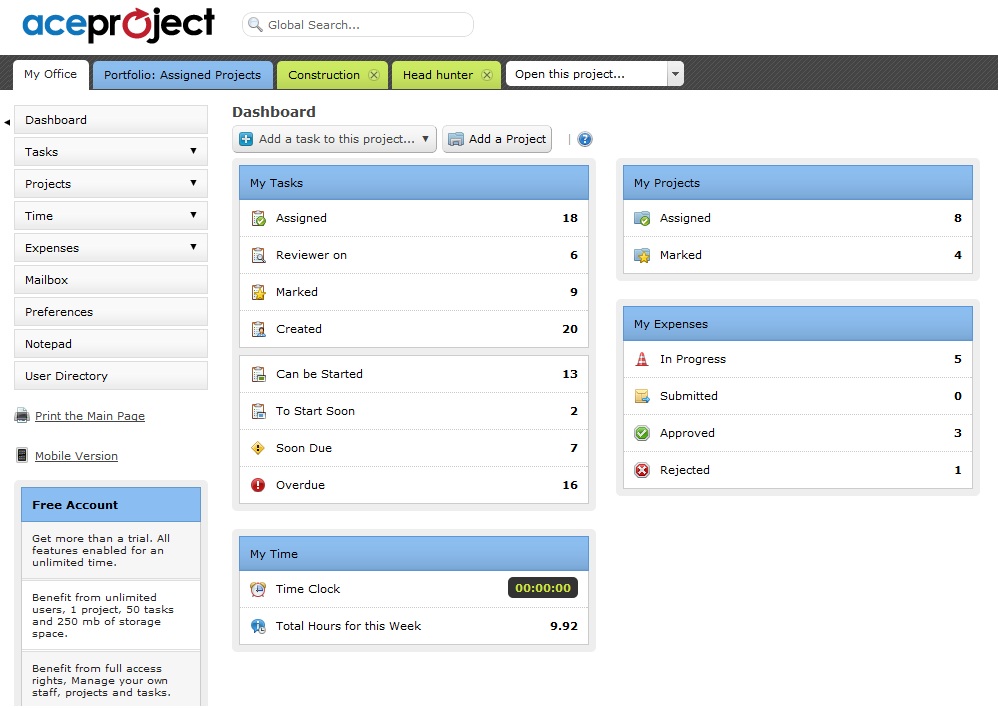 As existing Zoho CRM users, Zoho Projects seemed like a slam dunk – that is, if you can get past their Windows 95 aesthetic. Like the rest of Zoho's solution offering, Zoho Projects' look-and-feel is so off-putting it takes a lot of willpower to even want to navigate your way through the myriad of options and functionality it offers. That functionality comes largely in the form of apps. Zoho Projects by itself is a fairly straightforward solution. It manages projects, tasks, bugs, and time sheets, while also offering calendar and meeting functionality. But Zoho's big play is to wrap almost any functionality a company could ever need into a single software platform. So one click on the Apps button reveals a listing of various Collaboration, Business, and Productivity modules. Zoho is to be applauded for integrating such a wide variety of functionality, but perhaps their efforts would be better spent on making one tool stand out rather than putting together a mix of outdated tools. In the first hour of playing around with the tool, this reviewer got so bored with the overall feel of the solution he wasn't even wowed by the fact that Zoho does indeed offer real-time file sharing and live chat and CRM integration.
Free plans offer 1 project with unlimited users and 10MB file storage. Paid plans range from $20/month (20 projects, 5GB storage) to $80/month (unlimited projects, 30GB storage).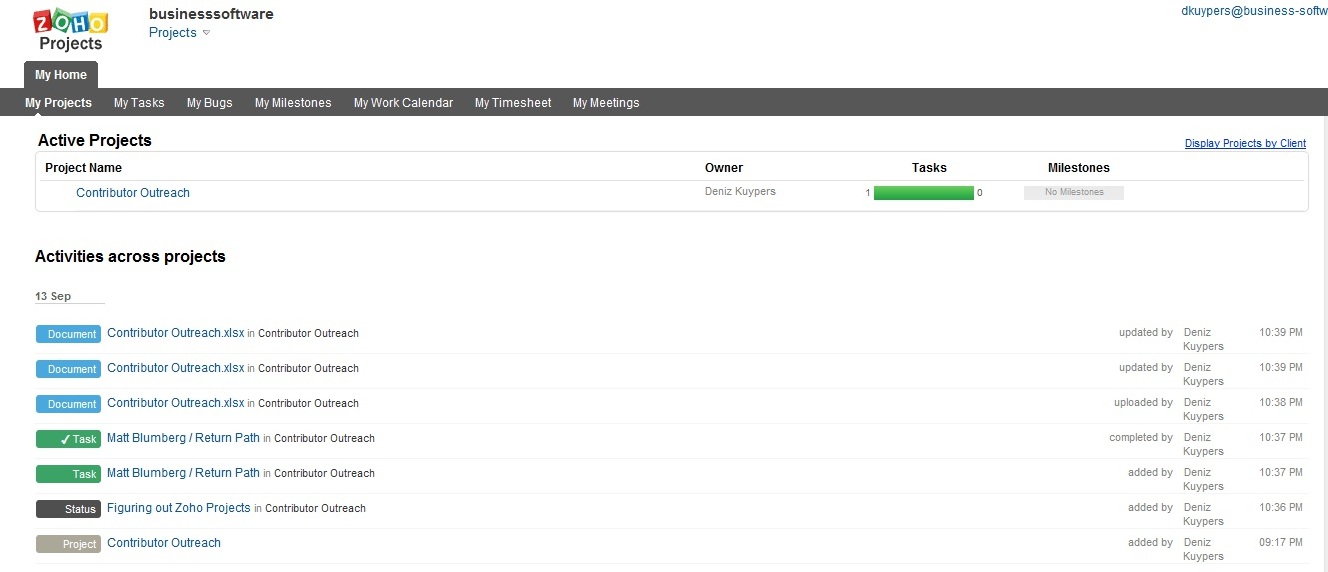 Upon first glance, Huddle comes closer to the Asana aesthetic. It has a lot less bells and whistles than AceProject or Zoho, and this makes an immediate difference on how welcoming the software is upon first log-in. Huddle is sleek and self-explanatory (it does offer on-screen tutorials for the uninitiated) and the dashboard is the best out of all the software tools on this list.
One thing Huddle offers that Asana sorely needs is a calendar view.  Part of your dashboard, which consists of customizable widgets, the calendar – in this editor's setup – served the Asana-like task of keeping track of my workload. Unfortunately, Huddle does not provide live chat, relying instead on wikis and discussion boards, which seems a rather outdated way of communicating in a project management context. Live chat is more immediate, and long-term notes and ideas should be added to tasks instead of floating around on a message board. This, however, is not necessarily a flaw of the system so much as a feature gap that happens to be high on the requirements list of the Business-Software.com team. Huddle, however, won us over with its ease of use and clean look, so we will soon be taking an in-depth look at Huddle as part of Business-Software.com's Deep Dive editorial series.
Huddle's 14 day trial comes with a money-back guarantee if the solution doesn't find 100% adoption across the enterprise within 90 days. After the trial, teams of 1-10 users pay $150/month for 10GB of storage. Teams of 10+ pay $15/user/month for 1GB/user.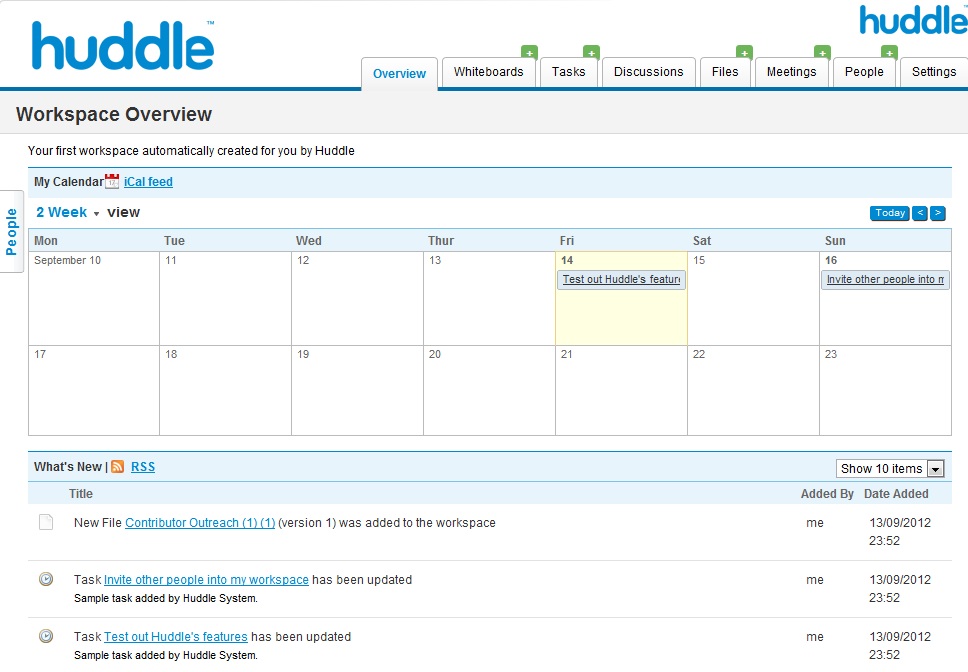 Just in terms of look and feel, Basecamp takes the cake. It's slick and user-friendly and superbly navigable. After you sign up, you're presented with a sample project that shows you at a glance how feature-rich yet easy to use Basecamp really is. It employs the check box task list that Asana is built around: just mark the check box when a task has been completed and it'll disappear from your to-do list. But unlike Asana, projects also incorporate discussions and shared files. File-sharing is not done in real-time, but Basecamp offers an integration with Google Drive. However, chat only comes in the form of discussion boards. These discussion boards, admittedly, can be integrated with email so messages can be accessed from outside Basecamp, but it's still not as quick and easy as chat. A small price to pay, one would think, in light of everything else that Basecamp gets right. For instance, your workspace can be customized to match your corporate logo and colors, and projects can be viewed by a visual timeline of due dates and accomplished tasks.
Basecamp's Starter package runs $50/month for 40 projects and 15GB of storage. The next plan up costs $100/month for 100 projects and 40GB of storage, followed by $150/month for unlimited projects and 100GB of storage. At the very bottom of the pricing page, mention is made of a budget plans that runs $20/month for 10 projects and 3GB of space.