Manufacturing Trends: 5 Up-and-Coming Software Features to Look for in 2013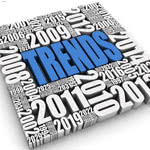 As we move forward in 2013, Business-Software.com is noticing a handful of new features popping up across ERP manufacturing platforms. With this influx of newer software trends, the tide seems to be turning in the manufacturing community. It's more important than ever before to thoroughly evaluate your manufacturing software options and select a system with the best combination of features — for the success of your company and the efficiency of your business model.
Certainly you should select a solution that streamlines product design and completion, automates your production schedule, and monitors the supply chain cycle. Yet considering the rate at which new technologies are being developed, it seems short-sighted to not also include some of the latest manufacturing trends at the top of your must-have features list. Here are 5 developments we predict we'll be seeing more of among manufacturing products — keep them in mind when you're on the prowl for your perfect manufacturing solution.
1. Mobility
Mobile solutions are more popular than ever before across the scope of software segments, and with good reason. To start with, software delivered through a cloud or SaaS model is often more affordable to utilize, making it the go-to choice for businesses of all sizes — SMBs and midsize businesses appreciate the cheaper monthly rates, while enterprises and large companies can implement cloud solutions to streamline subsidiaries or connect individual departments. Another benefit for these companies is how much simpler a SaaS solution is to implement, taking weeks to set up instead of months.
Perhaps just as significant — if not more so — is the ease of access a mobile solution allows for. The platform is much more versatile for its users, permitting employees to access company data and connect with other departments while on the go, working from home, or out of town on a business trip. Combined with its budget-friendly rates and simple implementation, a more flexible hosted system seems to have a promising future in the manufacturing industry. The growing trend of hybrid solutions, or systems that employ both a cloud model and an on-premise solution, is also an important factor for the SaaS model's rise to fame.
2. Multifunctional Solutions
By multifunctional solutions, we're referring to products that address many software needs in a single platform, such as an ERP system with CRM functionality. In 2012 the multifunctional application became a recurring trend, and one that we expect to stick. Perhaps the predominant reason for selecting a product with such expansive capabilities is its ease of use. Implementing a single platform that addresses all of your company's essentials needs in one interface is much more convenient than syncing multiple solutions and moving between different interfaces.
In the manufacturing industry, these enhanced solutions will continue gaining momentum because of their ability to streamline many facets of the design and production processes in a single cohesive interface. We imagine these solutions will only continue to grow more advanced and offer even greater functionality as time progresses.
3. Sustainable and Lean Philosophies
Companies will begin choosing sustainable manufacturing software over their less environmentally friendly counterparts in greater numbers. As we mentioned in our blog on the green manufacturing movement, an industry-specific software that optimizes sustainability practices benefits the business implementing it as much as it does the environment. Sustainable software not only evaluates and works to improve a company's carbon footprint, but does so in a way that makes your operational model leaner and more cost-effective.
In addition to making users more aware of energy consumption levels and costs, sustainable manufacturing software is designed specifically to track many business operations and then organize that data into informative metrics. At its core, green manufacturing is as much about maximizing output and reducing costs as it is about helping the environment. Not to mention that it's a good methodology for manufacturing companies to re-brand their image.
4. Widespread Automation
Though some sectors of the manufacturing industry produce custom goods, a large majority of manufacturing businesses can or do benefit from automating much of their operations. Automation capabilities positively impact business models in a number of ways, including productivity growth by systematizing the production cycle. Automating also frees up employees to focus their energy on something other than manual data entry or supply chain monitoring. These functions have seen considerable growth in manufacturing products in recent years (and for good reason), and we're certain this feature will become more widely available as the manufacturing software market continues to diversify.
5. Social Media Interactivity
We've seen manufacturing companies turn to social media before, but recently we've noticed a blossoming partnership of manufacturing platforms and social media tools (check out the company Kenandy). Although still in the infant stage, the addition of a social media toolbox as a function of manufacturing software will pave the way for stronger company and client interactions. More intelligent collaboration between manufacturers and their customers will spring from gaining and utilizing social media and community tools.
This functionality will be of particular importance considering the recent reshoring trend — the latest studies reveal American manufacturers are returning to the states, and it will be vital for these companies to get more in touch with the needs of consumers. Social media functionality incorporated into a manufacturing solution will also allow businesses to track correlations between their social media presence and sales. We're convinced this capability could easily become a must-have feature for future manufacturing platforms.
What Next?
To begin comparing manufacturing solutions, download our free Top 15 Manufacturing Software comparison report. You can also browse more articles on industry trends, product reviews and insider tips by visiting Business-Software.com's manufacturing software resource center.