Microsoft Acquires Perceptive Pixel for Future Windows 8-Based PCs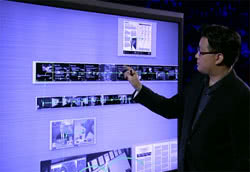 Microsoft is making a number of announcements today during its Worldwide Partner Conference, but one of the things that really got the Twitterverse buzzing was the news that Microsoft acquires Perceptive Pixel, a "leader in interaction design" based in New York City, once the terms of their agreement are finalized. Perceptive Pixel is probably best known for providing the multi-touch screens that CNN used in its 2008 Presidential Election coverage.
It's a pretty big move for Microsoft, and it demonstrates that they're going to become even more serious about making their presence known in the touchscreen market. Though Perceptive Pixel specializes in large format touchscreens, that doesn't mean that Microsoft can't or won't leverage their technology to bring their own tablets to the consumer market, which will also help the company compete more with Apple as far as the consumerization of IT is concerned.
In their statement, Microsoft's Kurt DelBene said, "The acquisition of PPI allows us to draw on our complementary strengths, and we're excited to accelerate this market evolution. PPI's large touch displays, when combined with hardware from our OEMs, will become powerful Windows 8-based PCs and open new possibilities for productivity and collaboration."
The reactions on Twitter varied from the excited to the vaguely snarky, but there's no doubt that this acquisition could be the turning point in Microsoft's attempts to catch up to Apple in the tablet market if they play their cards right.
Here's just a few of the things that people have been tweeting regarding the Microsoft and Perceptive Pixel deal. What do you think about this new move by Microsoft?
Microsoft to acquire giant-tablet maker Perceptive Pixel http://t.co/Rlo5sWen by @seanludwig

— VentureBeat (@VentureBeat) July 9, 2012
MSFT Strengthens Patent Arsenal With Purchase of Perceptive Pixel: Microsoft is buys Perceptive Pixel for its to… http://t.co/Pod2QgE0

— Wired Top Stories (@WiredFeed) July 9, 2012
Microsoft Buys Perceptive Pixel – Bring on the 82-inch touch-enabled whiteboard! http://t.co/PzMkCb4r via @mashable

— Mark Murray (@markmurray98119) July 9, 2012
Suddenly jealous I'm not at #WPC12… MT @stevecla: VIDEO: check out the 82" touch screen with Windows 8. http://t.co/6dDtdjnA

— Ben Rudolph (@BenThePCGuy) July 9, 2012
Jeff Han, CEO of Perceptive Pixel Inc., on the company's sale to Microsoft: "I really like money. Like, a lot. I use it to buy things."

— Ed Zitron (@edzitron) July 9, 2012
Something's broken in your brain if you see contrived corporate photography (like this) and think "#WANT." http://t.co/iwlvIHlf

— Lessien (@Lessien) July 9, 2012
Microsoft buys Perceptive Pixel and I am not that happy. Now you will only be able to run MS software on them. http://t.co/YwYRZ5V4

— Alexandra Larsson (@macgirlsweden) July 9, 2012
Want to access more information on software news and recent acquisitions? Browse our complete collection of software news by visiting the News & Trends section of the Business-Software.com blog.