Mobile Business Apps: Savi People Review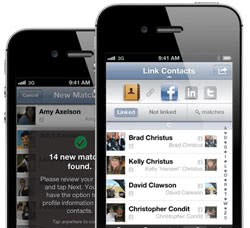 The importance of social media and social networking is undeniable, and a lot of mobile apps and business software solutions are trying to figure out how to leverage it in such a way that's not only useful, but indispensable. Savi People from Mobile Life Studio, LLC. is one such iOS app that aims to bring together all the disparate pieces of your contacts' information into one, simple, easy to use package.
Savi People Review: Things to Like
Getting started is pretty simple, and the app walks you through the steps with very clear instructions. Just import your contacts, sign into your social networks, and search for profile matches in Facebook, Twitter, and LinkedIn to get your contacts' information all gathered into one contact entry in the Savi People app. From that single contact entry, you can call, text, Tweet, post on their wall, etc.—pretty much every way of contacting them is available to you with just a few taps of your finger. Additionally, you can post to your own Facebook wall or send a tweet from the app, which is pretty handy if you're a posting fiend and just want to do it all from one app. Granted it's not a substitute for a dedicated Twitter or Facebook app, but it definitely cuts some corners for you.
You can even view your contacts' profiles on each social network from Savi People, but I wouldn't recommend doing so because it uses the mobile web version of each site, which takes forever to load. Not the fault of the app; that's just the nature of mobile web pages. Savi People also pulls your groups and lists from Facebook, thus maintaining the groups that you've already created within Facebook. It's a great time saver if most of your contacts are also your Facebook friends, and and thus you've already sorted them into a specific group in your profile.
Savi People Review: Minor Quirks
UPDATE: All of the issues I had were fixed in a recent update. To read more, see my new review here.
Although setup is relatively easy and it is kind of cool to see all my contacts' social network information in one place, I don't know whether I would really consider this a time saver or not. I don't have that many contacts, but I started to feel like managing my contacts with this app was a little too much work for me. While it's pretty quick and easy to match your contacts with their  profiles in a batch process, if your contacts don't have the same exact name associated with all of those accounts, then the app can't match them.
For example, if one of your contacts is in your address book under a nickname instead of their full name, which they happen to use on their LinkedIn/Facebook/Twitter, then Savi People won't be able to match them. Additionally, if they use only their first name on Twitter, but their whole name on Facebook, then you have to link those accounts manually as well. When you have a lot of personal contacts that you're trying to import, having to link them manually to their social network profiles gets kind of tedious. Again, this isn't really a fault of the app's design, but it's something that any user will likely have to deal with in getting Savi People organized to their liking.
One difficulty in particular that I had is that Savi People can't really work with the Unified Info for my contacts, i.e., contacts whose email addresses were imported from my mail client and then linked to the corresponding iCloud card on my phone. While I don't really blame Savi People for not being able to recognize that this is still one contact entry, not two (it's just the nature of the way that the iPhone's Contacts and Mail apps are built), it does make the app more difficult for me to use when I have multiple entries in Savi People for the same contact and I can only combine them by copying the information from one, pasting it into the other, and then deleting the duplicate.
Savi People Review: The Bottom Line
It's a pretty simple and user-friendly app, although you might find yourself spending quite a bit of time getting your contacts organized in a way that works best for you. If you're a power social media user, then you'll probably get a lot out of this app. If not, then Savi People is not the contact management app that you're looking for.
Looking for additional information on the best methods for managing your contacts? Browse product reviews, blog posts and premium content on the CRM resource center page. To compare top CRM solutions, download one of our seven free Top CRM Software reports.