Empower Your Sales Team with Stride's Deal Management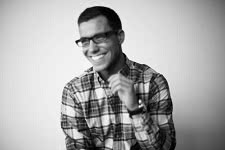 Stride is not your everyday CRM system: rather than doing contact management, the company provides a software solution for deal management, allowing sales people to more effectively focus on revenue-generating opportunities rather than mindlessly entering contact information. Co-founder Andrew Dumont joined us for a discussion on what sets Stride apart in the increasingly crowded sales force automation and CRM space.
About the Company


WEBSITE: www.strideapp.com
FOUNDED: 2012
LOCATION: Seattle, WA
What is your company's mission?
We want to make the sales process approachable to anyone, not just sales people. As small business owners ourselves, we came to the rash realization that every business has to sell to keep the lights on and further growth. We wanted to build a product that made that requirement a bit less painful.
How was your company founded? What inspired you to establish it?
This segues well with the last question, but more simply put, Stride was built out of necessity in our co-founder's own business, Carnes Media (a small design shop). What Nathan found was that all of the sales software he tried was extremely complex, clunky and made for full-time sales people. There needed to be a better solution for the rest of us, so we built it. More on that story here.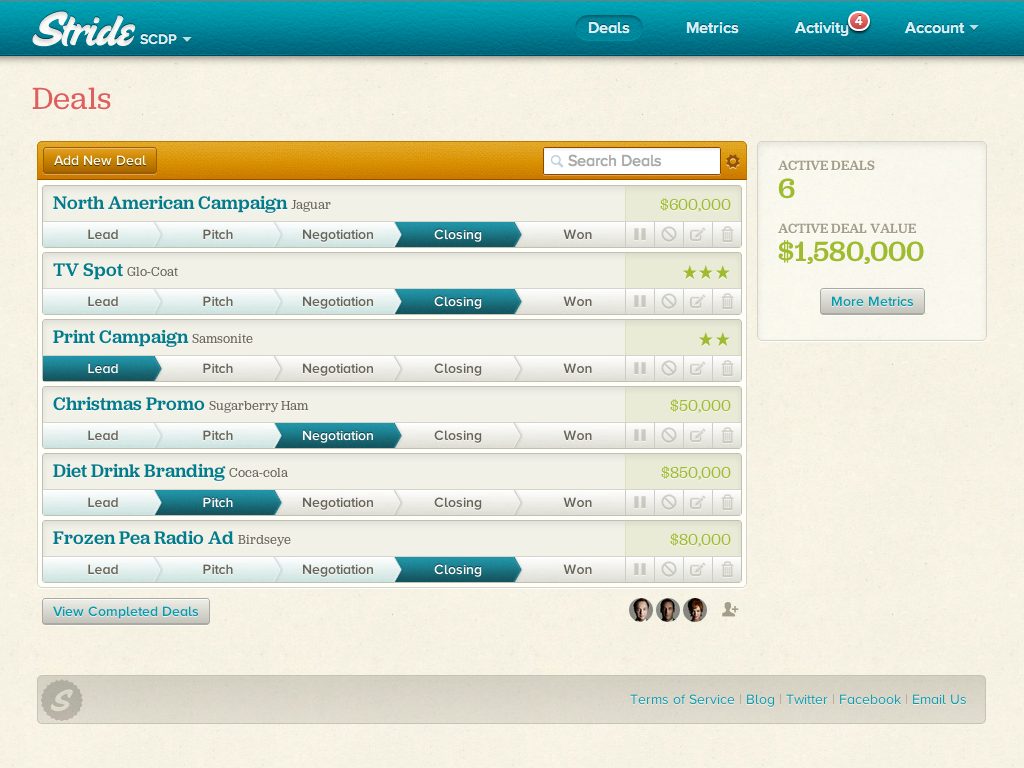 What do you do differently?
We're quite different than most of the other products in the space in the sense that we don't focus on contact management. We focus completely on deal management (or new business tracking). Contacts are associated with each of those deals, but we don't want to be a contact manager — we think that process is better managed on dynamic services like Linkedin and Facebook. What happens with the traditional CRM is that the user spends countless hours entering in contact info which soon becomes out of date and irrelevant. We focus completely on the opportunities that directly affect revenue.
How is your company set up: office locations, size of team, customer base?
Our office is located just north of Seattle, and our team consists of four people, myself, Nathan (our designer), Adrian (our CTO) and Amiel (our iOS engineer). Our customer base is just over 4,000 users.
What does your ideal customer look like: size, sales cycle, etc?
Our most common customer is the small business owner, but we have users from all across the board. Our ideal user is someone who does a small number of new business, not high numbers like sales people. Our product can adapt to any sales cycle, but we do provide a starting point for all.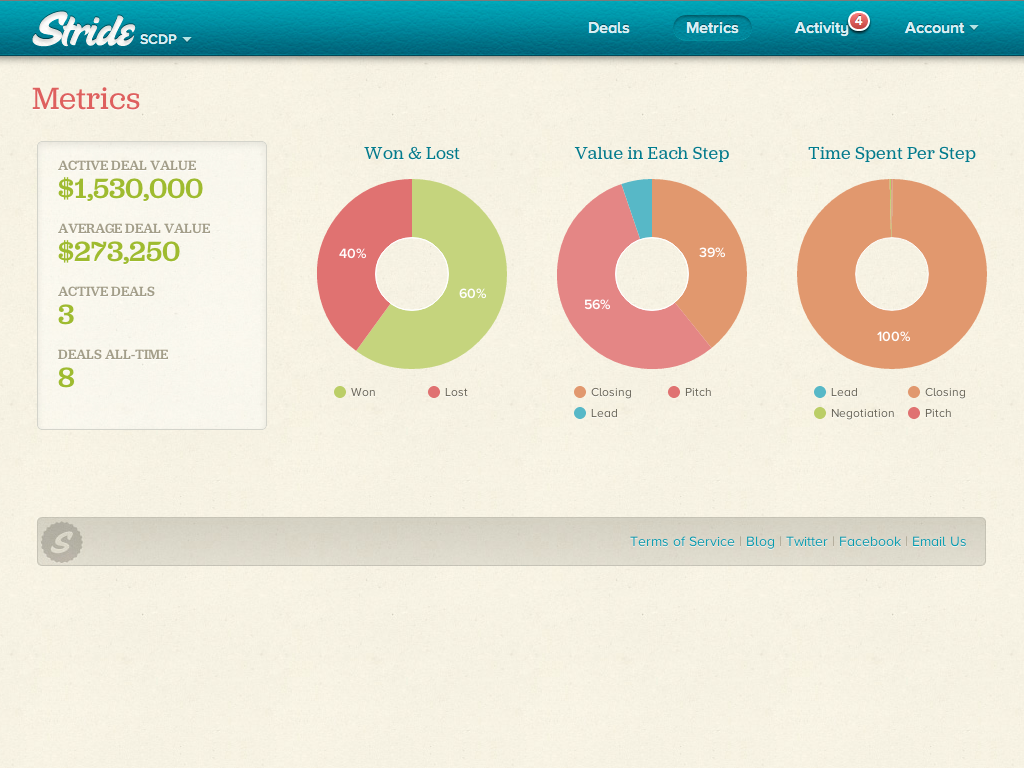 Where is the segment you operate in headed? Where do you see it in 5 years?
Five years is a long time in the technology world, so it's tough to say. We want to keep advancing our product while maintaining its simplicity, which is a difficult challenge — but we're up for it.
What challenges do you see in your segment? How can businesses overcome those challenges?
The sales and CRM space is crowded, so it's tough for the customer to make the right decision on product. We hope to stand out by the recommendations from our users, which has been overwhelmingly positive thus far. Hopefully that can help bring us to the next level.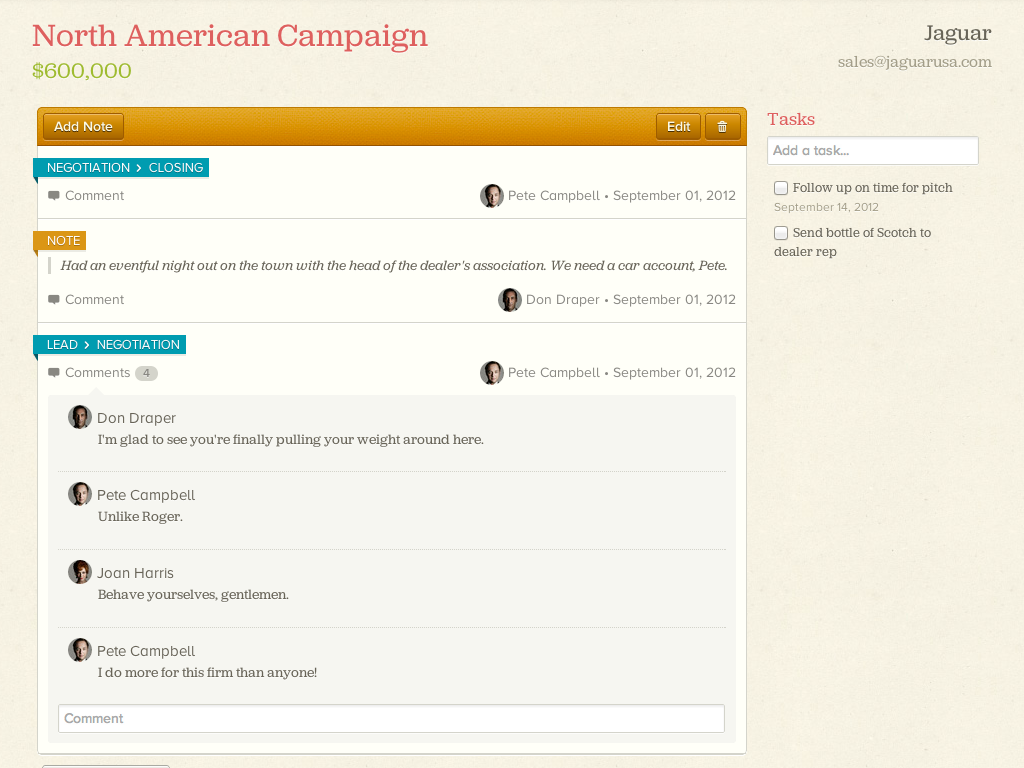 What is the most exciting thing about your software for you personally?
I love how accessible software has become. It's become completely ubiquitous. You can use any browser, any operating system, and never have to make a download. What this allows from the developer side is software that is constantly evolving and improving, without the user having to do anything.
Who are the most interesting people/companies in your market segment right now and why (besides yourself)?
We're huge fans of MailChimp and KISSmetrics. They both seem to be doing amazing stuff for the software industry.
To learn more about the industry's leading software, download one of Business-Software.com's top CRM reports.