SugarCRM Product Deep Dive
The Business-Software.com editorial team recently sat down with SugarCRM for an in-depth look at their popular CRM solution for small businesses. Read on to learn more about the various pros and cons of SugarCRM to decided whether it is right for your business.
To learn more about SugarCRM, visit their product profile or their website.
Dashboard
When you first log in to SugarCRM, you are presented with a dashboard that has a customizable layout, showing different "dashlets," including My Accounts, My Top Open Opportunities, My Calls, My Leads, My Meetings, and more. The dashboard itself is in a tabbed format. Clicking through to the next tabs, you are presented with reporting on Sales and Marketing activities. This way, rather than having to pull up a report, a SugarCRM users gets a comprehensive overview of what's being worked on and how this is affecting Sales and Marketing.
One key strength of SugarCRM you will notice right away is the fact that almost anything can be personalized and moved around, deleted, added, pre-populated, and more.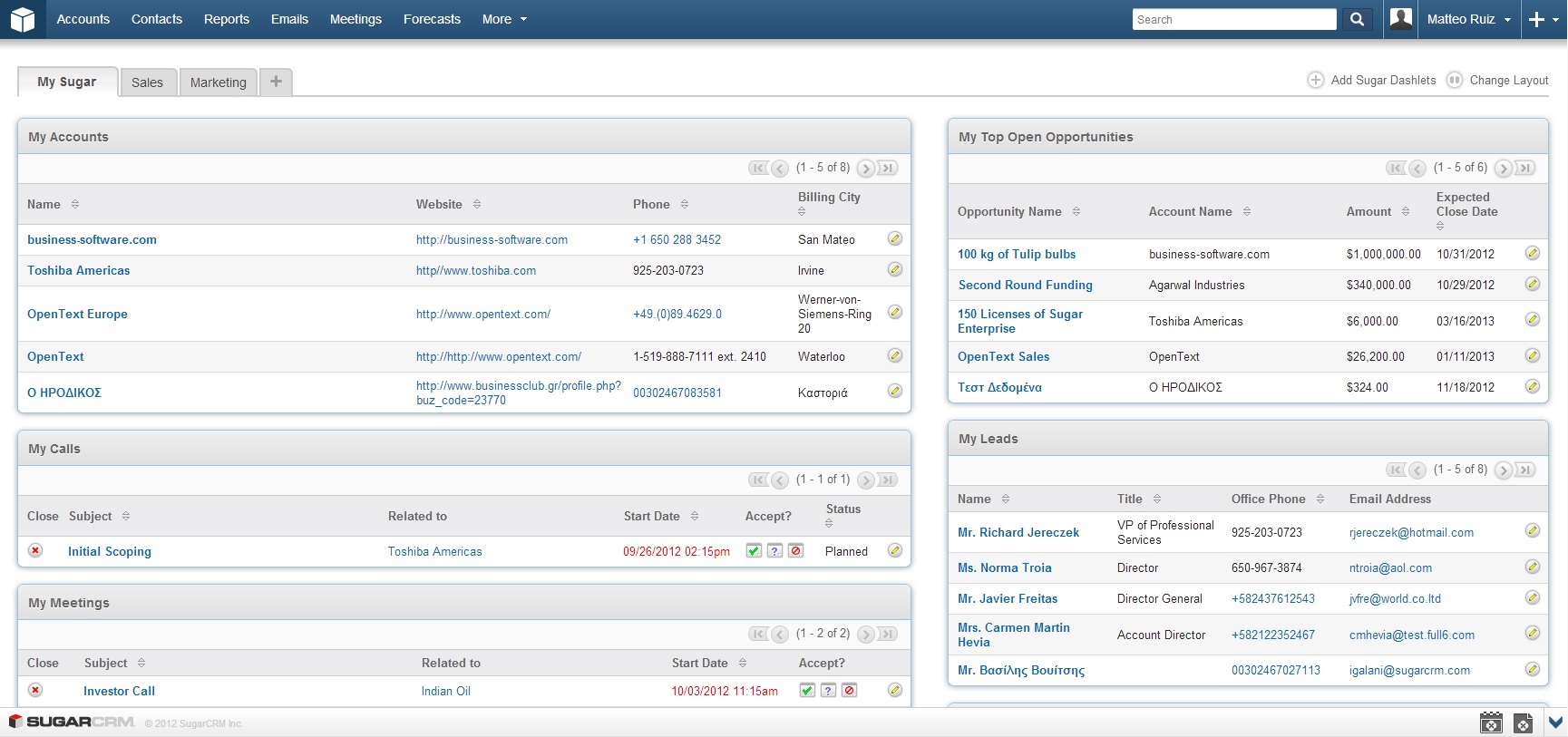 Accounts
SugarCRM includes much of the basics most CRMs offer. For instance, contacts are listed either as a Contact or a Lead and can be tied to an Account. The Account is the master record for all activities, contacts/leads, opportunities, notes, and more. Each contact or lead also has its own documents, activities, opportunities, etc. tied to it, so the master Account is a quick and easy way to keep track of everything.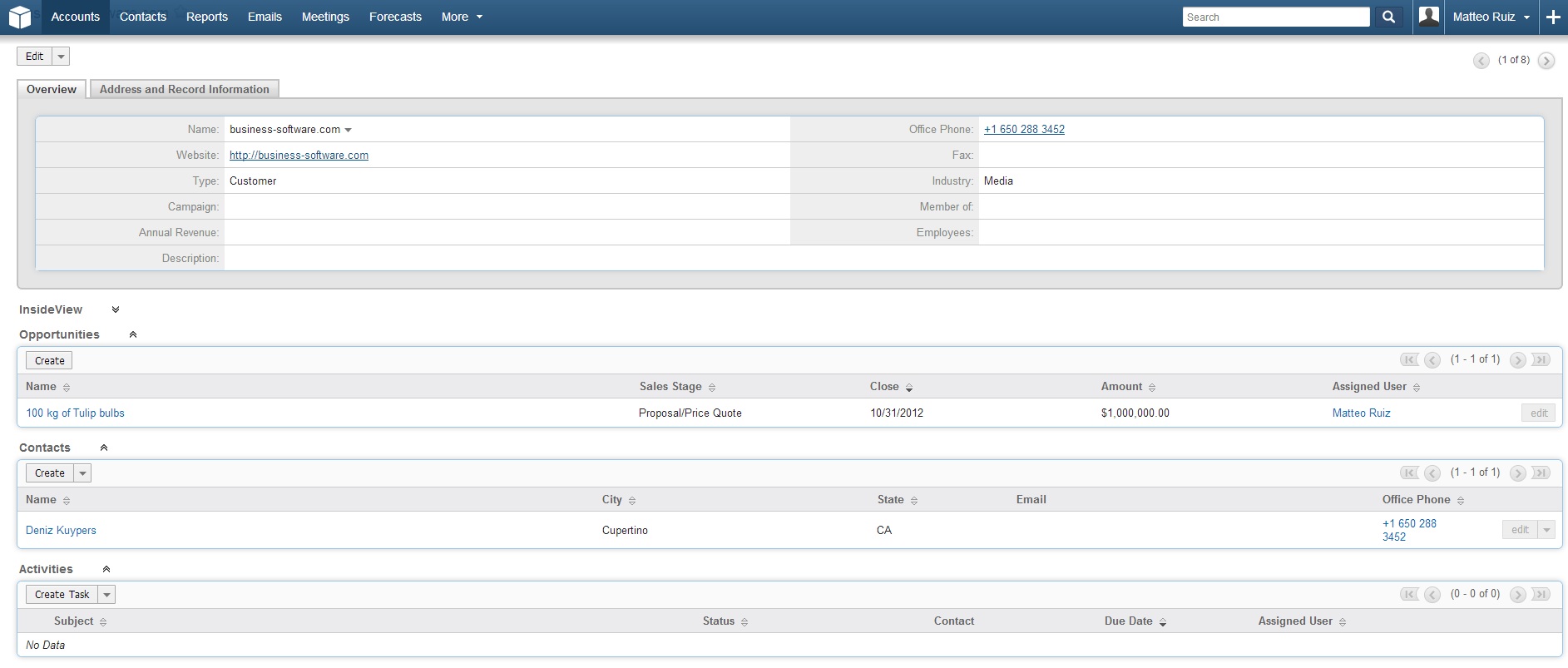 Contacts
Drilling down to the Contact record, you get a sense of how thorough and feature-rich SugarCRM really is. You can track activities, documents, quotes, history, leads, campaigns, cases, bugs, and direct reports. The real icing on the cake, however, is how integrated the solution is. In the activities tab, for instance, you can not only schedule meetings, but you can host meetings as well through LotusLive, WebEx, GoToMeeting, or IBM Connections. Email and pop-up reminders are also automated. Once the meeting is over, it will be saved as a record, and any notes and documentation shared during the meeting can be added as well.
And yet, integration is also where SugarCRM, to an extent, stumbles.
One thing the software doesn't automate, for instance, is social integration. This issue, of course, is one of the key problems CRM providers face: users generally aren't eager to spend a lot of time updating their customer records, especially sales people who spend a lot of time on the road. So what you'll end up with, are a lot of records that are unfinished, like this one: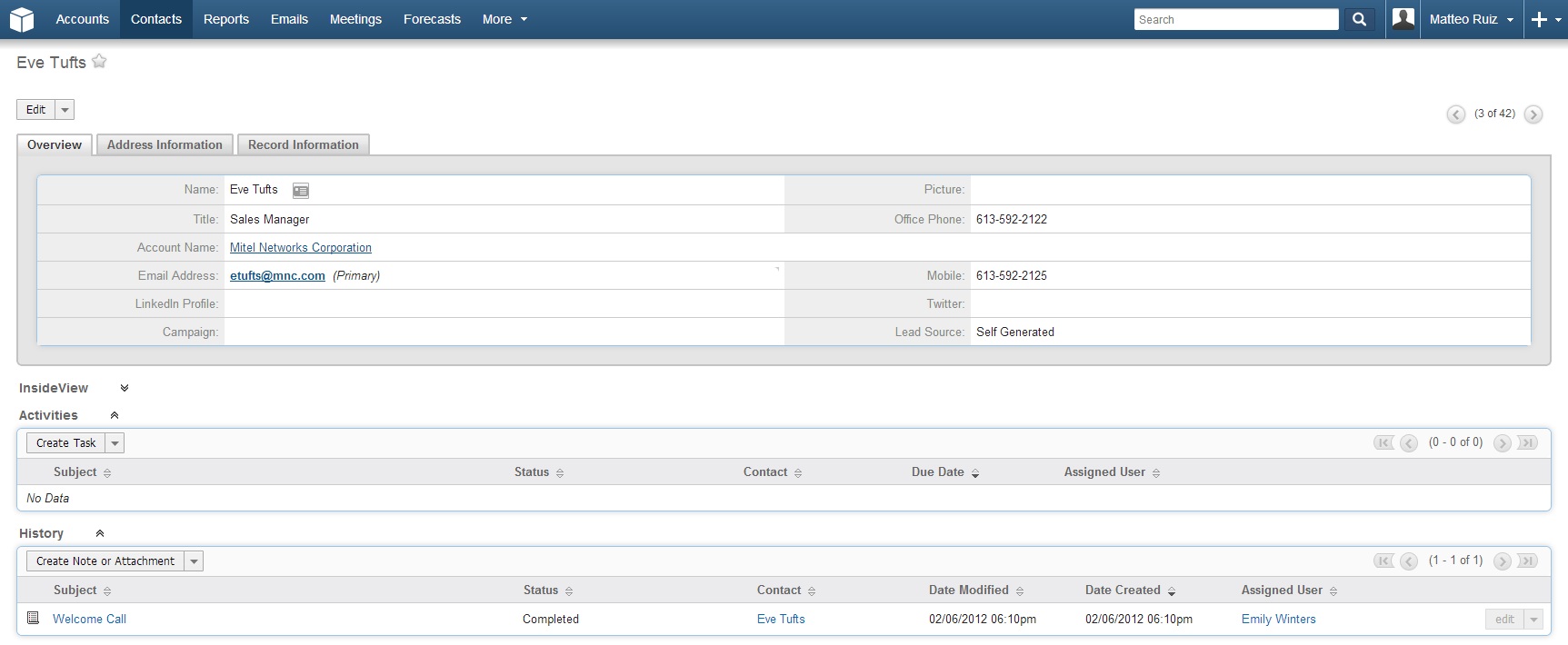 In a recent interview SugarCRM CTO Clint Oram confirmed that this functionality will be released in April 2013.
Google Maps, Twitter, and LinkedIn Integration
Similarly, SugarCRM offers an integration with Google Maps, but unless you're willing to fill out a contact's exact address, it's not of much use. The same goes for integration with Twitter (which display a pop-up of the contact's Twitter feed) and LinkedIn.
That being said, the Google Maps integration does help establish a more personal connection between the SugarCRM users and their contacts, plus it's helpful for sales people traveling to a client's offices.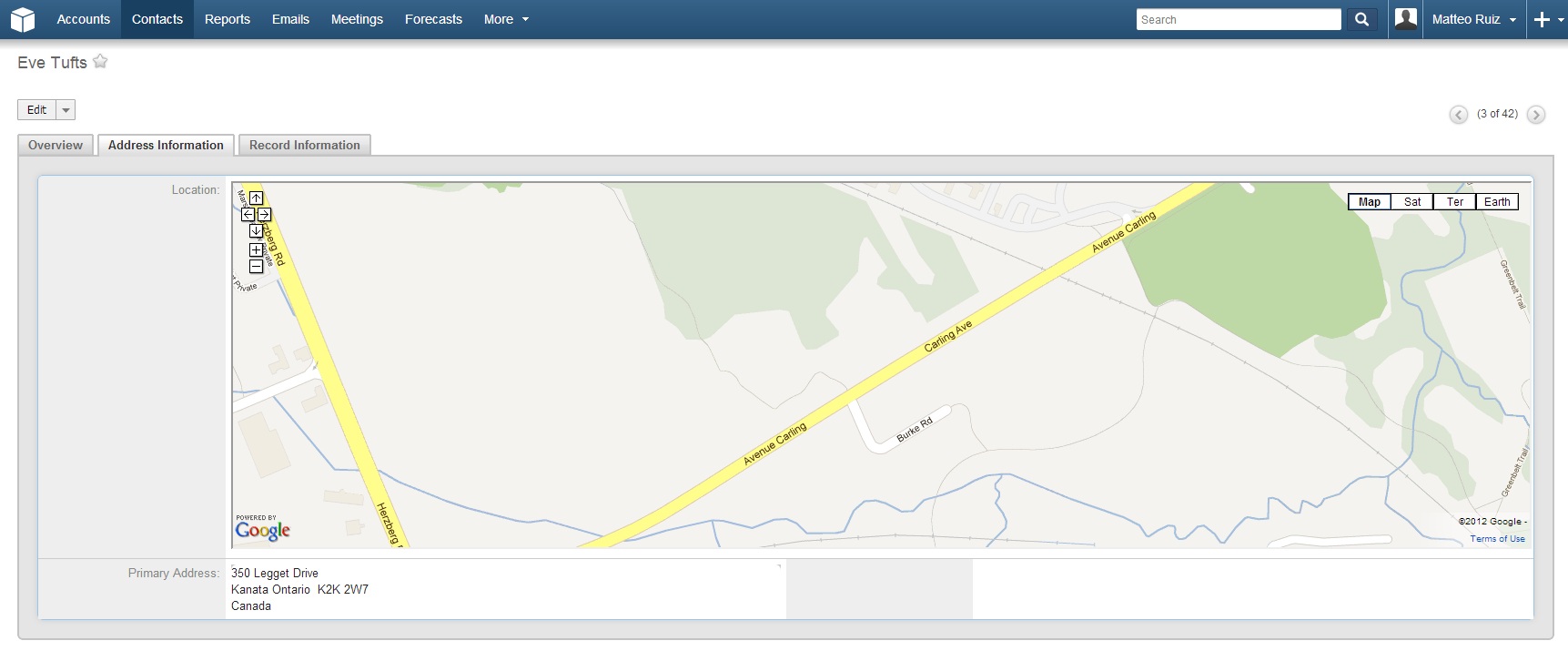 As a workaround, SugarCRM offers an integration with InsideView, which gathers a contact's social information so that it can be transported into SugarCRM. In the next major release, these issues should be resolved. What's more, clicking on the image file should launch an automated internet look-up of any pictures associated with the contact.
Currency Conversion
Another quirk SugarCRM will be ironing out in the next release is its built-in currency conversion, which at the moment requires the manual input of conversion rates. Out of the box, SugarCRM supports the US dollar, British pound, Japanese yen, and the euro; meaning, an opportunity can be listed (or updated) in any of those currencies.

Google Docs Integration
One cool feature about SugarCRM is its integration with Google Docs. Documentation appended to a record, whether it's a contact, account, etc., can be shared in Google Docs, while still remaining accessible (and editable) in SugarCRM as well. Documents can also be saved and edited locally in SugarCRM's document management system.
This integration does not come out of the box, but needs to be made in Sugar Studio, which is an admin tool that allows you to add custom fields and integrations and make other UI changes.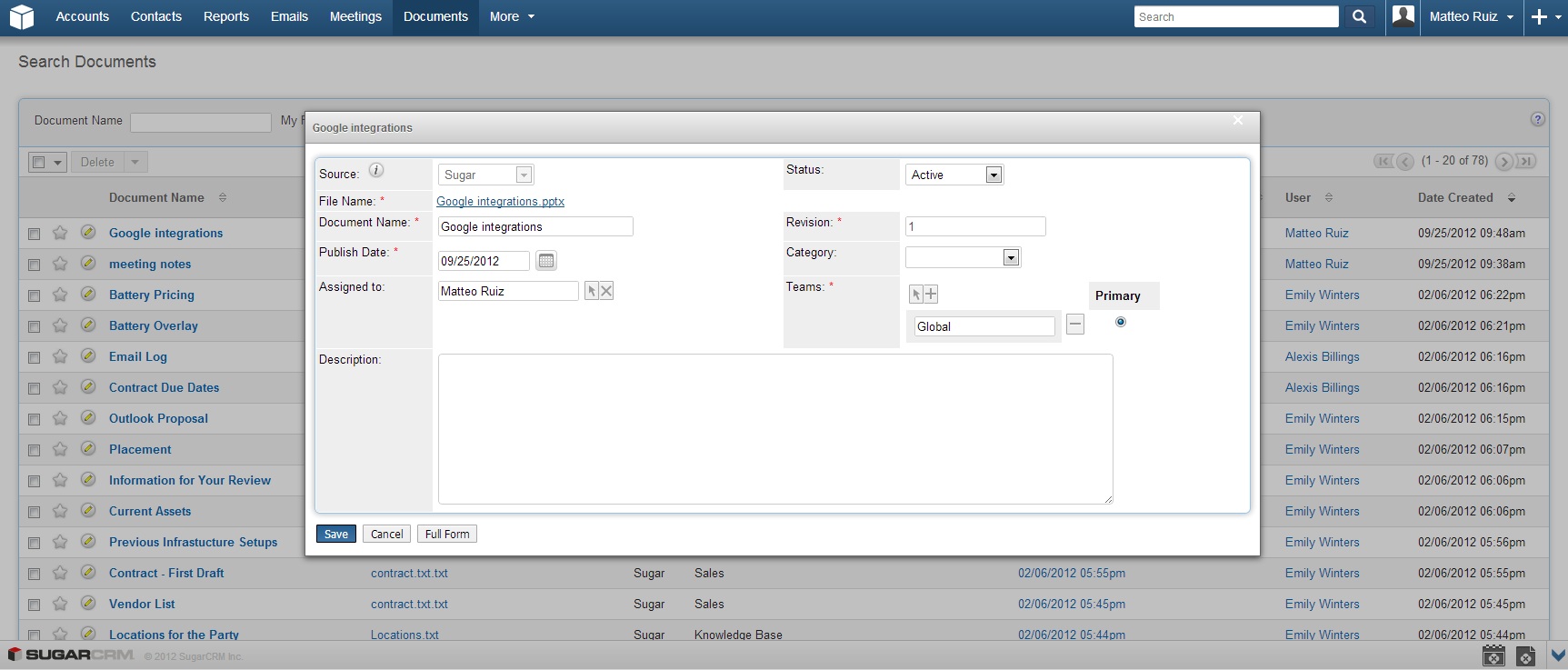 SugarExchange vs SugarForge
Besides the integration with Google (Maps and Docs) and InsideView, SugarCRM also offers a host of integrations through SugarExchange and SugarForge.
SugarExchange is a market place for third-party applications, similar to the Salesforce.com App Exchange. It consists of authorized ISV partners whose integrations have been certified by SugarCRM. SugarForge, on the other hand, is an open source developer community of almost 35,000 users. It's a market place where developers can post extensions that are not necessarily certified by SugarCRM; in short, it's a less structured approach than SugarExchange, that encourages developers to get creative with the SugarCRM platform.
Development Platform
The platform is truly what sets SugarCRM apart from most other CRM providers. SugarCRM is a framework that partners and customers can use to build their own integrations. SugarCRM does not claim to know everything their customers want to be able to do, so the company provides the flexibility and freedom for its users to build out integrations on their own. For instance, in Europe, an integration has been built into Xign, which is the German equivalent of LinkedIn. As long as an application has its own API, an integration with SugarCRM can be created.
To further demonstrate that SugarCRM does not believe in putting restrictions on its users, the company also doesn't limit the amount of records you can upload.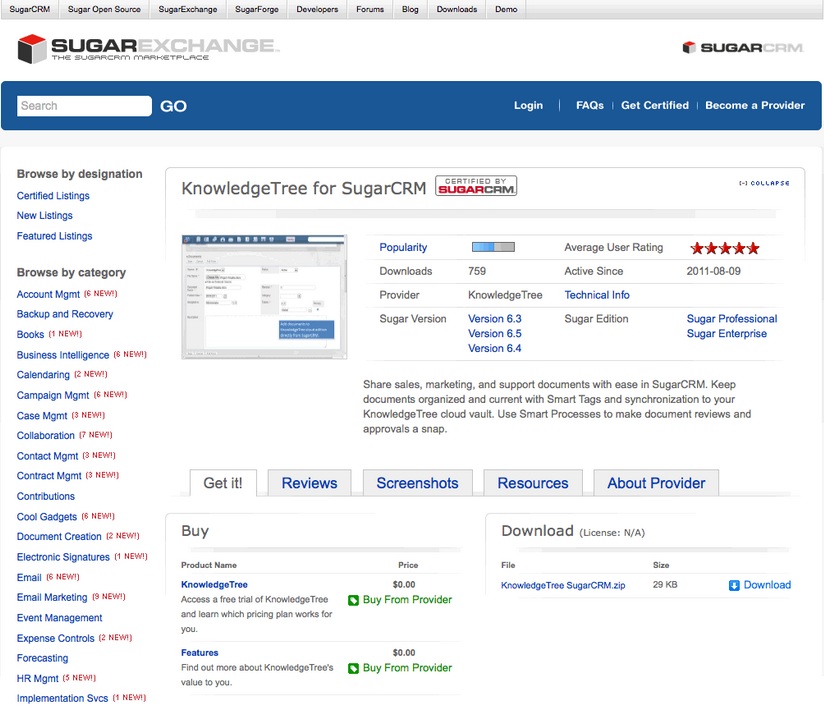 Imports
SugarCRM's strong integration with Google allows you to upload your Google contacts directly into SugarCRM. As an administrator, you can also set up an integration with LinkedIn, automatically uploading all your contacts. Mass uploads are handled through a .csv file upload.
Email Integration
SugarCRM includes an email inbox that, should you want to, can replace your personal email inbox. Any communication with contacts in your SugarCRM database will automatically be appended to the corresponding record.
Email blasts can be targeted at a specific group of contacts, based on a report for which you determine the parameters. Alternatively, you can also upload a .csv file – of trade show leads, for instance – and send out an email blast to those recipients.  SugarCRM does not require a third-party marketing automation system like MailChimp. You can run a campaign against your own mail server. There are no daily limitations on how many emails you can send out, except for whatever limitations your own server may have.
SugarCRM offers a plugin for Outlook 2007, Outlook 2010, and LotusNotes for email integration.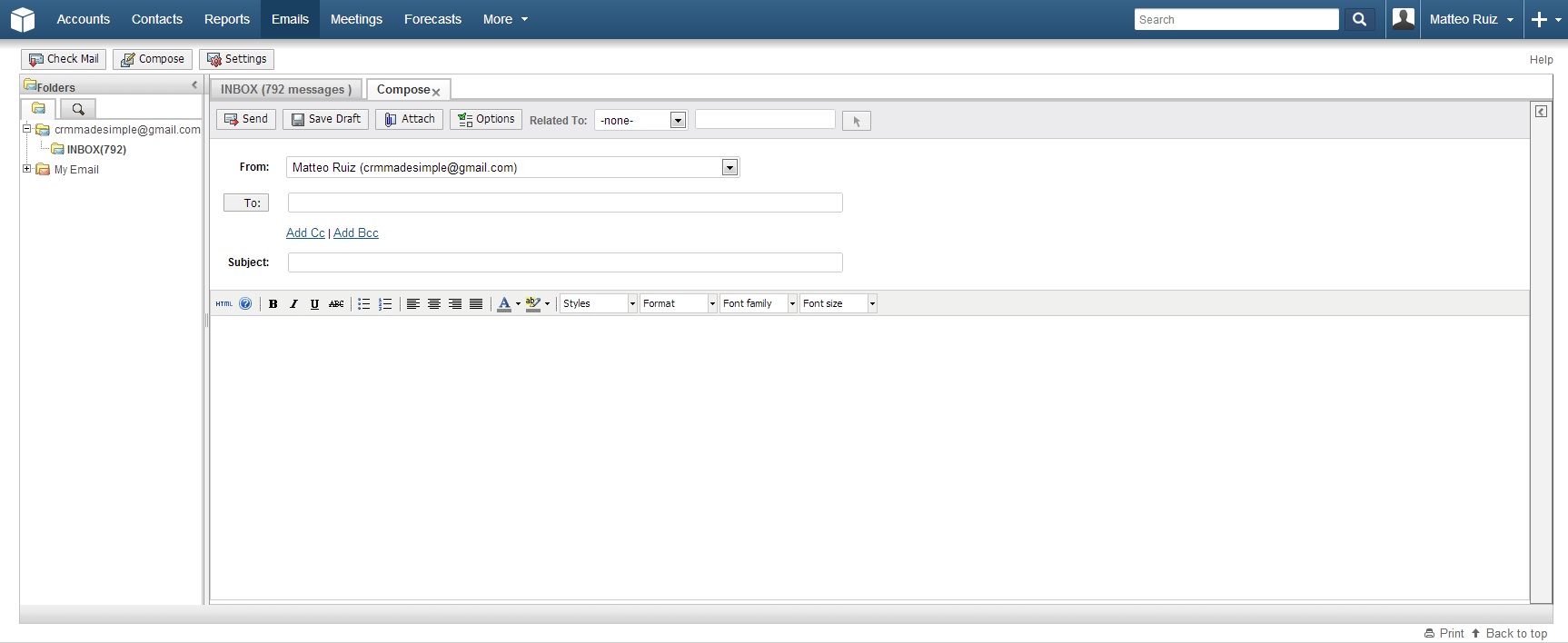 Offline Mode
On a desktop, offline mode works for Windows only. In SugarCRM's defense, most users who want to access SugarCRM offline will probably do so on a tablet or smartphone, which are fully supported.
Findings: Pros and Cons
Ultimately, like most CRMs of its kind, SugarCRM suffers from how hands-on it is. The question remains: how do you make data input quicker and more efficient? SugarCRM offers a remarkable variety of fields, attachments, and other functionality, but to what extent do users really employ them all?
That being said, SugarCRM will be releasing a major new version in April '13 that should address the biggest functionality gap the Business-Software.com editorial team has found – social integration (LinkedIn, Twitter, etc.). In CTO Clint Oram's words, SugarCRM predicts some major shifts in the CRM market, and the company is ready for them. For now, its main strength is its flexibility and the multitude of integrations that SugarExchange and SugarForge provide.
Pros:
No limit on the number of records based on your payment plan
Unlimited integration possibilities through SugarExchange and SugarForge
Unsupervised open source code access
Highly customizable layout and functionality
Offline mode available on smartphones and tablets
Cons:
No automated social integration (to be released in April '13)
No automated currency conversion (to be released in April '13)
Desktop offline mode for Windows only
To compare SugarCRM to other top customer relationship management platforms, download one of our free top CRM software reports. Or browse other exclusive Business-Software.com product deep dives on our Expert Picks & Reviews blog page.