Zoho vs Nimble: Two SMB-Friendly CRM Providers Duke It Out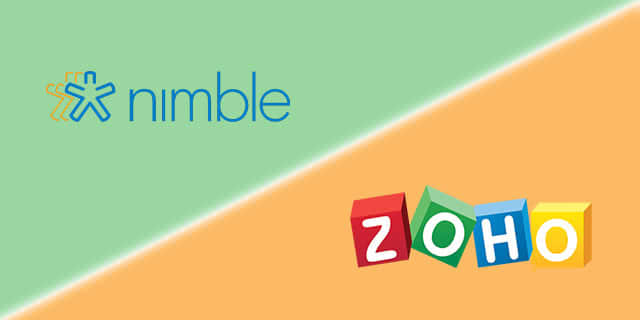 Any small business searching for software to manage their contacts, lead cycle and other key sales tasks will undoubtedly come across the names of leading vendors almost as soon as the hunt begins — among them Insightly, Nimble, NetSuite, Sage, Salesforce and Zoho. And while each of these software providers offers a great CRM platform, not all are well suited for the average SMB.
Smaller companies face unique software challenges, as they're typically trying to grow their brand and business while on a tight budget and with limited resources. In the case of CRM, small businesses need an all-in-one tool that performs sales, analytics and marketing activities at a wallet-friendly rate.
We've selected two of our top picks — and two of the most popular options — for small business CRM platforms to battle it out in this edition of our head-to-head reviews. Find out more below in this Zoho vs Nimble duel of SMB-oriented CRM solutions.

Company Overview

Nimble is a relative newcomer to the CRM space, formed in 2009 by CRM expert Jon Ferrara, who also founded GoldMine CRM. The Nimble solution was designed to help smaller organizations synchronize their various customer-facing tasks within a single platform. The company's founding team also focused on the importance of social capabilities when building Nimble, believing that social channels will play an increasingly prominent role in customer support networks and client oversight.



Founded in 1996 as AdventNet, Zoho Corporation started as a small company that first saw expansion in the Japanese market and is now a top software provider for small and midsize businesses, boasting a user base of 15 million. The company offers a variety of business applications that help growing companies conquer many core back-end activities spanning finance, HR, sales, marketing, customer service and beyond. Zoho's flagship product, Zoho CRM, was first launched in 2005 and remains their most popular offering.
Pricing and Implementation

Nimble is available for a flat rate of $15 per user per month, making it ideal for small businesses who seek a variety of features at an affordable price. The simple pricing model also enables users to access all available functions without being prompted to pay a premium for additional features. Nimble also offers a free 14-day trial for interested businesses who prefer to test drive before investing.
The platform is deployed as a SaaS solution and can be accessed via the web, with browser widgets for Chrome, Safari and Firefox.



Zoho offers a free plan for 10 or fewer users, as well as a three-tier pricing model. The Standard plan costs $15 per user per month and features core CRM functions plus marketing and collaboration tools that make it a great option for smaller businesses. The Professional option includes a fairly comprehensive feature lineup for $25 per user per month that is optimal for small and midsize companies. Organizations in need of advanced functionality should consider the Enterprise plan, which includes complete sales force automation, customization and inventory management for $40 per user per month.
Zoho also provides a fifth option, the CRM Plus package, which starts at $50 monthly per user and includes marketing, project management and analytics tools.
The Zoho platform is fully cloud-based, requiring no additional hardware or software components.
Core Features
CRM solutions designed for small and growing businesses offer an array of important features that typically span sales automation, contact management, marketing and analytics. As both Nimble and Zoho provide these core capabilities, we've included handy graphics with a brief overview of each platform's components.
Below, we also cover in depth some of the other beneficial tools that Nimble and Zoho have to offer organizations in need of sales software.


Mobile and Social Functions

Nimble excels at helping businesses interested in integrating their CRM with social channels to comprehensively track feedback, contacts and brand mentions. The solution includes social listening capabilities, which enable organizations to monitor and manage their social activities without switching between each individual social platform. Nimble's social tools also allow users to easily engage with contacts and customers, as well as participate in relevant conversations.
Nimble can connect to a multitude of social networks, from Facebook and Twitter to Instagram and LinkedIn. The software is also mobile-friendly, with free-to-download applications available for Google and iOS devices.



Zoho is designed to consolidate social and traditional sales activities by connecting a company's Twitter and Facebook accounts to the CRM platform. With Zoho's social CRM functions, users can reply to messages and mentions directly from the platform, as well as interact with potential prospects. The software can also pull customer data from social channels into client profiles and attach social interactions as profile notes.
Zoho offers mobile applications for CRM, lead management and business-card scanning. Each of the applications are available on the App Store and Google Play store. The card-scanning app costs $4.99 to purchase, while the others are free to use with an active Zoho account.
Integrations

With Nimble, users can easily integrate the system into their larger workflows to ensure not only that their sales activities are connected, but other processes such as accounting and email marketing are as well. In fact, Nimble users have access to dozens of third-party applications through the vendor's Apps Marketplace — including HootSuite, FreshBooks, Talkdesk, Evernote, MailChimp and Marketo, to name a few.



Zoho CRM can be completely integrated with any of the other Zoho products to provide a comprehensive business management solution. Zoho also offers third-party app integration with popular sales, marketing, support and telephony tools. Users of the platform can integrate the CRM with solutions such as RingCentral, Avaya, TeamSupport, Constant Contact, Unbounce, GetResponse and Google Apps.
The platform also includes the ability to leverage custom applications built in Zoho Creator, enabling companies with unique software needs to fully integrate their CRM solution and tailor-made tooling.
User Experience

Nimble is all about simplicity. The platform interface is intuitive and easy for new users to pick up quickly. The Nimble mobile apps maintain that uncluttered look with straightforward designs that make it easy to review contact details and social details. On the whole, Nimble offers a clean, cohesive solution that small companies can efficiently use for contact management, email marketing and oversight of social activity.
The company also provides a number of resources to ensure the platform meets its full potential, including user forums, support tickets and weekly demos.



With Zoho, businesses have access to a classic UI that veteran CRM users will find easy to navigate. Alternatively, it may take some time for novice users to acclimate to the platform's workflow structures and layout of functions, which are not quite as simple as some of the other small business CRM solutions. While the design is not the most modern-feeling, the platform does provide all of a salesperson's must-use tools in a standard and straightforward navigation bar.
Zoho's dashboard and navigational menu are also consistent across its numerous web-based products, making it easy for existing Zoho users to maneuver the CRM tools.

Compare Nimble and Zoho with other leading CRM vendors by registering for our FREE Top 10 Small Business CRM Software Report, which provides detailed side-by-side comparisons of the best CRM platforms around.