Mobile Computing Wars: BlackBerry vs iOS and Android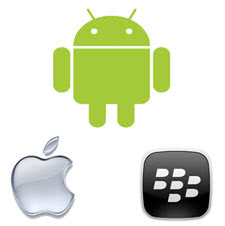 The last 5 years have not been kind to Research in Motion, the company behind the BlackBerry. Once the go-to phone for business users, BlackBerry has struggled to remain popular among customers and developers alike since the introduction of the iPhone and Android smartphones. Research firm comScore recently reported that RIM's BlackBerry holds 15.4% of the US smartphone and tablet market, which is low compared to Apple (43.1%) or Android (34.1%). Even RIM's play in the tablet space got off to a rocky start when they launched the PlayBook in 2011, which sold poorly and is already being offered at a discounted price. As a result, the company's stock price has dropped considerably.
Yet, RIM is not throwing in the towel. Many enterprise software companies, including SAP, are still developing applications for the BlackBerry, albeit to a much lesser extent than for iOS and Android, and many businesses are also still using the BlackBerry as their company device of choice. What's more, RIM recently announced the release of a new generation of BlackBerry smartphones, the BlackBerry 10 (originally called BBX), which combines the best qualities of the BlackBerry operating system and the PlayBook platform.
What's in Store with the BlackBerry 10?
Although details on the BlackBerry 10 are scarce at the time of this writing, one big selling point that RIM is pushing is the fact that the new OS will run apps built for Android. In fact, apps have become a strong focal point for RIM. They are actively recruiting developers into the BlackBerry Jam community in hopes that a surge in new apps will draw users to the new platform. Apps are hot, and RIM understands that in order to attract and retain users, it will need to compete head-on with Apple iOS and Android.
From an enterprise perspective, the new BlackBerry will natively allow IT and end-users to separate enterprise activity from consumer activity. As a result, IT will be able to provision apps selectively as well as push pre-defined apps, thereby ensuring that phone usage adheres to the corporate IT strategy. This is a key feature for RIM, as it has always been popular with IT departments, perhaps more so than Apple and Google because of the security issues in iOS and Android.
Can RIM Bounce Back?
One could wonder, though, if the efforts RIM is making are too little too late. Apple and Google are both addressing the security concerns that enterprises have laid at their feet.  Moreover, Android currently holds the largest share of the US smartphone market, but when taking the entire installed base of smartphones and tablets into consideration, Apple iOS comes out ahead (Apple's iPad accounts for 96% of all tablet activations). The popularity of the iPad has spawned a "Bring Your Own Device" movement, where business users are bringing their personal devices into the enterprise, forcing IT to come up with a new strategy to incorporate them. RIM has very little market share in the tablet area – in other words, with the BlackBerry 10, the company has placed all its eggs in one basket.
That's a risky move for a brand name that has been associated with outdated phone models (physical keyboards), an inflexible operating system that is prone to outages, and an exodus of both customers and investors. RIM is buttering up IT to retain its smartphone foothold in the enterprise, but this comes at a time when IT is facing a completely new challenge and opportunity: tablets . Will the BlackBerry 10 prove to be a success among IT and business users, or will this last ditch effort not be enough to keep the company afloat?
Find more coverage of mobile applications and companies, written by industry experts, on the Business-Software.com blog. You can stay up-to-date on mobile business applications and other industry news by visiting the Software News and Trends page.