Mobile PaaS Will Be the Next Big Thing in the Cloud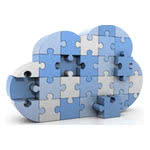 Several years already people are saying mobile apps will be hot. However how many businesses do you know that are actively using mobile enabled applications? Yes there a few. If you count email on the mobile then almost all of them. However most of them have not mobilized their IT solutions yet. Most managers are traveling extensively. Working from home is becoming more popular. Being on holidays no longer means not thinking about work at all.
To the rescue comes Mobile PaaS. The cloud computing platform that allows companies to mobilize everything easily. Mobilize their sales, their internal operations, their partner networking, their whole IT strategy…
Companies will want to have access to their time reporting tool from a mobile app or tablet. The same is true for approvals, travel requests, the product catalog, the employee addressbook, etc.
What Should a Good Mobile PaaS Offer?
Mobile applications need to be easy to access–a single sign-on and you are able to access a virtual desktop from your mobile, your companies intranet, a mobile app that integrates into a companies backoffice systems, an HTML5 app hosted by a partner, a mobile SaaS solution, a flexible mobile business process designer/executer, etc.
A marketplace to buy what is already available–for those mobile apps and SaaS that are already out there companies should pay as they use or a subscription fee. Reinventing the wheel is useless. Being a single point of access will have people come back for more.
A mobile enabling platform–put a mobile GUI on top of companies exposed APIs. If a company has a backoffice system that has an API, then a secure API access (e.g. VPN) and a mobile graphical designer application similar to force.com but for the mobile, should allow companies to quickly build custom apps for their existing systems. A step further would be to have third-parties create client apps for those legacy systems that are still out there and sell the apps via the marketplace.
Virtual mobile desktop–having a virtualized mobile desktop solution for a tablet or having access to a mouse and HDMI TV would allow people on the go to use their tablet or smartphone as a computer and still access a full desktop.
Mobile sales enabler–allow companies to sell their existing products via a new mobile channel quickly. Mobile catalogs for a tablet, instead of paper catalogs. Google is also entering this market now with Google Catalogs. Adding open provisioning interfaces will allow one click purchasing on the go to be linked with existing backoffice systems.
Mobile assets and APIs–offer assets and APIs to charge small purchases directly on your mobile bill, APIs to manage a catalog for a mobile store, APIs to deploy a virtual mobile desktop, APIs to integrate a corporate single sign-on solution, etc.
When?
It is five to twelve. Dotcoms are already active in this space. You should think about working together with some established provider that know your legacy systems and a bunch of dotcoms that you never heard of before but that can bring innovative products. The window of opportunity closes mid to late 2012. So if you plan on launching an RFI, then an RFP, selecting a vendor, implementing a waterfall project and launching by 2013 then you better not start…
Want to know more about Cloud Computing? For additional reading material such as articles, blogs and software reviews, visit Business-Software.com's  cloud computing resource page.