My Top Travel Tips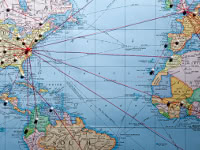 It doesn't have much to do with bringing technology to market, but today's post is one I've been meaning to write for a while. Having spent the last two weeks traveling across three continents, six time zones and nearly 20,000 miles, it seemed appropriate that I tackle it today. A lot of entrepreneurs and startup CEOs become reluctant road warriors as they raise funding and meet with customers who can be globally distributed. If today's post helps stretch your scarce travel dollars while making things less stressful, then I will have done well.
1. Frequent flyer programs are your best travel buddies
This is a fairly obvious piece of advice, although the benefits I usually derive from loyalty programs at airlines, hotel chains and car-rental firms have less to do with upgrades, dandy though those might be, and more to do with easing my passage through a hectic travel day and, most definitely, with saving money while doing it.
Take my membership in a small handful of car-rental-firm loyalty programs, for instance. They cost nothing to join but can save long, tedious lineups at busy airport terminal check-in counters. I can't count the number of times I have breezed past the check-in counter entirely and gone directly to my car while travelling companions fumed through the interminable processes that still seem to plague the car-rental business. My favourite is Budget's FastBreak program. It is unevenly applied — Toronto's Pearson Airport location never seems to have my reservation ready when I arrive — but when it works, man, it works well. At Boston's Logan Airport, for example, the shuttle bus driver checks to see who has a FastBreak reservation and then drops you off right at your car before taking the rest of his passengers to check in. Show your credit card and driver's license at the exit gate and you're on your way in scant minutes.
The same queu-jumping benefits are one of the best payoffs of achieving elite status with an airline and its partners. In Canada, we have only one real option and, for many years, Air Canada was widely recognised by frequent flyers world-wide for having the lowest eligibility criteria for the global Star Alliance gold level that confers priority check-in and boarding privileges along with club access and improved baggage allowances. As of March 1, however, Air Canada has raised its threshold from 35,000 miles to the 50,000 mark for most of its partners. Still, it's well worth consolidating your travel with one or other of the major international airline programs to gain these small conveniences that help reduce the stress of modern air travel. If, along the way, you manage to score an upgrade, so much the better.
Elite status can also be a real money saver. I don't usually travel with much luggage; indeed, like most regular travellers, I try to get by with just carry on. Last summer, though, I travelled out west with the good people from Startup Canada, who schlepped several large, heavy bins of equipment with them wherever they went. Thanks to my status, we managed to save several hundred dollars in excess baggage charges for the flights we shared together. Every little bit helps.
(Regular readers will recall that I named my annual "Air Canada-Harold McGowan Memorial Award for Truly Egregious Customer Service" after the Air Canada baggage clerk in San Francisco whose complete disdain set a whole new low even for an airline whose motto seems to be, "We're not happy until you're not happy." I have to say that my customer-service experience with Air Canada has been vastly improved over the past few years that I have enjoyed Elite status with the airline. I'm sure it's just a coincidence.)
Most hotel chains also have loyalty programs. My favourite is Starwood Preferred Guest, which includes the Sheraton, Westin, Four Points and other brands. Although my use of hotels has dropped off radically (See tip No. 3, below), I still enjoy the small perks — priority check-in, late check-out, occasional complimentary club-floor access, and so on — that come with reaching a higher level in that program.
It can be bewildering evaluating the vast array of choices out there, and some folks seem to have made a near-career out of mastering the tradeoffs between one program and the next. I don't spend a huge amount of time on this; I'm sure I could do even better than I do but the payoff doesn't seem to be worth it. My advice is to sign up for whatever makes sense to you and then try to consolidate your business with one or two of your favourite programs.
2. Unlocked and locally loaded
Every modern traveller who relies on her or his smartphone knows that doing so when out of the country can lead to very nasty surprises when the next bill arrives. Roaming abroad with a cell phone chained to a Canadian carrier can incur local-call costs of as much as $2/minute, long-distance costs several times that, and data charges would make the Borgias weep. I have been travelling with an unlocked mobile phone ever since I got my trusty Palm Treo reprogrammed more than six years ago. That cost me $50 at a kiosk in the Prudential Center in Boston, and saved me hundreds of dollars over the next year or so while adding huge convenience. A wee shop around the corner from where I usually stay in Glasgow has unlocked successive generations of iPhones for me for all of £10 a time, and I have since used those phones everywhere from Britain and Ireland to Jamaica and South Africa, picking up local pay-as-you-go SIM cards that give me vastly cheaper access than the usurious roaming rates charged by my carrier.
Unlocking a phone in this manner does come with its drawbacks. At least with the iPhone, you can't take advantage of any subsequent software upgrades since doing so runs the real risk that you will relock the phone to your carrier. Also, it takes time for the unlock protocols to be developed for newer devices, meaning I have had to settle for using an older generation of my phone when travelling. And, the whole scheme blew up on me in London the week before last when my phone seized up the day before I left town. I did manage to get it restored, but that also meant it was again locked. I did not have time to also get it unlocked again before flying out to South Africa where I was unable to find anyone who could unlock for any kind of reasonable price. Thanks to my $11/month Boingo subscription, though, I was able to access otherwise-pricey wifi networks at every airport I hit, as well as random networks elsewhere on my journey. Some were robust enough that I could use my Skype app to make free calls back home.
Crossing the border into the U.S. is a seamless affair for me thanks to packages from my cellular carrier that allow me to use both my voice and data buckets in both countries. Cellular prices for both voice and data are still way too high in this country but I'm not unhappy with this arrangement — I've been a customer with my service provider for more than 20 years now so I have a bit of leverage when it comes to talking them into giving me decent pricing.
3. Trade your tiny hotel room for a whole apartment at less cost
Even before the advent of apartment-sharing services like AirBnB and iStopOver (now part of 9flats), I was a big fan of renting an apartment rather than a hotel room when I travelled, especially for stays of more than a day or two. The advantages are obvious: I get a whole lot more space, all the convenience of a kitchen, working area, separate bedroom and, sometimes, even in-flat laundry facilities. And I save a lot of money: Even up-market executive apartment services like Britain's Dreamhouse Apartments cost less than a decent hotel room in the same city.
If I am on the road for more than a few days, I really value the opportunity to cook myself the occasional dinner, not just as a respite from restaurant food but also so I can sample local fare. I have whipped up a memorable entrecôte with masses of wild mushrooms and spring vegetables while in Paris, a similarly delicious steak-and-mushrooms meal sourced at an organic farm store in Scotland's Fife district while in Edinburgh and, just last week in London, a simple but tasty plate of local lamb chops and veggies.
Apartment-sharing services have made the whole thing even easier and cheaper, but the results can be spotty. I have met some lovely and friendly hosts in cities around the world, but I have also suffered sleepless nights when the rented apartment turned out to be cheek-by-jowl with the building's noisy HVAC unit or street traffic that sounded as though it was coming right through the bedroom. Unlike with a hotel, there is no other room to which you can ask to be moved. Additionally, some of these apartments are strictly rental propositions, meaning they are devoid of personal belongings, while others are also used by their owners and so exhibit personal tastes and touches including, in one memorable New York instance, the freshly-laundered skimpies of the owner still hanging to dry on a line in the kitchen!
4. Sail through customs and immigration with a Nexus card
I am a very recent devotee of this particular delight, having used my shiny new Nexus card for the first time only this past week as I entered the U.S. following a flight from South Africa, and then came into Canada later in the day. The process of applying for this card used to be a lot more onerous and restrictive but has become much more streamlined in an era where self-serve seems to the rule. You can apply online, wait a few months for an efficient and pleasant interview by both Canadian and American border-services folks, let them scan images of your irises and finger prints, and then get your card in the mail. Once enrolled in the program, you use a self-serve kiosk at airports or a special lane at land border points and whisk yourself through. It is a thing of beauty and wonder.
5. Hipmunk
Not really a tip, but more of a heads-up to those of you who have not yet discovered this fairly new aggregated reservation service. Unlike my former favourite Kayak, Hipmunk lets you build your itinerary leg by leg rather than sifting through complete itineraries with their bewildering array of options. You can also rank the results by price, departure and arrival times, or agony, with the latter taking into account such painful — but often price-reducing — events such as long layovers and inconvenient timing.

Looking for more insider-perspective posts? Browse our entire archive of expert tips written by one of our industry professionals by visiting the Industry Insights section of the Business-Software.com blog.