5 Practice Management Software Options to Boost Profits
As a healthcare professional, managing outstanding claims and struggling with scheduling may seem like a part of the private-practice life — but we're here to tell you, it doesn't have to be that way.
Previously cumbersome practice management (PM) solutions have gone the way of the paper prescription pad and been replaced with cleaner, more intuitive and powerful options. The practice management software options listed below aide in scheduling, claim management, reporting and even collections — saving providers and administrators a plethora of time, and arguably just as important, money.

Kareo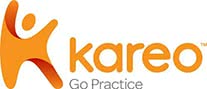 Since 2004, Kareo has been providing physicians with a web-based medical billing software and has since integrated practice management and electronic health record (EHR) functionality.
Priding themselves on their easy-to-use software, the team at Kareo assures that users of any level of tech savvy can maneuver through the program. Initial setup is also made efficient with the ability to import data into Kareo. Many practices find that they may begin to submit claims to most insurance providers within 48 hours of setup. It is important to note that Kareo is a Windows-based application and would require a virtualization tool to be used on a Mac.
Additional features:
Ability to accept and process electronic payments
Offers advanced scheduling and reporting of appointments with availability to send email and telephone reminders and account alerts
Built-in claims scrubbing to decrease the length of time it takes to collect payment
Integrates with Kareo or specialty EHR platforms to seamlessly manage patient records
HealthFusion MediTouch

In 1998, HealthFusion was founded by two primary care physicians with one goal in mind: to make practicing medicine easier for physicians and their staff. As an iPad-native application, HealthFusion MediTouch allows physicians to chart, prescribe and view their upcoming schedule from virtually anywhere.
The application also offers an integrated EHR patient portal with administrative, clinical and billing functionality, while also offering a secure messaging tool. Additionally, with the implementation of MediDraw, physicians can take a picture of their findings, import it to the program, then draw and annotate directly on top of the photo.
Additional features:
Integrated billing, scheduling and clearinghouse within a single interface
Customizable reporting with benchmarks, displayed in an Excel format; reports can be run in real time or on a pre-defined schedule and automatically emailed to physicians and administrators
Offers paperless statements that are automatically sent via the patient portal
ICD-10 ready, with ICD-9 to ICD-10 conversion tool with side-by-side coding
Features Denial Defender, a tool designed to make recommendations on the use of billing codes and modifiers, increasing the percentage of clean claims
AdvancedMD Practice Management

The AdvancedMD solution acts as an all-in-one EHR and PM. With the ability to optimize schedules, document patient encounters, prescribe medications and practice on-the-go, the AdvancedMD platform covers both the front and back-of-house within a practice. The solution also offers detailed tracking and reporting of outstanding claims and bills, allowing physicians and administrators to measure and pursue revenue.
Additional features:
Automated patient billing with batched statements, payment plans and soft collection letters
Ability to practice on-the-go with SOAP note, charge slip and scheduling functionality, all from an iPhone or iPad
Collaborate with staff through an inter-office messaging center and with patients via a secure patient portal
Trend patient health over time and across visits for an at-a-glance view, with the ability to create customized health plans
NueMD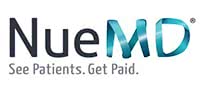 For over 20 years, NueMD has been working to make complex operations simple. NueMD features scheduling tools that allow for multiple physicians, days and office locations. Additionally, patient statements, collection notices and billing procedures are all easily accessible within the platform.
For complete practice management, NueMD also offers an EHR platform, complete with patient portal and billing management tools. With numerous tiers of service, NueMD serves as a comprehensive yet price-effective solution for small practices.
Additional features:
Manage multiple claim reimbursements and payments quickly and easily, without logging into a third-party clearinghouse
Automatically scrub all claims against a constantly updated list of more than 10 million federal, state and commercial claims edits
Easy-to-use on both Android and Apple operating systems
Features an automated service to send appointment reminder phone calls or text reminders
Customizable appointment settings based on physician, time increments, appointment reason and patient status
MicroMD

The MicroMD family of medical software solutions has grown to serve over 14,000 physicians in primary care and major medical and surgical specialties since 1982. For a relatively low price, MicroMD will bundle their practice management and electronic medical record (EMR) solutions together, and offer up to 40GB of cloud storage per practice. Additionally, the team at MicroMD is also working to assist in transitioning practices to IDC-10 coding before the mandatory date in October 2015.
Additional features:
Automated patient eligibility verification allows administrators to verify eligibility without having to leave the appointment screen
Continuous and automated claims tracking with preferred clearinghouse partners (ECP, Gateway EDI, A Trizetto Company, Availity and Practice Insight)
Customizable access management and security based on roles and permissions, as well as audit trail maintenance
Integrates with other platforms, including Microsoft Word and Excel, in addition to connectivity with lab services, clearinghouses and automated telephone reminder systems
To learn more about practice management solutions and which platform is the best fit for your practice, download our comprehensive Top 10 Practice Management Software Report today.
[Photo courtesy of flickr user Kreg Steppe.]