The Best Free EMR Software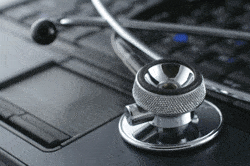 A few years back when the first free EMR services debuted in the market, many physicians viewed them with suspicion and got hung up trying to answer the question, "What's the catch?" Their concerns revolved around security, stability, certification, support and plain old legitimacy. Today it's impossible to ignore free EMR. Whether ad-supported or open source, a handful of vendors are leveling the medical software playing field by adding competitive free EMR/practice management solutions to a market characterized by costly software.
Not only is free EMR free, but it can actually help you earn money. Thanks to a stimulus package passed in 2009, physicians who demonstrate "Meaningful Use" of an electronic health record system are eligible for $44,000 in Medicare incentives. So before investing be sure to evaluate each system's certifications and Meaningful Use support.

Practice Fusion is a leader in free EHR software. Founded in 2005, Practice Fusion boasts more than 150,000 customers serving 34 million patients. The free, ad-support software has a full set of features including e-Prescribing, medical charting, scheduling, referral letters, lab integrations, and more. Practice Fusion is flexible enough to meet the requirements of any medical specialty, and was rated the #1 solution for primary care by 12,000 surveyed physicians.

Mitochon is a pioneer of free EMR. The company offers a free, Web-based EHR solution with Complete Ambulatory ONC-ACTB Certification. The intuitive system allows physicians to schedule appointments, complete medical charts, send prescriptions via ePrescribe, and more. Like Practice Fusion, Mitochon supports operations through ad revenue. Cloud services are hosted on the HIPAA-compliant Amazon EC2 platform.

OpenEMR is a free open-source solution that handles everything from scheduling to billing and beyond. Despite featuring a less aesthetic UI than Practice Fusion and Mitochon, OEMR has a robust set of features, an active user community, and plenty of flexibility for customization. OEMR is licensed under the GPLv2. Being open source means users will need to host the software on local hardware.

Medgen EHR is an ONC-ATCB Certified Web-based EHR solution. It offers a comprehensive list of features that includes ePrescribing and medical billing, along with essential charting and scheduling functionality. It supports practices of all sizes, as well as practices with multiple office locations. Like Practice Fusion and Mitochon, Medgen is ad-supported.
Do you have experience with free EMR software? If so, tell us about it in the comments.
Want more on EMR and practical management software? Our Top 10 Electronic Medical Record Software report to get a breakdown on pricing, technology and key features for the leading solutions.