From the Community: Best EHR for Small Practices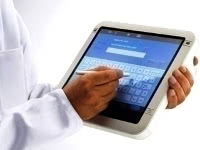 Welcome to From the Community, where we highlight questions from our community members. Join us each Friday as we dive into the featured inquiry.
Anne S. writes, "What EHR suits a small practice the best? Doctors are not easy to convert to the electronic age." Transitioning away from the long-entrenched system of tracking medical records on paper can be a monumental task for practice managers. A huge factor in successful software adoption is picking the right solution from the start, so make sure that you focus on factors that matter most to small practices when searching for an EHR or EMR software solution.
Focus on Features You Need, Not Bells and Whistles.
As with any new software system, the wealth of features available when you first run your new electronic health record software can be overwhelming. Doctors and nurses are already busy people, so convincing them to use a complex set features they'll never need can work against your adoption rate. Instead of purchasing an EHR with a glut of fancy functions, figure out what your practice's core needs are, and try to find a system that excels in those areas. You'll find it much easier to convince doctors to make the switch to an electronic health records system if it's intuitive and easy to use.
Look for Affordable Systems, But Not "Cheap" Ones
Finding an affordable system is often a critical factor for small practices, but make sure that features such as security and functionality are still up to par if you go with a bargain option. Another important feature to look for is support; since small practices generally don't have a dedicated IT support team, it's important that you have resources available to help you out if something goes awry with your system. If you're ready to make the switch to an electronic medical record system, it's critical to ensure that your software is always up and running when you need it.
Our Small Practice EHR Recommendation: Practice Fusion
Practice Fusion is one of the industry favorites right now for EHR systems, and for a good reason. It's a free, web-based platform built with ease-of-use in mind. We love Practice Fusion's policy of providing excellent support to its users. They are developing an EMR for iPad feature (currently in beta), which allows doctors to take the whole system with them wherever they go.
Want to look at more options before you make a decision? Check out our Top 10 Electronic Medical Record report for a side-by-side comparison of the top EMR solutions.
Have a question you'd like us to feature in our weekly blog post? Send us an email at marketing@business-software.com or tweet us at @BiznessSoftware with the hashtag #softwarequestion after you've posted your question to the Business-Software.com community and we'll do our best to make it happen.