QuickBooks vs FreshBooks Comparison: Which Is Better for Your Business?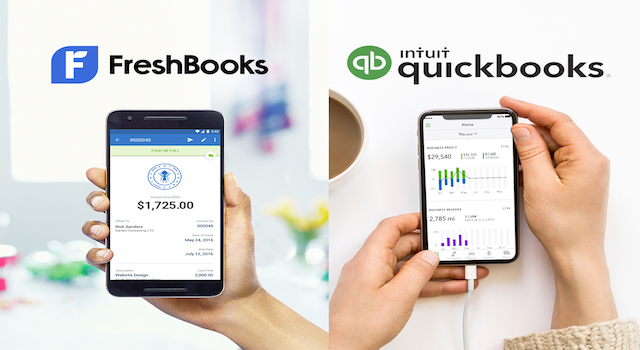 While QuickBooks has come to dominate the small business accounting market, FreshBooks is a powerful alternative that offers basic functionality to help manage your online bookkeeping. So how do they compare? What are the key differences between QuickBooks and FreshBooks, and which is better for your business?
QuickBooks vs FreshBooks: At a Glance
QuickBooks is one of the best-known accounting platforms developed by Intuit, which was founded in 1983. FreshBooks was founded in 2003 and has quickly grown to become a strong contender in the area of all-in-one small business accounting solutions.
A key factor in choosing between QuickBooks and FreshBooks is the size of your business. FreshBooks excels in basic functionality, which is popular with freelancers and contractors. If you're looking for basic bookkeeping with an easy-to-use interface, FreshBooks is a good option.
However, QuickBooks goes far beyond the basics, with hundreds of app integrations, customizable reporting, and excellent scalability. No wonder QuickBooks has helped small businesses manage their finances and invoices for decades.
QuickBooks vs FreshBooks: Pricing Comparison
In terms of pricing, both solutions are subscription-based. In terms of scalability, QuickBooks has better pricing than FreshBooks. You can share your bookkeeping with your accountant, and you can make use of the online community of 5+ million users.
In comparison, FreshBooks offers no bank reconciliation in the Lite plan, and has a limited number of users. Scaling up can become increasingly expensive.
QuickBooks pricing:
Simple Start: $25 per month for 1 user, 2 accounting firms
Essentials: $50 per month for 3 users, 2 accounting firms
Plus: $80 per month for 5 users, 2 accounting firms
Advanced: $180 per month for 25 users, 3 accounting firms
FreshBooks pricing:
Lite: $15 per month or $180 per year if paid for upfront
Plus: $25 per month or $300 per year if paid for upfront
Premium: $50 per month or $600 per year if paid for upfront
Select: Custom pricing
For FreshBooks, all plans except Select include just one user. Additional team members are $10 per person, per month.
QuickBooks vs FreshBooks: Feature Comparison
If you want accounting software that grows as your business grows, QuickBooks may be the right fit. But if you're a freelancer or run a one-man business, FreshBooks might meet your needs. Here is an overview of the key features.
| | | |
| --- | --- | --- |
| Accounting Feature | QuickBooks | Freshbooks |
| Invoices | Yes | Yes |
| Estimates | Yes | Yes |
| Expense Tracking | Yes | Yes |
| Time Tracking | Yes | Yes |
| Double-Entry Bookkeeping | Yes | Yes |
| Inventory Management | Yes | No |
| Purchase Orders | Yes | No |
| Payroll | Yes | Add-on |
| Vendor Bills and Credits | Yes | No |
| Budgeting/Forecasting | Yes | No |
| 1099 Reporting | Yes | No |
Now let's take a closer look at some of the key features of an accounting solution to see how QuickBooks and FreshBooks compare, and where each software succeeds or falls short.
At a glance, QuickBooks offers more features than FreshBooks but those aren't cheap. If you need inventory management, double-entry bookkeeping, or time tracking, QuickBooks is the right choice. But if you don't need those features and just want something to help you manage your income and expenses, FreshBooks is the way to go.
Inventory Management
If you're looking for basic inventory and tracking features, FreshBooks can help. Stock alerts and invoicing for goods are included in all plans. But FreshBooks is not able to scale in this area, so if you're looking to grow your inventory, this isn't the way to go.
QuickBooks offers a full range of inventory functions, including low-stock warnings, reordering, rate customization, and reporting to find out which of your products are most popular, most expensive, etc. These inventory features are only available on the Plus and Advanced plans.
Time Tracking
Time tracking is included with all FreshBooks plans. You can use the desktop or mobile app, as well as third-party project management apps. Billing for project hours is also included.
QuickBooks offers the same functionality, but only at the Essentials plan and up, which is therefore the costlier option.
Customer Service
The quickest way to get help is to consult the online resources, which both QuickBooks and FreshBooks offer in spades. To get personalized support, QuickBooks offers chat and phone options, while FreshBooks offers phone and email.
With regard to customer service, QuickBooks has a leg up on FreshBooks with Saturday support and 24/7 customer support on the Advanced plan.
When to Choose QuickBooks
If you're selling products and managing inventory, QuickBooks is the clear winner. You can track daily sales from a multitude of channels like PayPal and Shopify. Strong inventory management functionality helps you keep track of your goods and run a smooth operation.
Secondly, QuickBooks is built to scale. Its comprehensive feature set can grow along with your business. Plus it integrates with many other Intuit products such as QuickBooks Point-of-Sale. FreshBooks' focus is on a much smaller audience, like freelancers and one-man shops. Its mission is to offer no-hassle functionality, which means that any complexity in your supply chain will require you to use other tools to fill the gaps.
Due to the popularity and long history of QuickBooks, it's also the most-used solution among accountants. So if you want to be aligned with your accountant, and have a tool that manages bank feeds, integrations, and tax compliance, QuickBooks is the right choice for you.
Bottom line, if you're looking for a solution that has been around for decades, that can scale along with your business, and that's priced according to your needs, QuickBooks is the way to go.
When to Choose FreshBooks
If you're a freelancer, solopreneur, or small business owner looking for a no-nonsense, cost-effective solution, FreshBooks is the way to go. The software is particularly popular in marketing and advertising. So the focus here is less on accountants, as with QuickBooks. 
FreshBooks offers time tracking and billing out of the box. Invoicing, project management, and third-party integrations into payment tools like Stripe are quick and easy. This simplicity is a clear advantage over QuickBooks, if you're just getting started with a side job or small business.
FreshBooks is known for its ease of setup and administration. In addition, it offers quick and easy integrations with many popular small business tools such as HubSpot.
Lastly, FreshBooks excels at personalized customer support. Their email address is actually managed by humans, and their refund policy makes up- and downgrades a no-hassle. 
So if you're not looking to go all out with a full-fledged accounting solution, FreshBooks is a great pick.