QuickBooks vs NetSuite Comparison: Which Is Better for Your Business?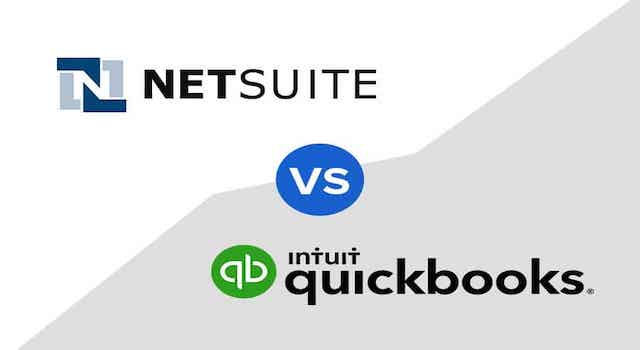 QuickBooks has been around since the early 80s. QuickBooks Online was launched in 2001. No wonder it's one of the most popular and recognized accounting solutions for small businesses today, offering an intuitive user interface, scalability and many features.
If you need more than just basic accounting however, Oracle NetSuite offers a compelling alternative that includes ERP, CRM, HCM, and more, all natively integrated. So larger companies, or those looking to scale extensively, will benefit from having a packaged solution as opposed to using QuickBooks with third-party integrations.
So how do these solutions compare? What are the key differences between QuickBooks and NetSuite, and which is better for your business?
QuickBooks vs NetSuite: At a Glance
To start off, QuickBooks and NetSuite can both help you manage and streamline your financial processes, from sending invoices to keeping a record of receipts, and analyzing data reports and much more. Both solutions are also cloud-based, allowing access anywhere at any time, so you can always stay on top of your finances.
The key difference between QuickBooks and NetSuite is that QuickBooks is designed specifically to meet the day-to-day accounting needs of small to midsize businesses, whereas NetSuite's ERP platform offers a much broader approach, tailored more to midsize and large businesses.
Of course, NetSuite's more robust offering comes at a higher price. A basic license starts at $99 per month per user. Compare this to QuickBooks' $25 per month license for one user.
In short, NetSuite may be the right choice if you're looking for a comprehensive business management solution that can handle more than just your finances, such as CRM, Ecommerce and more. QuickBooks may be your best bet if you want to focus purely on accounting processes such as invoicing and payroll.
QuickBooks vs NetSuite: Pricing Comparison
In terms of pricing, both solutions are subscription-based. However, NetSuite targets larger clients and therefore comes with a much steeper price tag.
QuickBooks pricing:
Simple Start: $25 per month for 1 user, 2 accounting firms
Essentials: $50 per month for 3 users, 2 accounting firms
Plus: $80 per month for 5 users, 2 accounting firms
Advanced: $180 per month for 25 users, 3 accounting firms
QuickBooks' seemingly low prices can be misleading. They do not include all the additional functionality you may need to purchase in order to run your business, such as a CRM module, an HR module, etc.
NetSuite pricing:
NetSuite offers custom pricing with a $99/month user fee. Your cost will ultimately depend on the size of your business, the number of users, and the functionality you need. Also, because of the size of the installation, there will be a setup fee with professional services included. In order to obtain accurate pricing for your particular needs, you will have to contact an Oracle sales representative.
QuickBooks vs NetSuite: Feature Comparison
QuickBooks is best suited for small to midsize businesses looking for basic but highly user-friendly accounting software. NetSuite is a good choice if you have more complex accounting needs that may include other areas of your business as well. How to pick which software is right for you will depend on what features you need.
| | | |
| --- | --- | --- |
| Accounting Feature | QuickBooks | NetSuite |
| Customer Support | 6am-6pm PT | 24/7 |
| Mobile App | Yes | Yes |
| Inventory Management | Yes | Yes |
| Warehouse Management | No | Yes |
| Invoicing | Yes | Yes |
| Purchase Orders | Yes | Yes |
| Payroll | Yes | Yes |
| Vendor Bills and Credits | Yes | Yes |
| Budgeting/Forecasting | Yes | Yes |
| 1099 Reporting | Yes | Yes |
Now let's explore some of the key features of an accounting solution to see how QuickBooks and NetSuite compare, and where each software shines.
Assisted Bookkeeping
One key difference is that QuickBooks offers assisted bookkeeping functionality called QuickBooks Live. Bookkeepers will answer basic questions and help with setup and cleanup of your finances. NetSuite customers will have to rely on third-party bookkeeping businesses. The main advantage for NetSuite customers is that those third-party bookkeepers may be able to handle more complex issues than QuickBooks Live bookkeepers such as A/R, A/P, and tax preparation.
Integration
While both QuickBooks and NetSuite offers various integrations, NetSuite is integrated from end to end, reducing the need to connect third-party modules. It does, however, offer additional solutions that are beyond NetSuite's scope, such as Google Apps. Also offered are training courses and consulting services to implement and fully optimize your system.
QuickBooks has 650+ business app integrations, and two integrations that are built-in: Payroll (to manage payroll, tax filing, health benefits, workers' compensation, and other HR functionality), and Time (time tracking).
Customer Support
QuickBooks offers support within the software and on its website. It offers a comprehensive knowledge base with video tutorials, webinars, and more. A lively community forum is available to post and answer questions. Agents are also available; however, there is no phone number to reach them. You will have to submit a request for them to call you. Live chat is available, as well as QuickBooks Live for online bookkeeping support.
In terms of customer support, NetSuite really outshines QuickBooks by offering 24/7 real-time support via phone, email, and a built-in chatbot on its website. Automated chat functionality is also available. All NetSuite subscriptions include basic support, which can be scaled up (at a price) to meet additional support requirements.
When to Choose QuickBooks
QuickBooks remains a prime choice for small to midsize businesses looking for a complete bookkeeping solution that can grow along with your business. It's highly functional and user-friendly, and does not overwhelm you with features and functionality. Pricing is clear and built to scale, and while it may be pricier than other accounting solutions in this target market, it's certainly more affordable than NetSuite.
Because of QuickBooks' popularity, it's easy to loop in our accountant, who will most likely be familiar with the software. QuickBooks is also known for its scalability. Getting started is quick and easy, and the software will grow as your company, along with your number of users, grows. With regard to the number of users, there is a maximum of 40 whereas NetSuite has no stated maximum.
So in short, QuickBooks is a cost-efficient, user-friendly, widely known accounting solution that works well for basic accounting but is not an all-in-one solution like NetSuite.
When to Choose NetSuite
NetSuite offers an all-in-one ERP solution that offers a vast amount of features to help you streamline your end-to-end finances and other business processes. It can be customized and modulated to your needs, and offers third-party integrations to scale even further.
While QuickBooks offers a web-based solution, it's rare for a software of NetSuite's size to be fully web-based as well, offering greater accessibility and flexibility. Unlike QuickBooks, which has a maximum of 40 users, NetSuite states no maximum number of users.
In short, if you're looking for a robust, award-winning financial management suite that allows you to store all your data in one system, while being able to loop in a CRM system and various other modules, then NetSuite might be the right choice for your business.