4 Real Estate-Specific CRM Solutions Your Agents Will Adore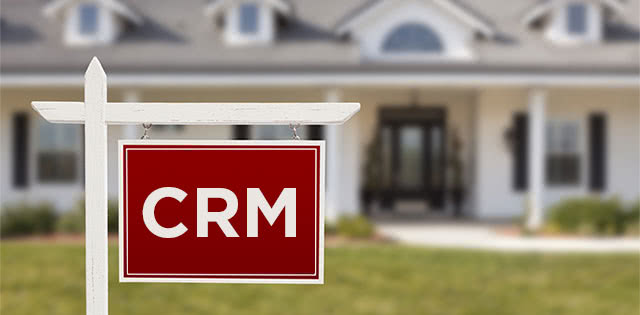 A company's success is inherently tied to its customers' satisfaction, hence the need for robust customer relationship management (CRM) software that nurtures and grows customer relationships. Yet for businesses with unique customer lifecycles—such as real estate agencies—finding the perfect CRM software can be an arduous process.
Whether your business deals with residential properties, commercial properties or both, a CRM specially designed to manage the unique home-buying customer lifecycle will make a difference to your bottom line. Buying real estate-specific CRM software for your business can improve communication between agents and buyers, reduce redundant processes and help your agency close more deals.
Fortunately for realtors, there are a number of real estate-specific CRM solutions that are specially built to manage the home-buying customer lifecycle. Read on to learn more about how a real estate CRM solution can benefit your agents, then compare our helpful list of the top CRM solutions in the real estate industry.

An Overview of Real Estate-Specific CRM
Any CRM solution will provide basic tools to manage contacts, accounts, leads and opportunities. Yet a real estate-specific CRM will tweak these basic features to address the unique concerns of individuals and firms who operate within the real estate industry.
Real estate businesses must communicate with customers over a long period of time—sometimes even years—before closing a deal. Furthermore, they must uncover and record each customer's preferences and financial status to ensure that they are matched with appropriate listings. For these reasons, real estate businesses need top-of-the-line contact management capabilities to track and manage clients who may only make one purchase throughout their lifecycle. Agents know that referrals are an important aspect of generating new business, so the real estate CRM should also track and manage referrals, linking them back to the original contact.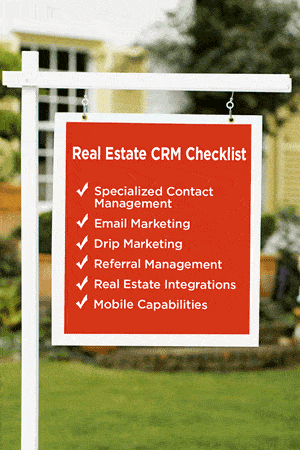 Since individuals usually buy only one to two homes over the course of their lives, staying in touch via email is often the only viable way for a real estate agency to remain relevant. Most real estate agents and firms also want a CRM solution that either provides or integrates with an email marketing solution. Agents must work hard to maintain long-term relationships with clients, and automated email marketing and newsletters—along with drip marketing capabilities—can have a huge impact on the bottom line. Many of today's agents also use social media websites like Facebook and Twitter to attract new customers and provide value to existing clients.
Your real estate CRM solution might also integrate with inventory management solutions, property management software, contract management software, MLS, LOS or real estate websites such as Trulia or Zillow. Finding a CRM solution that integrates with the real estate software and applications you're already using will improve adoption and help centralize operations.
Lastly, to make the most of your real estate-specific CRM, choose a solution with mobile capabilities. With agents frequently on the go, additional mobile functionality translates into more sales and happier customers. Most mobile-friendly solutions are offered on the cloud. Look for SaaS real estate CRM software to reduce hardware costs and increase anytime, anywhere accessibility. You may also want to choose a CRM that can automatically determine the commission on future sales, a simple tool that can motivate sales teams and help agents determine which possible clients offer the best potential.

4 Real Estate-Specific CRM Solutions Your Agents Will Love
While there are a variety of real estate CRM solutions on the market, these are the top five real estate CRM solutions your agents will love.

Built by professionals with more than 15 years of real estate experience, Propertybase CRM offers real estate-specific CRM features for residential agents, commercial agents and developers. The combination of these functions ensures that any real estate agency will have all of the features it needs to be successful. An extensive library of product add-ons makes it possible for an agency to customize the software to extend functionality where needed.
Propertybase CRM is built on Salesforce, the world's top-rated CRM software solution. Users can expect robust, scalable cloud software with numerous real-estate specific features such as commission tracking, customizable contact management, listing management and franchise management. Propertybase also provides mobile functionality, keeping agents updated on the go. Businesses can try Propertybase for free, as the company currently offers a free 14-day trial.

AgentOffice is an affordable real estate–specific CRM solution that's offered by Emphasys Software, a leading provider of real estate management, financial and compliance software solutions. This solution simplifies real estate-related tasks by offering automated email marketing tools, 24/7 customer support and secure data management.
AgentOffice's Metrics Dashboard gives agents a 360-degree glimpse at all important information, including new leads and listings, closings and properties that have been shown. The CRM integrates with Facebook, Outlook and WordPress, enabling agents to access these platforms from within the customer relationship management solution. AgentOffice offers flexible pricing options, including both one-time and monthly payment plans.

Wise Agent has been providing CRM software to real estate agents for more than a decade. Their solution, conveniently named Wise Agent, provides all of the features realtors need to manage the unique home-buying customer lifecycle, including document storage for contracts and transaction, and an array of marketing tools.
The robust Wise Agent Contact Manager includes time- and date-stamped editing, and allows you to sync your contacts with Google. Transaction management and time management tools are also available. Aside from your usual run-of-the-mill email marketing features, Wise Agent provides drip marketing campaign management tools that include customizable listings and hundreds of free templates. This solution can also help manage printed marketing materials.

REthink Real Estate CRM comes in two distinct versions, REthink Residential and REthink Commercial, offering features that are specific to each of these very different real estate markets. REthink Residential offers comprehensive tools for managing listings, including a Listing Browser that enables agents to search listings and record client feedback directly within the CRM software. Agents can also use REthink Residential to automate client interactions and track new leads.
Like the residential real estate agent version, REthink Commercial provides numerous real estate-specific CRM features that your agents will love. These features include listing and managing customer preferences, pipeline visualization, activity and event tracking, comp generation and retail leasing tools. REthink Commercial also offers a Listing Image Gallery that allows your company to store photos of listings and properties from directly within the CRM solution.
Looking for additional information on the leading CRM software? To compare top CRM solutions, download one of our seven free Top CRM Software reports. Each report compares pricing, deployment models and key features of the leading CRM software solutions.