SFA vs CRM Software: How Do the Two Platforms Match Up?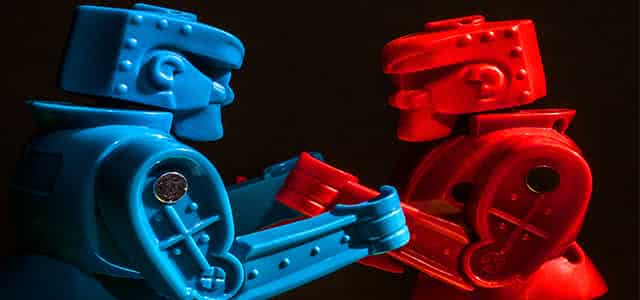 The time has come to make a decision: sales force automation (SFA) or customer relationship management (CRM). Due to the commonalities and feature overlaps of these two platforms, determining whether or not your business should invest in either a standalone SFA package or complete CRM solution can be pretty confusing.
SFA and CRM platforms serve as the bedrock from which your team connects with both potential and loyal clients to make sales, and to keep those sales moving forward. However, they're by no means the same in functionality despite having similarities, so choosing the right one can be critical to your company's ability to operate at its maximum potential. Today, we at Business-Software.com will settle once and for all which platform deserves your attention, and the right to rein over your corporate sales process.
Ladies and gentlemen, let's get ready to rumble!

The Matchup: SFA vs CRM
Sales Force Automation
In this corner of the ring we have our defending champ, sales force automation. Since its inception, these tools have greatly streamlined sales processes and allowed sales teams to more efficiently close deals.
Customer Relationship Management
The challenger, CRM, focuses on developing and maintaining strong relationships at multiple stages of the customer's experience. Customer relationship management has evolved the software space, threatening SFA's relevancy and claim to the title.

Round 1: Focus
As you might have guessed, SFA focuses completely on the sales aspect of your business; you won't find marketing or support tools here. Still, having a sole, centralized place for your sales team to organize contacts and opportunities, schedule appointments, funnel sales and collaborate can greatly enhance their success.
Alternatively, the 360-degree approach offered by CRM provides a complete view of the client for a continuous loop of satisfaction. Unlike SFA's sales-first approach, with CRM you'll gain the ability to maintain timely and sincere interactions with all of your clientele through manageable tickets, organized emails and even social media connections. By creating loyal customers, CRM facilitates your growth and makes sure it sticks.

Round 2: Functionality
For businesses in need of assistance toward the beginning of the sales cycle, SFA is the stronger of the two competitors. With a proactive stance, SFA hooks customers from the start rather than worrying about the long term. These solutions are designed to store task-oriented information and actionable items so that your sales teams can strike fast as soon as opportunities present themselves.
In comparison, CRM really hits its stride right where SFA lets off. Once you've established a relationship with the customer and secured that first sale, CRM empowers your marketing, support and/or customer service teams to build on that relationship. CRM's stance is reactive, allowing your personnel to access a similar wealth of important client and sales information to make decisions on any challenges that may arise. Since it's often easier and cheaper to keep your clients than attract new ones, a CRM strategy that involves keeping customers happy should be given high consideration.

Round 3: Features
The top SFA solutions pack in lead, account, opportunity and contact management, as well as deep reporting capabilities to help kick-start the sales process. In order to keep things running smoothly, SFA brings appointment scheduling, information sharing and workflow management to your sales team's fingertips for optimal synergy. Although SFA platforms can undoubtedly deliver a knockout sales punch, they lack versatility in the scope of their overall feature set. Generally speaking, this means that the sales features list of an SFA tool tends to go deeper and be more robust than CRM solutions competing in the same space.
Common features of customer relationship management include customer profiling and service tools, data warehousing and marketing campaign tracking. Combined with communications tracking and sales histories, CRM's features give your team in-depth holistic views on which strategies are working and which aren't. In addition to offering welcomed features such as social media and customer support management, these heavy hitters will usually include automation capabilities that work to improve the sales process as well, directly competing against SFA's only strength.

Is SFA Down For the Count?
As noted, most leading CRM solutions do offer basic sales force automation tools as part of their complete customer-centric focus. For CRM, sales are just one part of a longer equation, which also includes marketing and support. If you take a look at our Top 10 SFA Report, it's quite telling that the majority of listed products are actually CRM solutions as opposed to being traditional SFA tools. Although CRM would fall short of SFA in a sales features slug-out, its relatively competent alternatives make it the more attractive choice more often than not.
So is sales force automation completely obsolete? It's hard to say. The tools themselves are certainly useful to businesses and can help to keep them moving forward. At the same time, the model of exclusively providing sales tools itself is perhaps no longer a viable proposition considering so many CRM solutions are offering similar features, along with much more. Your business strategy should include sales force automation capabilities to generate business, but it certainly shouldn't end there if you want to keep the solution in the future.

Winner by Split Decision: CRM
All in all, sales force automation capabilities might be necessary for you to run a successful business, and should be a priority before seeking supplementary customer relationship features. That being said, since most CRM solutions include some solid, albeit potentially limiting sales force automation uses, it makes more business sense to go for a CRM option that's going to have a wider range of your needs covered all on its own.
While in a perfect world the two types of software should be working hand-in-hand rather than competing, SFA is ultimately outclassed in this matchup by CRM's focus on customer relations and sales-features overlap. If you decide to go with a sales force automation platform, ensure that it has the options to either expand or integrate as your business grows, so that you can eventually gain those tools that keep clients happy and coming back for more.
When you're ready to start your search for a CRM solution, take a look at our Top 40 CRM Report for a full list of our favorite options, or read about upcoming CRM industry trends right here on our blog!
[Photo courtesy of Robert Couse-Baker.]