RIM BlackBerry PlayBook Revealed
Yesterday, at the Developers Conference, RIM officially unveiled their tablet, which has been dubbed the BlackBerry PlayBook. The seven-inch BlackBerry Playbook aims to be the first enterprise ready tablet, which features full web compatibility, true multitasking, and dual HD cameras for video conferencing.
The release of the PlayBook confirms many of the early rumors, such as the new operating system that was developed by the RIM acquisition QNX technology. The BlackBerry tablet will take full advantage of the newly developed system and hardware. Sporting a dual-core 1GHZ processor and 1GB of ram, the operating system will be leveraged to create a unique user experience with true multitasking capabilities. Also included, are an on-screen virtual keyboard and BlackBerry Enterprise Server compatibility with 3G connectivity through existing BlackBerry service plans.
Although the BlackBerry PlayBook is aimed at corporate users, it has plenty of multimedia features to keep tech junkies happy. The PlayBook features a 5 megapixel back camera and a 3 megapixel front camera, which are capable of recording video in 1080p HD quality. This combined with the fast processing speed and high resolution touch screen will keep everyone from gamers to business users happy.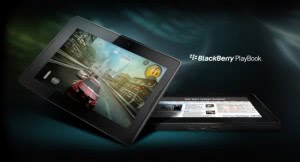 With this latest announcement, the tablet wars are officially on, and each tablet is equipped with its own unique operating system and various features. However, there are still some unanswered questions about the BlackBerry PlayBook such as pricing, release date, battery life and storage capacity. All we know is that the competition in the tablet market is heating up for the iPad with the upcoming releases of the Samsung Galaxy Tab and the BlackBerry PlayBook.
[Photo courtesy of wikipedia.]