Salesforce vs SAP: A Clash of Two Enterprise CRM Titans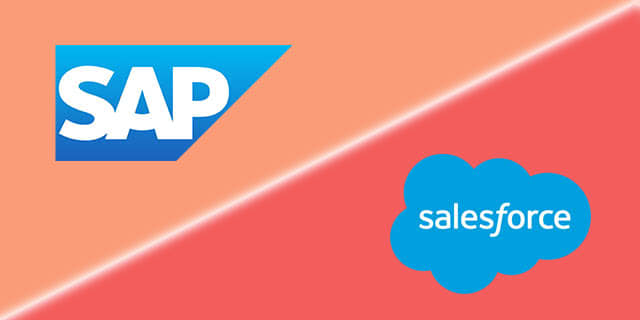 Ineffectively managing customer relationships is the equivalent of trying to operate a computer without its hard drive — possible, but minimally functional and highly unlikely to spur growth. That's where a CRM platform comes in handy, especially for large enterprises with thousands of customer profiles and accounts to oversee.
Much like a hard drive, enterprise CRM software provides myriad uses as a form of virtual storage, as a system of organization and as a tool that interprets data. With help from each of these functions (as well as many others), CRM can empower an enterprise to increase the efficiency of and improve the quality of client interactions.
Two CRM vendors that excel at enterprise-scale tools for large sales teams and departments are Salesforce and SAP. With 18.4 percent and 12.1 percent of the market respectively, these major players both offer comprehensive solutions designed to function at the core of your company and synchronize all sales-related operations. But in a head-to-head battle, who will come out on top?
Let's take a look at what each platform offers in five major categories of functionality in this showdown of enterprise CRM software: Salesforce vs SAP.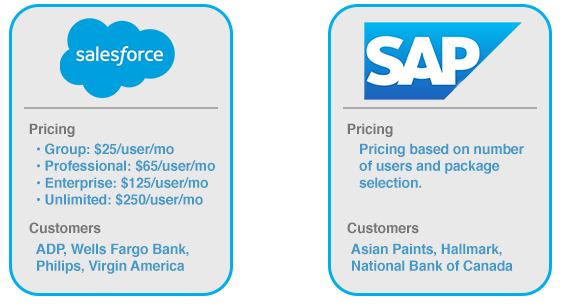 Contact & Opportunity Management


As a tool for sales teams to easily manage their contacts, Salesforce Sales Cloud shines. The platform logs all activity history, contact details and client communications to provide a complete profile of every customer, and even includes the ability to aggregate data from popular social media sites. The platform also offers up-to-date opportunity management for accurate quoting and negotiations.
Also noteworthy is the Salesforce mobile application (available for iOS and Android devices), which offers one of the better user experiences from a CRM mobile app. Though users are unable to perform all of the same tasks operable on the main platform, the mobile edition ensures field agents and employees can add notes, review information and stay in the loop regardless of location.




Much like Salesforce, SAP's CRM solution offers many standard functions to help automate and streamline contact management, including a customer database that tracks contact history and enables call scheduling. Also available are lead tracking tools to increase visibility of lead status and nurturing programs, as well as advanced features like loyalty management. Users are additionally provided with a clear view of lead progression and the entire sales pipeline.
With SAP, users are able to generate and manage contracts and quotes directly within the CRM platform, allowing sales teams to maintain a more cohesive sales lifecycle and ensure an organized proposal process. The platform's real-time offer management tool enables team members and managers to easily check on the status of both ongoing and developing offers.

Marketing & Campaigns Management


One area of weakness in the Salesforce platform is its marketing tools, which are virtually nonexistent if a user opts to purchase only the Sales Cloud solution. However, comprehensive marketing automation functions are available through the Pardot Marketing Automation platform (for an additional cost), which can be easily integrated with the Sales Cloud to streamline outreach and lead nurturing. In addition, engagement tools can help users understand when to interact with prospects and what marketing materials to use.


As a CRM platform optimized for midsize and large enterprises with complex operations, SAP CRM includes a number of modules designed to simplify marketing activities and campaigning. From the platform's campaign dashboard, users can conduct email marketing initiatives and manage mailing lists, as well as oversee referral tracking, segmentation and list management. Similar to many marketing modules and solutions, SAP CRM also incorporates tools to customize emails and automate distribution with campaign scheduling.

Analytics & Forecasting


As with its marketing capabilities, some of the Sales Cloud's analytical tools are tied into the Wave Analytics platform — which means that companies looking for in-depth reporting must pay an additional fee for access to that service.
However, the Sales Cloud does offer its own set of sales-based evaluation functions, including forecasting, quota attainment tracking, overlays management and custom categorizations. With the drag-and-drop builder, users can also create custom fields, select specific data for drill-down and set up tailored analytics dashboards.




Data is where SAP excels — virtually all SAP platforms include fully integrable data capabilities, making it extraordinarily easy for users of multiple SAP solutions to pull data from one application into another and perform complex analyses. And with SAP CRM, users can develop custom graphs and charts and build tailored sales reports. The platform also features sales performance monitoring and forecasting and planning tools, which can be used to generate detailed reports on sales and pipeline-specific activities.

Productivity Management


With a customizable workflows dashboard, the Sales Cloud assists with project tracking on multiple levels: the module includes drag-and-drop task management, approval automation and group notifications. The Salesforce platform also emphasizes collaboration among peers via an in-app news feed that accumulates all updates pertaining to specific projects, topics and teams. A sales performance management function (available for an additional fee) can even track efficiency and accomplishments on an individual basis, and also includes gamified performance elements.




SAP CRM includes workflow rules and management along with a tool for employees and managers to add, edit or review tasks. Web conferencing and chat capabilities allow for efficient collaboration between employees, whether located in the same office or on opposite sites of the world. Also worth noting is the platform's Interaction Center, which provides a one-stop portal for representatives to assist with customer service needs, thus ensuring that all client details remain organized and agents are able to quickly locate information.

Integrations


As a top performer in the CRM software industry, Salesforce is able to offer one of the largest marketplaces for third-party app integrations. Salesforce AppExchange includes more than 2,800 applications for platform users to choose from, made possible by the company's flexible cloud-based infrastructure and API support. In addition to the AppExchange, Sales Cloud users will find comprehensive integration with other Salesforce products for business intelligence, customer support, marketing and beyond.


Like its competitor, SAP offers robust integration between its CRM platform and other leading SAP solutions in fields such as ERP, manufacturing and business intelligence. The in-depth synchronization of SAP's various applications makes the software very attractive for larger businesses that already operate on SAP software or are looking to overhaul much of their back-end software platforms. Another promising point for users: the vendor offers virtually unparalleled data integration among its various customer service, sales, marketing, ERP and other solutions.

The Verdict
Both Salesforce and SAP provide an abundance of tools optimized for the enterprise-level sales team. Salesforce stands out with its modules for contact management, collaboration and productivity, and SAP is notably valuable for advanced analytics, marketing-sales hybrid tools and integrating with other SAP solutions. Though both platforms include a lot of overlap in terms of core features, the two are designed for two slightly different user bases.
While Salesforce offers a very strong CRM solution, one drawback is the fact that some capabilities are limited unless users are willing to purchase the correlating solutions for marketing, analytics and customer support. A business might consider using Sales Cloud if it requires none or one of the supplementary functions, or if the company has plans to utilize other Salesforce technology down the line. Salesforce's CRM solution is also ideal for enterprises with small sales teams or those planning to invest in a limited number of licenses or user subscriptions.
SAP offers a more inclusive platform to satisfy many functional requirements of sales and other corresponding teams — but the more expansive solution tends to be accompanied by a higher price tag. It's worth noting, however, that the higher cost of SAP CRM consists of additional customer-facing tools such as marketing functions, customer support and sales analytics. The more all-encompassing of the two, SAP is a great option for enterprises already using other SAP software, organizations planning to utilize detailed sales analytics or companies with large teams who looking to get the most bang for their buck.

Compare Salesforce and SAP with other leading CRM vendors by registering for our FREE Top CRM Software Reports, which provide detailed side-by-side comparisons of the best CRM platforms around.