Serenic Express: Leveraging the Cloud for Small Nonprofits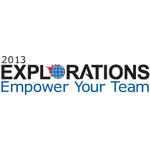 By Blair Hurlbut
Over the years of working as a finance and business consultant in the non-profit world, I have witnessed many organizations struggle with finding an ERP system that meets their exact needs and is in their budget. Although you could argue that this is a concern of any company or organization seeking an ERP system, I believe that the needs vs. constraints of non-profits are especially unique and require creative solutions to common challenges. After all, non-profits are focused on one thing: serving their mandate and having an impact. All too often, technology actually limits non-profits rather than empowering them.
A major concern of non-profits–and it's not really a surprise–is resource constraints. Whether it's based on reduced funding, increased costs, competition, limited technology skills, or any combination of the above, most non-profits are conscious of resourcing struggles from both a human and capital perspective. Combined with a unique need to report on programs, donor funds and grants in addition to tracking fund accounting, non-profits are constantly being pulled in various directions.
I recently had the pleasure of attending Serenic's Explorations 2013 conference in Denver. Through providing a combination of roundtables, hands-on training and best practices, the event aims to help partners and non-profits maximize their investment in Serenic's software solution. Specifically, the emphasis on cloud-based solutions represents a major opportunity for smaller non-profits who are especially conscious of overheads and costs, providing them with an unparalleled level of flexibility from a cost savings perspective.
That's why I was thrilled to hear about Serenic's new product offering that is specifically designed to help non-profits address these challenges.
Serenic Express
Based off of Serenic's tried and true ERP system (Navigator) modeled on Microsoft Dynamic's NAV, Serenic Express is a "Try & Buy" solution. It is essentially a somewhat stripped down version of Navigator based in the cloud that features fund accounting capabilities among other features specifically designed for non-profits. In order to make this kind of product possible, there is less possibility to tweak and customize the product, but that's how Serenic has been able to keep costs suitable for smaller non-profit customers.
Benefits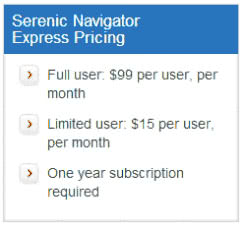 Great pricing–By leveraging a subscription-based pricing model, costs are kept low and flexible based on the number of users.
Low investment in hardware and IT infrastructure– Thus freeing up resources for other expenditures, by getting rid of the need to manage infrastructure.
Automatic upgrade path–Cloud base functionality allows for seamless upgrade with new functionality. You are always using the latest version.
Web-based application complements typical non-profit business model– Having access to cloud-based software works well for non-profits that have a more decentralized business model because users are able to work from anywhere they have access to internet.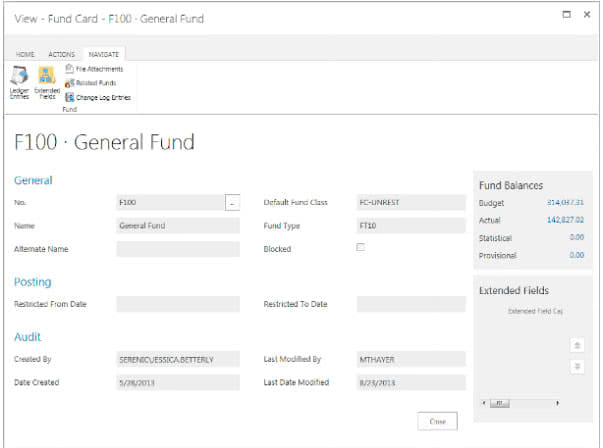 I am personally very excited for this product to launch in the market as I think the combination of low-cost, easy access and the accommodation of fund accounting capabilities makes it a great option for many smaller non-profits. For more information on Express, check out the Serenic website and stay tuned as the product prepares to release: http://www.serenic.com/express.aspx
Want more information on the best Nonprofit Management software solutions?
Be sure to compare leading nonprofit and fundraising products in our Top 15 Nonprofit Management and Fundraising Software report, where we give you the lowdown on pricing, key features and technology models.