SMB Tax Tools Go Head-to-Head: H&R Block vs TurboTax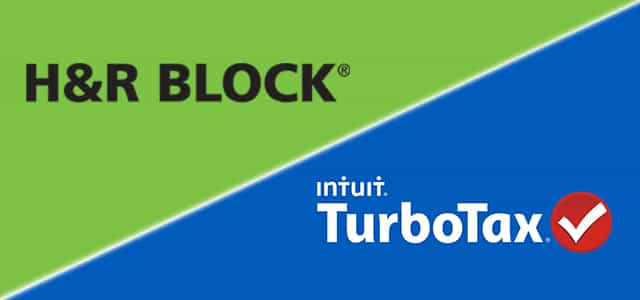 Welcome to Business-Software.com's Tax Week. We've developed this content to provide all the information you'll need to make a smart and informed decision about your software selection for tax filing season. Catch up on all of our Tax Week content by visiting the Business-Software.com blog.

An extensive list of adjectives comes to mind when thinking of tax season — most of them unpleasant. It's probably a safe bet to say that 90 percent of the population dreads the weeks leading up to April 15th each year; but the truth is, tax season is a bigger monster mentally than it is physically.
Many small businesses lack the resources or need for a dedicated accounting team capable of completing the documents necessary to file federal and state tax. Luckily, tax giants such as H&R Block and Intuit's TurboTax realized the need long ago for easy-to-use, efficient and virtually fool-proof software for both business and personal users alike.
At Business-Software.com, we seek to take the anxiety and hassle out of the research for you, which is why we've taken the time to thoroughly compare these two tax solutions. Continue reading for our Head-to-Head: H&R Block vs TurboTax. Who will come out on top?
Best For:
H&R Block:
The beginner to intermediate level, or users with a complex return
TurboTax:
Beginner to power-user with years of experience
Cost & Deployment:
H&R Block:
H&R Block's Premium & Business platform is $79.95 and includes the fee to file in one state. (Additional states are $19.95 each.) The platform is available for both Mac and Windows OS by CD-ROM, or by immediate download for Windows machines. Additionally, H&R Block features brick-and-mortar locations where users can get further assistance or file with a tax professional.
TurboTax:
Out of the two vendors, the TurboTax Business platform is the more expensive option, costing $159.99 — with each state an additional $54.99. Users have the option to download or purchase the CD-ROM for Windows and Mac OS.
Design:
H&R Block:
H&R Block's solution features a monochrome, grey and white interface that's simply laid out and easy to understand. The tool features a refund or amount owed box in the upper left-hand corner, and also highlights your progress along the top of the screen. The iOS and Android mobile apps, which are more personal-tax focused, allow users to view their return status, use a tax estimator tool, stay organized with checklist tools and find a local office.
TurboTax:
The TurboTax solution also offers a very clean, minimalist approach to the user interface. Some even say that the experience almost feels similar to that of a mobile application, which isn't a bad thing. Similar to H&R Block's tool, TurboTax offers a live-time meter along the header showing the user's current refund or amount owed. The design on the iOS and Android mobile applications are just as visually striking, yet as simple as their desktop counterparts, albeit with limited functionality for the business user.
Integration with Accounting/Tax Tools:
H&R Block:
Users can import last year's tax information from H&R Block, TurboTax or Quicken. Business users looking to import financial information from accounting software such as QuickBooks may be disappointed, as this is currently not available.
TurboTax:
In addition to the ability of importing your P&L from QuickBooks, the TurboTax platform automatically classifies transactions into appropriate tax categories (though these can be edited if necessary). You may also import the previous year's tax return to save time — which also shows a year-over-year comparison.
Ease of Use:
H&R Block:
Aside from the lack of integration of accounting tools, the rest of the solution is very easy to use. Be sure that if you are importing last year's tax information, you have gathered it prior to starting, as you can only import in the beginning of the process. Power-users that have filed the same return every year with no changes may find H&R Block's tool to be too monotonous, as it currently doesn't allow you to skip around on your own; rather it provides a step-by-step guide. On the flip side, users can bookmark areas or forms to come back to at a later time if they're not ready or need further clarification.
TurboTax:
TurboTax offers users a choice of how 'hands-on' the solution is; meaning, users can follow the program step by step (which of course is recommended to ensure that an area hasn't been overlooked), but also allows power-users to selectively, and in any order, complete their worksheets. The application also allows users to flag or bookmark an area to return to at a later time, should they need additional material or resources.
Deductions:
H&R Block:
H&R Block's application helps to maximize benefits such as vehicle deductions, equipment and asset depreciation, as well as business expenses like advertising, insurance, supplies, etc.
TurboTax:
TurboTax searches 350+ deductions and credits, including maximized commercial mortgage and property tax deductions, in addition to business expenses such as travel, supplies and vehicles. The software also offers users 'ItsDeductable', a tool specifically built to analyze and incorporate charitable donations in your return.
Help & Support:
H&R Block:
While H&R Block doesn't offer a community forum like TurboTax, they do offer both telephone and chat support as late as 10:00 pm during the week and 5:00 pm on weekends (Central time), affording even the night owls some peace of mind. H&R Block does have the upperhand in this comparison when it comes to live support, with 11,000+ brick-and-mortar locations all offering advice and assistance from tax professionals.
TurboTax:
The TurboTax platform features an open community-style forum, where stumped users can get help from other forum members and tax professionals. Beyond the community forum, TurboTax offers help to users through priority phone support with the Business-level solution. Similar to H&R Block, the platform features 'Learn More' hover bubbles that help explain phrases and forms in easy-to-digest language. Unlike H&R Block, however, there are no physical locations to speak with someone in the flesh.
Guarantees & Audit Support
H&R Block:
H&R Block stands behind their 100% Accuracy Guarantee and double checks all work and calculations before submitting returns. If, however, there is a miscalculation, H&R Block promises to pay any IRS penalties based on an error on their end. In the event of an audit, the solution comes with free in-person audit support, which can add up to big savings.
TurboTax:
Backed by the Audit Support Guarantee, the team behind TurboTax promises one-on-one guidance from a tax professional should your filing be audited. While working in the application, there is a built-in audit risk identification sensor that will notify the user if a particular section of the return appears irregular. What's more, the group stands behind their 100-percent accurate calculations — if something was miscalculated, TurboTax will pay your business's IRS penalties and interest.
Overall:
As one can see, both H&R Block and TurboTax offer comprehensive and powerful solutions for a wide array of users. Both companies offer a free tax calculator on their website; and while it's not a full representation of their software, it should give users that are trying to decide between the two a better idea of what to expect.
H&R Block's physical locations and step-by-step workflow may be more appealing to newer users, while TurboTax's ability to skip through unnecessary sections and truly move freely within the application may be worth the price premium to tax veterans.

To learn more about other business tax platform options, be sure to download our Top 10 Business Tax Software Report.