Social in the Spotlight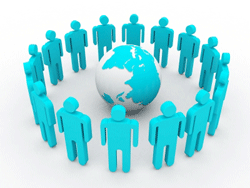 Social is hot right now. It seems like everyone from industry analysts to corporate executives is talking about the importance of social to CRM and the broader business software market. Even staunch traditionalists who preach the merits of legacy, on-premise systems are having a hard time ignoring the cultural phenomenon that is social media—especially given that social is already revolutionizing the way companies do business.
For the past few years there has been a flurry of debate and innovation among those trying to apply social media's value and principles to the biz software market.
In some segments like CRM, the market is blooming with start-ups and acquisitions of social CRM companies by major players, indicating a clear trend toward increased social integration (see Business-Software.com's recent Q&A with Nimble CEO Jon Ferrara for an insider's perspective on the direction of social CRM). In other segments, like BI and BPM, steps toward a more social approach to software are evident, but the trend hasn't yet caught fire or developed a cohesive direction.
What Is "Social"?
Social, as it applies to business software, is relevant on two primary levels: 1) How can a business harness the social media landscape to create value and drive business strategy, and 2) How can a business harness social networking and collaboration internally to improve efficiency and process. These two social environments—internal and external—have implications across a number of technology segments, most notably CRM, BI and enterprise social.
It's important to note that organizations are looking for ways to gather and interpret the huge quantities of data being generated within social networks, and they have been for a while. In fact there are hundreds of social media monitoring tools out there designed to help you, or your brand, understand the relevant buzz. Being able to hear your customers is crucial for business intelligence initiatives, as well as for customer relationship management.
The big news for social recently has revolved around the dueling acquisitions by Oracle and Salesforce.com. In the last three weeks, Oracle has acquired Vitrue and social intelligence company Collective Intellect, whereas Salesforce.com has acquired Buddy Media to complement its purchase of Radian6 from last year. A number of analysts are predicting big growth across social technology more broadly, including ERP and BI, as a result of this action.
A key conclusion drawn by Forrester.com analyst Zach Hofer-Shall is that, "Through these acquisitions — and the eye-opening price tags behind them — Oracle and Salesforce.com show that the business world is getting ready for social media. It's no longer considered a fad, definitely not just hype, and not going away any time soon. Businesses must care about social media because it's clear that consumers already do."
Key Social Segments
CRM
CRM has become a two-way street. Social CRM solutions generally offer modules that allow for advanced monitoring and analysis of social environments like Facebook and Twitter, and provide easy functionality for engaging customers through traditional social media channels. Some features to look for in a social CRM solution are those that integrate your social media accounts; allow you to manage your accounts from a central location; streamline the process of publishing new content; provide social media listening or monitoring functionality; and analyze the data your social presence is generating.
According to Businessweek's Steve McKee, roughly two-thirds of American Consumers are active on social media, and these people are creating a huge amount of strategically valuable content. (Because regardless of whether someone loves a product or hates it, they're probably talking about it online.) Some players to watch in the social CRM segment are Nimble, Sugar, SproutSocial, Shoutlet and Constant Contact.
BI
Social BI, which is often referred to as Collaborative BI, can be looked at in two ways. By some definitions, social BI means the creation and sharing of custom analytics, reports, and dashboards by the end-users of cloud BI software. For example, Yellowfin BI facilitates user-collaboration by allowing users to share data through interactive reports, annotate and explain their data, comment directly in reports or in threaded discussions, create polls, and more. In this view, social BI is about providing employees tools for working collaboratively and sharing information to streamline processes.
By another definition, social BI is the generation of business-relevant data through the analysis of social media. The types of data being explored include brand analysis, customer engagement and retention, and expertise and reputation tracking. Noteworthy players in the social BI space are Yellowfin, Panorama, and arcplan.
Enterprise Social
Enterprise social has been around for a while, but it's just as relevant now as it ever was. With the current working generation growing more and more fluent in the language of electronic collaboration, the tools afforded by enterprise social networking solutions are becoming more valuable.Enterprise social software provides channels for people within an organization to connect, collaborate, and share. Big names in enterprise social include IBM Lotus and Microsoft Sharepoint. Other players of note include Yammer, Telligent, Atlassian and Socialtext.
Do you have any insight into the social software market, or know of a vendor we should look at? Share your thoughts with us in the comments.
Want more on social software? Compare some of the leading social tools on pricing, key features and technology model on our Top 10 Social Media Management Tools software report.