The First-Mover Effect in Open Business Model Innovation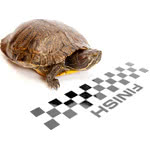 A while back, I spoke with innovation people from a big automotive manufacturer. We talked about the automotive industry and open innovation. They said that there is already lots of collaboration going on in their industry and that it resembles open innovation in some ways.
It was interesting to hear their views and having some understanding of their industry, I agreed with them. In particular, I like how the automotive industry is open with regards to the development of new platforms.
However, I also asked why we do not really hear about automotive companies in the open innovation community. Perhaps they are not really doing open innovation? Could it be more about alliance management and open source than open innovation? Or is it just an industry that does not want to share their open innovation insights and experiences?
It is most likely the latter and we are actually starting to see cases on the automotive industry and in general on transportation as highlighted in this blog post: Five Open Innovation Initiatives that Are Getting Us Moving. I also mentioned several automotive companies in my overview of 40 Examples of Open Innovation and Crowdsourcing.
We are starting to see many companies with open innovation experiences, but many of them have not yet fully embraced this as a strategic choice that can bring significant competitive advantages. It is not yet a process. It is still event-driven.
The interesting thing is which companies will first fully understand the full potential of open innovation and how this can create long-term competitive advantages.
What we will see is that one leading company gets it and then works hard to become the preferred partner of choice within the given industry. In this game, I would rather be the first mover than the fast follower since an open innovation implementation–if done right–is hard to copy for competitors.
Open innovation and business model innovation have something in common here. When you start innovating beyond products and technologies, which is what many companies have focused on for decades, it might be harder to implement, but it will certainly also be harder for competitors to copy. Check this interesting article on business model innovation: Business Model Innovation is the Gift that Keeps on Giving
With regards to open innovation, it is important to acknowledge that a 6, 12 or 18 month headstart is crucial as this gives even more time for the first mover to become the preferred partner of choice. This is a position that is easier to defend once captured than trying to get to it in the first place.
Med-tech is an industry with an interesting development. Medtronic started some initiatives 18-24 months ago and they got nice publicity (interviews and articles). I am confident they will continue to invest even more in their open innovation efforts although things have been pretty silent lately.
Why? What we see right now is that almost all companies that have embraced open innovation continue to invest even more. This was an interesting trend I first noticed at a CoDev conference and it serves as a good argument towards skeptics.
In the med-tech industry, the big question is whether the direct competitors to Medtronic will act up or give Medtronic the chance to run away. In many other industries, the big question is which company will take the lead…
It will be interesting to see what will happen in the automotive, med-tech and many other industries in the next 12-24 months.

Want to read more insider-perspective posts? Browse our entire archive of blog posts on tips and advice from experts by visiting the Industry Insights section of the Business-Software.com blog.
[This post originally appeared on Stefan Lindegaard's 15inno blog and is reposted with permission.]