The Smart Way to Adopt Cloud Technology for Broker-Dealers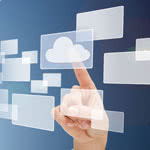 Though the worst of the recession seems to be behind us, growth opportunities for broker-dealers are still hard to come by. But this challenge has led firms across the country to find creative solutions. One way broker-dealers can set themselves apart from the competition is by adopting new cloud technology.
When you're considering a new technology, you should balance the cost of the system against the potential savings in compliance costs and revenues the technology might help generate.
Cloud computing is a particularly alluring niche in the technology industry because the cost of adoption is so much lower than traditional computing options. Some of the other benefits include:
Increased efficiency
Improved client services
Less personnel training (the learning curve isn't as steep as with traditional hardware and software)
Software pricing based on usage
Enhanced monitoring of projects

But you should use caution before picking a cloud computing vendor. Not all vendors are created equal, and it can be hard to know the differences. After all, your firm would be responsible if your vendor's performance doesn't meet regulatory standards. Here are some potential risks that firms should consider before picking a technology vendor.
Data Security and Controls
You should make sure your cloud provider has protocols that meet or exceed regulatory requirements. You should also evaluate the risks of sending sensitive data over the Internet.
Regulatory Compliance
Make sure to pick a vendor that is familiar with industry-specific requirements and legal standards. Broker-dealers face unique regulatory challenges, and any vendor you pick should understand how to meet or exceed regulations.
Data Storage Flexibility
Many cloud-based software providers require that you store your files on their systems. This can be a problem for broker-dealers because many documents they manage contain sensitive financial information. Make sure you are able to store your files on your own secure server before picking a cloud-based vendor.
Sustainability
Make sure you aren't being locked into a long-term agreement to use the service. Sometimes this comes in the form of a contract, but other times it comes in the form of a software lock-in. Make sure they aren't able to hold your documents hostage if you stop using their services.
Be sure to keep these considerations in mind when you're looking for a cloud computing vendor. If you remember these factors, your firm can benefit from the advantages of cloud computing without seeing negative long-term effects.
Want more information on the top cloud hosting solutions? We've compiled the top product reviews, blog posts and premium content on our cloud hosting research center page. Here, you'll find all of the information you need to choose the right cloud solution for your business.