Top 10 of Today's Most Unpredictable, Innovative Companies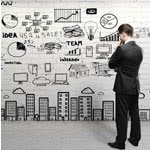 Companies need to become competitively unpredictable if they want to stay relevant during these fast-paced times of business, innovation and change. Creating a strong and sustainable innovation culture is key for this to happen.
Those are two of the key messages in my next book and as I start working on the case section of the book, it would be great to get your input on large(r) companies–or divisions/business units within companies–that meet these criteria:


a strong desire and willingness to experiment on how they innovate and bring products and services to market
an empowered workforce that has been trained in the skills needed to make innovation happen
an ability to inspire others and drive relevant change in their industry
As a discussion starter, I can share my current list of top 10 companies that I think fit these criteria. I did not include early stage start-ups on my list as my focus is on large(r) companies and since I also believe that big companies will kick start-up company butt in the coming years.
My List of Innovative Companies (in no particular order):

What other companies do you think fit the criteria mentioned above? It would be great if you can add some comments or links that helps enforce your recommendations.
[This post originally appeared on 15inno and is republished with permission.]
Want to read more insider-perspective posts? Browse our entire archive of blog posts on news from the software industry by visiting the Industry News and Events section of the Business-Software.com blog.