Top 5 Manufacturing Platforms to Help Your Job Shop Best the Competitors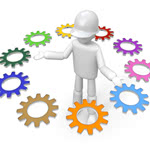 While selecting any type of software can seem daunting considering all of the options available, sifting through solutions specific to the job shop industry is especially tricky. To start with there are dozens of job shop applications, each with a different schema that may or may not mesh well with your business model and ERP software needs. Add to that the fact that businesses seeking job shop software have needs particular to their products and industry, and you have a recipe for a potentially messy outcome should you pick a solution that doesn't meet all of your criteria.
The key to selecting a compatible job shop solution lies in knowing what to look for. Understandably the list of desirable features will vary with the company, but generally speaking a job shop application aims to better manage the system of creation, make production more efficient and effective, and track workflow, work orders, and estimates. Unfortunately, because job shop solutions are a niche segment of manufacturing software, it can be difficult to find helpful reviews or recommendations online. Business-Software.com sought to solve that problem by compiling a list of five of the top job shop platforms on market.
Shoptech E2 Shop System
The

E2 Shop System by Shoptech is a popular platform designed specifically to meet the needs of job shops, machine shops, and make-to-order manufacturers. This product is known for having an intuitive interface coupled with comprehensive materials management capabilities. The on-premise solution is Windows-based, allowing for easy implementation, and E2 Shop System has a reputation for exceptional customer service that makes it attractive to small and midsize job shops with unique software needs. Shoptech's job shop solution also offers a mobile function, E2 Mobile, that allows the user to manage and monitor projects, sales, and more from an iPad or tablet device.
Epicor Manufacturing Express Edition
Ideal

for start-ups and small businesses, Epicor Express is an affordable cloud-based software solution with advanced sales order, financial, and production management capabilities. Designed for make-to-order, engineer-to-order, repetitive, and mixed-mode operations, the program includes many of Epicor's on-premise functionalities in a simpler subscription model. Epicor Express is a great ERP alternative for job shops in need of a cheaper and more flexible platform than costly on-premise counterparts. The system also updates automatically, which means that users never need to wait for software upgrades to download or deal with complicated and time-consuming maintenance issues.
Exact JobBOSS
Exact JobBOSS

is probably the most widely used software solution among smaller job shops, in part because of its ease of use and streamlined management database. JobBOSS is a great option for small and midsize companies, with three editions available to meet your business's specific management needs — Starter, Professional, and Enterprise. JobBOSS is built with Microsoft's .NET technology, can integrate with QuickBooks, and includes financial management and automated workflow features. The program is considered one of the most affordable on-premise job shop solutions and a common choice for SMBs and VSBs seeking an inexpensive platform to synchronize and simplify back-end functions.
Aptean Made2Manage
Made2Manage

is one of the best solutions available that combines an enterprise resource planning system with scheduling and shop floor operations. The product was developed for small and medium-size companies with engineer-to-order, make-to-order, make-to-stock, assemble-to-order, and mixed-mode production in fields such as industrial equipment, electronics, and fabrication production. Aptean's solution offers some of the most robust production and financial management features, along with multidimensional inventory and custom reports functions. Made2Manage utilizes Microsoft .NET architecture and seamlessly integrates with SolidWorks and Microsoft Outlook.
Plex Online
For

job shops looking for a more flexible solution, Plex Online is a relatively new and viable SaaS alternative to a hefty on-premise ERP system. Small to midsize businesses specific to the segments of automotive parts supply, food and beverage processing, aerospace and defense, industrial machinery, and precision metalforming are the ideal audience for the product's hosted delivery model. Plex Online offers a comprehensive ERP solution, with features such as integrated tools that work with other Plex Online modules and a problem control system to monitor and quickly resolve issues. The state-of-the-art solution operates in a cloud-based platform with scalable pricing to accommodate companies of a variety of sizes.