Vendor Acquisition Roundup: Why Tech Giants Are Scooping Up Cloud and Social Upstarts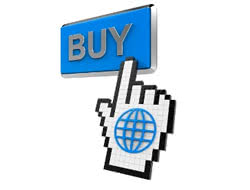 With the rise of social media and the Cloud, companies have found that traditional tools may no longer be what they need. Organizations now need to engage with their customers across multiple social channels in order to foster meaningful relationships between their brand and their prospects and clients. In addition, cloud-based solutions have reduced the cost of implementing an organization-wide system, giving companies tools to improve their business processes with more flexibility and agility.
Many of the established players in the enterprise software system are bulky, legacy systems that often include complicated implementation processes and costly maintenance fees. Disruptive technologies like cloud computing and the proliferation of social into the enterprise—both in internal and external processes—have changed the name of the game.
Large vendors like Oracle and SAP have started to realize that their traditional systems may no longer cut it. But, their solution offerings weren't built with the innovative technologies currently seen in the marketplace today. So, how have these tech titans responded? By acquiring the hottest names in the social and cloud segments.
Oracle and Vitrue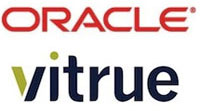 In May 2012, Oracle made its bid to acquire Vitrue, a leading cloud-based social marketing platform, for a rumored $300 million. Vitrue enables companies to harness the power and reach of social platforms like Twitter, Facebook, Google+, and others to drive their marketing campaigns and maximize engagement across social communities.
With this acquisition, Oracle hopes to create and provide a comprehensive and advanced social relationship platform that incorporates "Oracle's leading sales, service, commerce, social data management and analytics capabilities."
Oracle's acquisition of Vitrue seems to be a strategic move on its part to incorporate social capabilities into its platforms. Social features are increasingly becoming more and more vital for CRM and sales processes—features which Oracle's products do not natively have. Oracle fell behind Salesforce.com on the cloud front and is now trying to play catch-up on the social end with this Vitrue acquisition. Is it enough? Thanks to its sheer market share, Oracle will not be fading away any time soon. However, this acquisition does demonstrate that the vendor realizes the importance of social to staying relevant in the eyes of today's businesses.
SAP and Ariba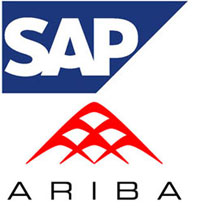 SAP is the largest provider of enterprise software applications in the world. In May 2012, SAP agreed to acquire Ariba, a leading provider of collaborative business commerce solutions, for $4.3 billion. As the second largest cloud vendor in the market with the largest global trading network, Ariba counts among its customers companies such as Deutsche Bank AG and BHP Billiton Ltd. SAP's Ariba acquisition will position the company as "a leader in the fast-growing segment of cloud-based business networks."
Ariba is not the only cloud-based solution provider that SAP has recently scooped up. In December 2011, SAP paid $3.4 billion in its SuccessFactors acquisition. SuccessFactors is a cloud-based human capital management software provider that delivers solutions to help companies, such as Nissan, Comcast, and Kimberly-Clark, align their business strategy with their objectives and employee performance.
SAP's strategic acquisitions of several leading cloud-based vendors in a variety of segments underline its goal of becoming a global provider of cloud applications and platforms that manage business processes from end to end. SAP's acquisition strategy will allow it to deliver solutions in a variety of deployment models—on-premise, on mobile devices, in the cloud—in order to capitalize on the wave of cloud adoption in the enterprise without having to build new solutions from the ground up.
Salesforce.com and Buddy Media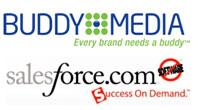 Marc Benioff and Salesforce.com were the harbingers of the cloud revolution in the enterprise software space, making Salesforce.com the leader in Cloud CRM. Sensing the shifting tides toward social, Marc Benioff has recently emphasized the "social enterprise" strengths of Salesforce.com. To bolster its social capabilities, Salesforce.com recently completed an acquisition of Buddy Media, a social enterprise marketing suite, for $689 million.
Buddy Media is used by eight of the world's top ten global brands and serves customers such as L'Oreal, Virgin Mobile Live, HP, Carnival Cruise Lines, and others. Buddy Media's product portfolio includes solutions to enable brands to build and maintain customer relationships by creating, spreading, and analyzing social content to optimize results and repeat past successes.
By combining Buddy Media with the rest of Salesforce.com products, such as Radian6, Salesforce.com hopes to create the industry's first Marketing Cloud with comprehensive capabilities to empower customers to effectively listen, engage, execute, and measure the results of their social marketing campaigns.
Salesforce.com was once the innovative upstart, able to predict and execute the latest trends before other vendors—giving it a leg up against the competition. As an established leader in Cloud CRM, Salesforce.com seems to have shifted its focus towards acquisitions to maintain its competitive advantage.
Google and Wildfire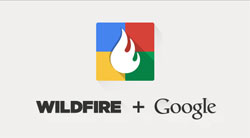 While not a software vendor, Google is slowly but surely entering that space thanks to its Google Apps Marketplace. Google has taken further steps to become more than simply the world's leading search engine with its acquisition of Wildfire, a social media marketing software provider with over 21,000 customers around the world.
Wildfire's Social Marketing Suite includes simple, yet robust, tools to help organizations improve interactions with their customers across the social web and to optimize their marketing and social media campaigns across social networks. Wildfire's platform integrates directly with leading social media networks like Twitter, Facebook, LinkedIn, and YouTube.
With this acquisition, Google will have access to Wildfire's vast amount of user behavior and demographic data—data that will help Google better sell their advertising services since marketers will be able to use this information to better target their campaigns to their audience and to identify and engage with active and influential users.
Social media delivers an abundance of information about its users, making it a goldmine of data for companies to better position themselves and their products. Google already holds a vast amount of data, and this Wildfire acquisition will add social to their already deep arsenal of information.
IBM and Kenexa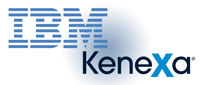 IBM, though an established software and hardware provider, does not have a reputation for shipping out hot, exciting features with its products. But even they are jumping on the social train with a recently announced acquisition of Kenexa, a provider of cloud-based human resource management solutions built with social networking tools for recruitment and employee management processes.
IBM's purchase of Kenexa follows both Oracle and SAP's lead in buying companies that offer cloud and social capabilities. IBM will pay a reported $1.3 billion to acquire Kenexa. With this acquisition, IBM will be able to leverage Kenexa's products to further their development of social networking and collaboration tools to better manage processes within the enterprise.
Why are so many of these big name software vendors interested in expanding the social footprint of their solutions? For one, social adds another layer of data that can be leveraged to gain information and insights that will drive improvements in the enterprise and increase productivity. Though several businesses are still struggling with how to best use the social web and social networks to manage their employees and projects, when leveraged correctly, social can provide an improved system of engagement both within a company and in its interactions with customers and outside stakeholders.
Where Do Software Vendors Go from Here?
It is a relatively new frontier in enterprise software thanks to disruptive technologies like social and the Cloud. The old players must keep up with these transformative trends to keep their customers and to stay relevant. Now, many of these vendors like Oracle and SAP must play catch-up. Even once leading edge companies like Salesforce.com have adopted an acquisitive strategy to keep pace with the changing scope of enterprise software.
This may be the new landscape for the enterprise software market in the foreseeable feature—big name vendors snatching up innovative start-ups to deepen the functionality of their legacy systems. As demonstrated by these big-sale social and cloud acquisitions, these trends are more than just buzzwords drummed up by marketing teams.

Want to learn more about the products mentioned above? Peruse our exclusive product profiles for these solutions using the Business-Software.com product directory. You can also compare these solutions with other industry-leading software platforms by downloading one of our free top software comparison reports.