Virtual Call Centers: The Economical Approach to Customer Service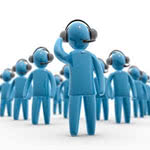 Considering how far technology has come in just the past ten years, it's rather difficult to imagine why more businesses have yet to embrace the convenience and cost effectiveness of the virtual call center. The benefits of such a virtual solution far outweigh any associated cons.
As the cost of business increases with each passing year, one should not find it all that surprising when more entities decide to opt for a virtual communications hub for their inbound and outbound call center needs. Keep reading to learn more about the benefits of this solution, and why it can be more economically feasible.
Virtual Call Center Agents Can Be Located Anywhere
The associated cost that must be encumbered to feature a physical call center is astronomical. Such a process requires a large building, an equally as large workforce, plenty of communication hubs and a large overhead cost. Instead, with a virtual call center, agents can be located anywhere and can log into a central system to work each day, thus reducing associated costs dramatically.
Increase Productivity of Agents
Some entities worry about the virtual call center because they are concerned over the telecommuting aspect. Recent studies can easily counter any of these worries. That's because, according to numerous and ongoing studies, employees who telecommute have been shown to be more productive overall. Some studies actually purport that telecommuting agents are 75 percent more effective than conventional employees.
Remote Guidance by Supervisors
In a telecommuting setting, supervisors and project managers will play a pivotal role. These key elements serve to keep the entire train of your call center rumbling on down the tracks towards success. Agents can also be grouped in regionally manned hubs, like overseas, where it costs less to employee them, yet virtually synced to your domestic operations for a superfluous call center model.
Multiple Call Center Locations
As previously stated, multiple call center locations can be used to facilitate a virtual call center at a reduced cost to your entity. For example, instead of hiring agents in the U.S., which would require that you tender U.S. wages for them, you can instead use a virtual call center that's located in India or in the Philippines, where you can afford to hire five employees for the price of one U.S. employee, thus further reducing operational cost.
Increase Return on Investment
The goal of the virtual call center is to help you maximize your overall return on investment. To accomplish this, the model enables you to eliminate the insane cost and overhead of hosting your own physical and domestic call center location with staff. Instead, it enables you to outsource these call center operations and utilize a more affordable workforce while not denigrating the customer service or call center model in the process. Such feasibility of implementation ensures that the quality is not hindered or negatively impacted, while also assuring that the cost of operations is reduced substantially, which inherently then increases return on investment. As you can see, there are countless benefits that a virtual call center has to offer to those who wisely consider it as their solution.
Ready to compare a comprehensive list of top virtual call center vendors?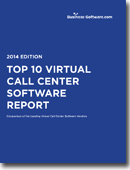 Now that you know a little more about the benefits of virtual call center solutions,  it's time to pick the best virtual call center software for your business. Download our Top 10 Virtual Call Center Software Report to compare the industry's top solutions by pricing, deployment models and key features. Not ready to make a purchase? Find more free resources at the Call Center Software Research Center, where we've compiled product reviews, blog posts and exclusive interviews with emerging call center vendors.
(Nick Statom is an active Internet Marketer and has 4 years of experience in the field. He also has a passion for writing and has been writing freelance articles and blogs for over 10 years. His recent writings include "Benefits of virtual call center" and you can follow him on Twitter)