Wildfire Interactive Provides Marketing for the Social World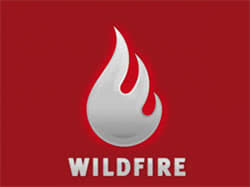 Five years ago, when Victoria Ransom and Alain Chuard were building and running Access Travel, Ltd., they realized that there just weren't any online software solutions that could help them create things like Facebook contests and campaigns. To solve that need, they started creating their own software, and thus Wildfire Interactive first came into being.
In the intervening years, the company has grown to over 300 employees; they have offices not only in California, but also New York, Singapore, Europe, and Chicago; and in addition to the thousands of small businesses that use Wildfire's software, their customers include such prestigious brands as Virgin, Facebook, Target, and Amazon. It's pretty remarkable how quickly the company has grown in such a short time, and co-founder Ransom attributes much of that to the inherent intuitiveness and ease of use in Wildfire Interactive's tools.
Wildfire's Social Marketing Suite not only provides social promotion and advertising software, but also mobile web management, real-time analytics, and messaging capabilities that give their customers complete access to all their social profiles. The solution doesn't require that you be tech savvy, though, as Wildfire's software is so easy to use that anyone in a company can create social campaigns and pages, as well as communicate with customers and measure performance across social networks.
The company is certainly doing well, as reports from Wildfire a couple months ago claimed that their revenue grew by 300 percent in 2011, making them so profitable that they had barely even touched their last round of funding, according to Ransom. Their biggest rival, Buddy Media, was only slightly ahead of them at the end of 2011, so it'll be interesting to see what the competition drives both companies to achieve in the social media marketing sphere.
Yesterday, Wildfire Interactive made it to the 2012 AlwaysOn Global 250 Top Private Companies, which recognizes "companies [that] represent leadership in the global innovation community and are developing vital, forward-thinking software and hardware solutions and technologies."
Want to learn about social management review and insights? Visit the social media tools resource page or download one of the top social media reports for comparisons of the industry's leaders.