4 Business-Friendly Budget and Expense Tracking Apps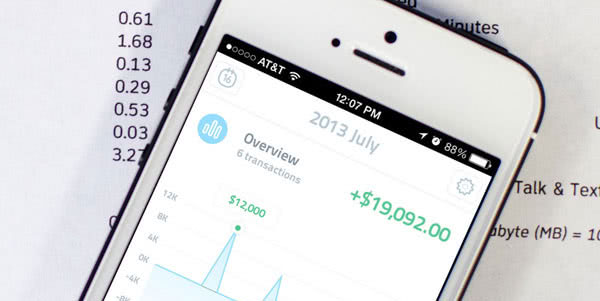 Today's expense tracking apps are cause for celebration, maybe even a happy dance. Why, do you ask? Not only can you find an app to simplify virtually every finance-related task known to man, but these tools are designed to be as painless to use as possible. Finance tracking apps are particularly valuable for businesses previously limited by their software budget, who can now take advantage of the cost-friendly yet comprehensive tools to easily perform vital tasks on the move.
Expense Tracking: There Are a Surplus of Apps for That
Head to the money management section of the Google Play or App Store marketplaces, and it's hard not to be overwhelmed by the sheer number of tools that can improve your expense tracking (at least theoretically). Budgeting apps, money-tracking tools, receipt management, employee expense monitoring – eventually all of those spending graphs and account balance pie charts start to blend together.
Certainly the availability of so many options is great for a number of reasons:
A wider variety of apps offer more detailed and specific functions
Individuals and business have a larger pool of options from which to select
Competition prompts these apps to be offered at more affordable price points

But – and it's a large but – the surplus of mobile-friendly financial management software also makes it more difficult both for users to know what they should be looking for and to discover the best app for the job.
Luckily, the Business-Software.com team is here to help ease the burden of hunting down that ever-elusive expense tracking or budgeting tool.
Introducing: 4 Lesser-Known Money Tracking Apps
Odds are you've heard of some of the more popular budgeting and expense management platforms – Expensify, Certify, maybe even Concur. And while all of these solutions are great, they 1) may not be exactly what you're looking for, or 2) offer more features than you need at a higher price.
Below, we'll introduce you to four lesser-known but noteworthy finance tracking tools to ease the pain of the search. Bonus: All of the tools profiled below were selected with budget-conscious users in mind. (Yay!)
Want to simplify expense approvals?

Abacus is a simple expense management tool that eliminates the hassle of manual expense management processes. Your employees can submit expense receipts immediately after purchase, enabling you to easily approve reimbursements. With Abacus, approved payments are securely transferred to your employees' accounts the same day they're submitted via the automated system.
Standout features: Automatic expense categorization, QuickBooks and Xero integration
Available for: Android, iPhone & iPad
Price: $5 monthly per active employee
Looking to monitor your budget?

If you need a simple but capable mobile app to track your expenses, look no further than Dollarbird. The Pro edition lets you easily track and review expenses paid with cash, a credit card and a bank account. You can view separate calendars for each form of payment, and even sync across devices to see purchases made by your business partner or associate.
Standout features: Programmable recurring transactions, purchasing behavior charts
Available for: Android & iPhone
Price: $4.99
Need a complete receipt management tool?

Stacks upon stacks of receipts are annoying and difficult to organize. ShoeBoxed alleviates that mess by digitizing, categorizing and organizing all of your receipts into an online account that you can connect to your accounting software. With Shoeboxed, you mail in all receipts to be scanned and sorted using a combination of scanning, OCR and human data verification processes.
Standout features: IRS-accepted receipt images, documents remain accessible even if you cancel the service
Available for: Android, iPhone & iPad
Price: Classic edition costs $29.95/month (Lite edition available for $9.95/month)
Interested in more robust expense tracking?

For business owners who want complete visibility of all employee-related expenses, ProOnGo helps with everything from automating receipts to tracking mileage. The ProOnGo edition for businesses can record individual time activities and automatically match credit card transactions with receipts. ProOnGo also includes standard expense tracking capabilities such as expense approval, receipt scanning and expense reports.
Standout features: QuickBooks and Xero integration, expense reports synced with Google Drive, Box and Dropbox
Available for: BlackBerry, Android, iPhone & iPad
Price: $6 to $8 per user per month

Looking for a more comprehensive expense tracking solution? Download our free Top 10 Travel and Expense Management Software report for a side-by-side comparison of the leading expense tracking software tools, including pricing and key features.