Mobile Business Apps: Expensify Review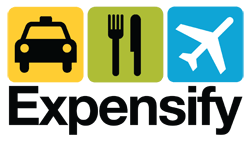 Expensify is a business expense management app that streamlines the expense reporting process by centralizing all activities from expense recording to reimbursement. With Expensify, users can import expenses from mobile apps or credit cards, create expense reports with one click, send reports for approval through e-mail, and receive reimbursement through Direct Deposit or PayPal. The app is free for individuals, and offers a competitive pricing plan for corporate users.
Since the company's founding in 2008, Expensify has raised $6.7M in venturing funding. It launched the 1.0 version of the Expensify app in 2009. Today, more than 90,000 organizations and 650K individuals use Expensify to process 10K receipts and $2M in expenses daily.
Expensify Review: First Impressions
The Expensify app has a stylish, minimalist user interface. A simple dashboard view makes it abundantly clear what the Expensify app does and how it's supposed to be used, meaning there's no need for a manual or walkthrough.
The process of creating an expense report in Expensify is quite simple. Once you've created an account and have Expensify running, you'll be sitting on a home screen that shows four icons representing the expense recording modules—Receipts, Travel, Time, and Expenses. Let's say you're traveling for business. Start a new report by clicking the "reports" tab along the bottom of the dashboard. Then, for every expense you need to log, simply choose the appropriate feature for recording it, select the report you'd like to log it under, and go about your day.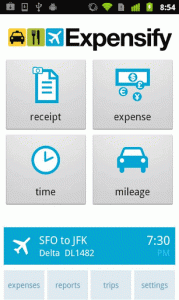 Expensify Review: Features to Like
Although a bit boring and cumbersome, the process of creating an expense report the old-fashioned way was never really that difficult. So it's good that Expensify has kept things simple, offering a lot of nice features without cluttering the app or bogging down its usability.
The app is built around logging expenses, and it offers users a number of easy ways of doing this depending on the nature of the expense. The Receipts feature allows you to photograph receipts and store them as a record of your spending. You can use Expensify's SmartScan service to automatically type them up into an expense entry (10 free SmartScans per month, or unlimited if you upgrade to a pro account), or do it manually through the expense tab at the bottom of the homescreen. Each expense can be categorized (lodging, entertainment, meals, etc.), listed under a specific report, or annotated with comments to provide the manager who will approve your report a full picture of how the money was spent.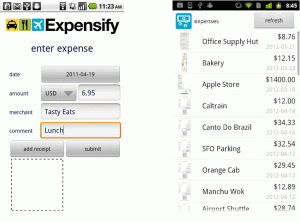 Through the Travel feature you can calculate travel expenses by entering odometer values, using GPS to clock mileage in real time, or by entering mileage manually. Specify the reimbursement rate from your account preferences on the Expensify Web site, or go with the default of 55.5 cents per mile.
If you're billing time on your trip, you'll find the Time feature to be a handy way to quickly calculate what you're owed.
Other features Expensify offers are a business card scanner, itinerary storage, and integration with QuickBooks, Freshbooks, Google Apps, Salesforce, Yammer, and Evernote.
Expensify Review: Submitting Reports
If you've been diligent about tracking your expenses using Expensify, when it comes time to submit an expense report the process is as easy as entering an e-mail address and clicking a button. (No more pulling crumpled receipts out of jacket pockets and trying to calculate the distance between points A, B, C, and D.)
The recipient of your report will get an e-mail invitation to view the report in their browser, where they can review and approve it. After a report has been approved the manager will have the option to reimburse the employee via Direct Deposit or PayPal (up to $10,000) using a built-in feature. Archived reports can be shared with accountants, printed, or exported.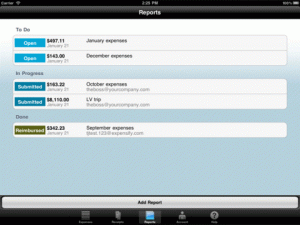 Expensify Review: Pricing
One of Expensify's greatest assets is its cost, or lack thereof. Expensify offers four versions of its product–Core, Professional, Team, and Corporate. The full feature set is totally free across all plans. For individual users, the only potential cost is 20 cents for every SmartScan you submit over your free allowance of 10 per month. Not really breaking the bank. Team and Corporate users get charged $5 and $10 respectively each month for every active submitter on their account (though the first two submitters on each account are free). You can learn more about Expensify pricing here.
Expensify Review: Final Thoughts
Expensify is worthy of the attention of anyone who regularly incurs business expenses. Whether you're a frequent business traveler, or a freelancer interested in recording expenses for when tax season comes around, Expensify is a great way to keep all that diverse information in one place. It's a smart app with a short learning curve, and it's fun to use. Be sure to check out Expensify to streamline your expense reporting process.

Looking for a detailed comparison of Expensify and other top expense management platforms? Check out our free report on the Top 10 Travel and Expense Management software to review leading solutions side by side.