The 5 Most Important Features of PSA Software
In today's fast-paced world, we're all trying to maximize our time — no one wants to settle for manually performing tasks that technology can complete more efficiently. And if you're a services-based professional who relies on keeping time, monitoring resources and recording project progression, odds are good you have a lot of tasks that fit this category. You can end up wasting hours just chronicling client-related activities — and that's on top of executing the service you've been hired for.
Luckily, professional services automation (PSA) software exists to help businesspeople like lawyers, auditors and consultants catalog all billing-related expenses and tasks without relying on manual entry. As the name suggests, a PSA solution will help automate many of your most tedious and time-consuming tasks, freeing you up to focus on your clients' needs.

Choosing the Right PSA Platform
As helpful as professional services automation can be, such an application is only as useful as the features included within. Invest in a professional services automation system that's missing one of the top features or provides tools optimized for a different type of user, and you'll only end up increasing your workload.
With so many platforms to choose from, finding the right fit for your business can be harder than you think. Below we go over the most important features of PSA software that you should be on the lookout for, ensuring you'll make an informed decision about your PSA software purchase.
1. Time and Billing

The staple of every PSA solution, time and billing features streamline the process of tracking time spent on a specific project, calculating the total hours worked and preparing invoices for clients. In addition to saving you from the hassle of manually logging hours in a spreadsheet, time and billing modules enable you to maintain detailed records of all client-specific activities by task, project, stage of completion and beyond.
Ideally your time and billing modules should include customization tools, allowing you to tailor your timesheets to your business and establish configurable billing rates. With PSA software you'll also gain a single location that contains details on all services rendered, which in turn helps streamline your time management and billing operations to ensure simplified and more efficient practices.
2. Oversight of Resources and Projects

Another core set of functions for the professional services industry, resource and project management help you monitor the progression of specific tasks and entire projects, as well as verify that your resources are being properly allocated. The value of resource and project management functions also extends beyond these activities; these modules can impact your projects' success and timing by maximizing resource utilization and overseeing project timelines.
Though these features come standard on most professional services automation tools, the level of comprehensivity offered varies by vendor. If your business has complex project needs and requires advanced customization, look for a PSA solution with an emphasis on top-quality resource and project monitoring. Alternatively, a business that seeks standard project and resource management capabilities but first-rate analytical tools should focus on a solution that reflects that balance.
3. Cloud Accessibility

In order to effectively manage your resources, projects and timesheets, you shouldn't rely on an in-house system that you must be at your office to access. A cloud-based PSA solution or hybrid model enables you to login, edit and review information at your convenience — whether you're about to meet a client or working from another location.
A solution with a mobile app will prove even more beneficial to on-the-go users, eliminating the need for users to re-orient a dashboard or site not optimized for mobile screens. When evaluating a PSA solution with a mobile platform, verify that the app in question includes comprehensive access to the platform, as opposed to offering a limited-access version of the full dashboard.
4. Project Accounting

Even if you plan to integrate your PSA solution with whatever accounting tool you use, having a built-in project accounting module will keep track of project-specific spending. With project accounting, you'll be able to provide the most accurate project quote to clients, monitor resource consumption and compare budget to actual spending costs.
Perhaps even more valuable, with a PSA-specific cost tracking tool, you'll gain access to customizable budget calculations, project-specific cost monitoring and drill-down budget and billing details. A standard accounting platform won't offer the same extent of actions that you'll find with project accounting, and you want to be sure that your company can adequately oversee all project-related costs.
5. Integration with Existing Systems

The ability to connect with your other software platforms — whether that's CRM, ERP, accounting or another system — is invaluable to the success of your PSA solution. This ensures that you won't spend time comparing or converting siloed data from one system to another, which could end up being as much of a hassle as manually tracking your services-related task data.
Yet another benefit to selecting an integrable PSA system is its ease of implementation. PSA software that's designed to connect with existing applications means an easier transition of processes — and likely a higher adoption rate among your employees as well.

Find Your Perfect Fit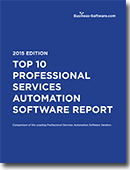 One thing to note with PSA software is that some products are developed for use in a specific type of scenario, such as ticket-based PSA, which is designed for services-focused businesses that are looking to prioritize ticket organization and progress. It's important to keep this in mind while shopping for professional services automation software.
If you're eager to start evaluating your options, check out our free Top 10 PSA Software Comparison report. In it you'll have the opportunity to peruse features, pricing details and deployment options of the leading PSA solutions side by side.
[Photo courtesy of Unsplash.]