All the Rage: Geo-Conquesting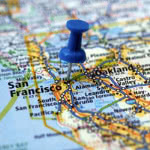 A Pew Research Study found that the average adult looks at their mobile phone 41 times per day. That number skyrockets to 109 times per day for young adults. People are actively involved with their mobile devices, no doubt about it. And it's no surprise that advertisers have caught on too, given the location-specific targeting opportunities that mobile devices afford.
In fact, geo-precision advertising (granular geo-fencing and geo-specific behavioral relevance) has increased from 27 percent to 58 percent of all national brand advertising campaigns employing some form of geo-location targeting, according to the Mobile Location Insights Report created by adX. The report also uncovered that the number of companies using geo-conquesting has increased to 32 percent of all campaigns in which some form of location-based targeting is being employed, up 10 percent from Q1–Q2, 2013.
The Rise of Location-Based Marketing
Geo-conquesting falls into the realm of location-based marketing, which basically entails sending highly targeted and relevant messages to an audience based upon their current location. Location-based marketing has been in the digital advertising mix for quite some time now and continues to grow in popularity with marketers. In fact, location-specific ads are projected to make up more than 55 percent of all mobile advertising spend in the next 4 years (BIA/Kelsey). Advertising centered around an audience's location has been used with great success for brand's with brick and mortar locations, especially when consumers are in the direct vicinity, ideally looking to make a purchase.
Even conquesting (attempts to steal demand from competitors) is not entirely new.  Consider how many companies will position themselves near their competitors (gas stations), or will purchase advertising space near that of their competitors (a smaller display buy below a competitor's much larger real estate, for instance), and even bidding on competitor terms within paid search advertising. These and many more tactics designed to poach interest from competitors have become standard within many industries.
How Geo-Conquesting Differs
What exactly is geo-conquesting and how does it differ from standard location-based advertising or conquesting competitor prospects? Geo-conquesting involves advertising directly near a competitor's location, oftentimes with a highly relevant offer or incentive to visit your establishment instead. In this sense, geo-conquesting is used essentially to steal competitor engagement just before the moment of purchase. Geo-conquesting can also be used in conjunction with hyper-local targeting (advertising to those within a designated radius of your location) or even to target someone that has been to a competitor in the recent past.
So how do these tactics stack up against standard location-based advertising? A Verve Mobile report found that the engagement with geo-conquesting ads was more than 30 percent higher than standard location-based ads used within a mobile campaign, further justifying the use of these tactics within local/mobile advertising strategies.
Is Geo-Conquesting Right for You?
How do you determine if geo-conquesting is right for you? According to the adX report, the top categories employing geo-targeting included restaurants, retail, financial services, travel and gas and convenience. Many of these categories include low-interest or grudge purchases, as well as those that are determined by convenience (location proximity, immediate need).  So if your brand falls within this grouping or if you offer a product or service for which there is a short window of consideration, chances are geo-conquesting is a good fit for you.  Also consider how close your competitor locations are to your own and how far you think the average person will be willing to travel for your offer. Don't forget: having a compelling incentive to abandon your competitor in favor of your brand is key here!
Even if you're not prepared to add geo-conquesting to your hyper-local targeting tactics, don't forget there's a good chance your competitors are. And staying on top of the digital strategies at the disposal of both you and your competitors is one of the best ways to ensure your brand stays relevant and timely when consumers enter that zero-moment of purchase.
If you're still looking for additional information on some of the other marketing software systems out there, try checking out our exclusive Top 10 Marketing Automation report. Additionally, pay a visit to the Business-Software.com marketing software resource page, the hub for marketing-related content from us and our network guest contributors.
[This post originally appeared on Asking Smarter Questions and is republished with permission.]