An In-Depth Look at Different Types of Manufacturing Software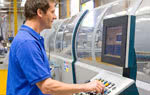 Manufacturing refers to the large-scale production of goods using labor, machinery, or other processes. Manufacturing software systems are designed as end-to-end solutions for facilitating the creation of these goods. They provide resources for managing the complex contingencies that arise at all stages of the manufacturing process, from the design and formulation of a product, through the tracking of its components, to its production, and quality control. When implemented, manufacturing software can increase the efficiency and productivity of a manufacturing operation and result in cost savings and significant ROI.
A few specific branches exist under the umbrella of "manufacturing" based on the types of goods being produced, and the way in which they are created. For example, the manufacturing process that yields a chemical substance like pharmaceuticals, salt or soda, requires a vastly different approach from a materials and production standpoint than the process used to make a wrench, doorknob or lamp. Thankfully for manufacturers, software developers understand this, and as a result there are manufacturing software solutions that cater to these different approaches to manufacturing. Below we'll outline the main subsegments of manufacturing software, and point you toward some key vendors in each area.
Process Manufacturing
Process manufacturing is a branch of manufacturing that is concerned with creating products that cannot be broken down and returned to their component parts. The products resultant from these operations are "process" or formula-based, and include substances like peanut butter and dish detergent. Some vertical markets that employ process manufacturing techniques are the food and beverage industry, paints and coatings, chemicals, pharmaceuticals, and textiles. Process Manufacturing Software vendors to consider: Infor, IFS, Microsoft, Syspro, Aptean.
Discrete Manufacturing
Discrete manufacturing refers to operations where the manufacturer works off of an order to create a physical product (think widget) on behalf of businesses or consumers. These products could in theory be disassembled. Examples of the types of products generated through discrete manufacturing are toys, household appliances, consumer electronics, and computers. On the larger side, airplanes and automobiles are also created through discrete manufacturing. Discrete Manufacturing Software Vendors to consider: Visibility, Plex, High Jump, SAP, Aptean, and Shoptech.
Hybrid Manufacturing
Hybrid or mixed manufacturing environments are those where the controlling company engages in both discrete and process manufacturing activities.
Job Shop Manufacturing
A job shop is a small manufacturing facility that does custom fabrications of batch orders for midsized clients. They usually engage in discrete manufacturing operations, picking up jobs for new clients at the conclusion of each job. This varies from a facility that continuously produces a standardized product, like the manufacturing facility that creates Boeing jets. Job shop manufacturing vendors to consider: Epicor, Fitrix.
Key Differences
Process and discrete manufacturing operations have differing demands from a software standpoint, but before we get into the differences let's look at where the solutions overlap.
Both types of manufacturing software supply fundamental accounting features like general ledger, accounts payable, and accounts receivable. They offer the ability to create sales and purchase orders, and provide bank reconciliation features. According to manufacturing software consultant Nancy Phillippi, where the differences start to arise are in the inventory and bill of materials features.
"Process manufacturers require formulas/recipes, containers and labels for their bill of materials. They need pounds, gallons, ounces, liters, milliliters, grams, etc. Discrete manufacturers need eaches, perhaps lengths of material too such as like wire in a roll and/or by the foot. Most discrete software packages do not understand a conversion of pounds to gallons, or a liter to an ounce and nor are they able to use this same conversion factor on a bill of material."
Process manufacturers require lot traceability features, whereas this function is less important to discrete manufacturers. For instance manufacturers that create products governed by the FDA must be prepared to trace ingredients back to their sources. In the event of a recall, the manufacturer of say, grape jelly, must be able to tell the FDA the origin of the suspicious grapes to prevent their distribution to other jelly manufacturers, and lot traceability provides this ability.
Want more information on process manufacturing software? Browse product reviews and top blog posts on the manufacturing research center page. If you're ready to find the best solution for your manufacturing company, check out our five free manufacturing reports, where we compare leading products by pricing and key features.