Avoiding Unpleasant ERP Surprises: An IFS White Paper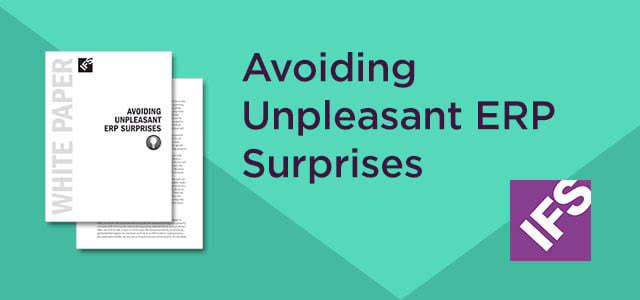 As noted in our recent infographic covering the state of the enterprise resource planning (ERP) software market in 2014, most businesses are still not realizing the benefits of their chosen ERP solution. While a number of factors can contribute to a failed ERP deployment, companies can utilize a variety of positive strategies to ensure that ERP implementation occurs smoothly and efficiently.
In a recent white paper titled "Avoiding Unpleasant ERP Surprises," IFS describes some of the strategies companies should use to successfully implement their ERP software. These best practices come from years of experience building and implementing software, and when used correctly, they can vastly improve the outcome of any ERP implementation. As best said by IFS, while not all bad ERP implementations result in faulty products, "sloppy deployments can impact a company's most crucial processes, from accurate costing to customer satisfaction." Here are some of the top suggestions that you can use to make the most of your ERP implementation and avoid unpleasant surprises.
Don't Skimp on the Education Stage
Top ERP vendors like IFS know that being fully prepared before ERP implementation is a key indicator of whether or not your ERP implementation will be successful. IFS knows from experience that a company must properly educate its employees so that all locations and departments are on the same page in terms of recognizing corporate goals.
Pre-implementation education must occur at three different levels: within top leadership, among all tiers of management and personnel, and among everyone from the top down. By ensuring that each of these important sectors of your business are on the same page, you will have a better chance of achieving company-wide objectives and avoiding late-in-the-game mistakes. Maintaining open lines of communication throughout the implementation enhances the company's ability to react to implementation issues without getting off track.
Follow the Right Leader
While all levels of a company must have some involvement in implementing a new ERP solution, not all of these individuals will have an equal role in the process. According to IFS, businesses must rely on competent, knowledgeable leaders that can effectively guide implementation. These leaders must deeply understand the company's business processes and objectives, and recognize how the ERP project will work toward achieving said business objectives.
The leader of your ERP implementation must also be willing to ask the right questions, beginning with asking employees, "What do you need to succeed with this project?" An open, ready-to-learn attitude will help leaders remain eager and optimistic about the state of the ERP implementation. With a strong leader guiding your business, you can expect a smoother, more targeted approach to implementing your ERP solution.

Download Now: Avoiding Unpleasant ERP Surprises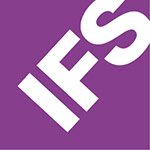 Despite the overwhelming supply of resources on making the most of your ERP implementation, most companies will not be satisfied with their new enterprise resource planning system. In fact, in a three-year study, 66 percent of businesses received less than 50 percent of the measurable benefits they anticipated. Yet by arming yourself with the right information (and putting it to practice!), your business can be one of the few that benefits from a smooth, efficient implementation.
For more information on proven ERP implementation practices from IFS, be sure to download the free whitepaper "Avoiding Unpleasant ERP Surprises." Here, you'll find additional implementation tips and best practices, examples of companies who made the most of their ERP software, and more information on the risks that you will face if you choose to rush through your implementation.