Battle of the Tech Titans: The Oracle Lawsuit Wars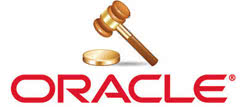 When people think of business software, Oracle often comes to mind. A leader in both computer hardware and enterprise software systems, Oracle is the third largest software provider by revenue, behind Microsoft and IBM. Prominent solution offerings include extensive product portfolios for enterprise resource planning, supply chain management, and customer relationship management software.
Oracle's place in the business software world is prominent. This prominence, while helping Oracle maintain its position as a leading software provider, also means that Oracle has had its fair share of bad press and legal wrangling with other software and technology titans. Recently, Oracle has managed to stay in the headlines, not for its product offerings, but for numerous lawsuits against other tech giants.
Oracle vs. SAP
In March 2007, Oracle filed suit against TomorrowNow, a subsidiary of SAP. TomorrowNow was a third-party technical service and support provider for enterprise software systems, including such systems as PeopleSoft and JD Edwards.
Acquisitions and mergers abounded, with SAP moving to acquire TomorrowNow in 2005 and PeopleSoft acquiring JD Edwards in 2003, and later Oracle acquiring PeopleSoft in 2005.
When did the trouble between SAP and Oracle begin? According to the suit filed by Oracle, SAP undertook "corporate theft on a grand scale," claiming that SAP had "stolen thousands of proprietary, copyrighted software products and other confidential materials." How did this happen? According to Oracle, TomorrowNow illicitly accessed Oracle's Customer Connection technical support website, downloading documents, programs, and other copyrighted support material.
SAP didn't deny that TomorrowNow had used customer credentials to gain access to Oracle software and support documentation. However, they argued that TomorrowNow had a right to do so since those customers had contracted TomorrowNow to provide third-party support for their Oracle solutions.
A jury awarded Oracle $1.3 billion in its suit against SAP—the largest copyright infringement award ever given by a U.S. jury. However, a federal judge overturned the ruling and reduced the amount to $272 million, while also granting SAP the chance to hold a new trial over damages.
This is not the first time Oracle and SAP have clashed. Recently, both companies have gone head-to-head in a database war, pitting SAP's HANA against Oracle's Exalytics. Both of these vendors offer in-memory database solutions that promise faster query times and both are heavily competing to gain the majority database market share.
The growing database solution segment appears to be just another area where these two giants can battle for software supremacy.
Oracle vs. HP
SAP is not the only software titan that Oracle has done battle with. HP, a leading provider of hardware and software products and services also took Oracle to court, suing the company after its announcement that it would cease software development for the Intel Itanium microprocessor, an integral component used in many of the enterprise servers HP provides.
How did this dispute come about? In 2010, former HP CEO Mark Hurd became Oracle's new Co-President. HP promptly sued Hurd for breach of contract and this suit was settled after both parties agreed that Oracle would "continue to offer its product suite on HP platforms…in a manner consistent with the partnership as it existed prior to Oracle's hiring of Hurd."
This so-called "Hurd Agreement" is at the heart of HP's lawsuit, which claims that Oracle is contractually obligated to offer its database and software for Itanium. Oracle argued that the Hurd Agreement does not make any claims to continue to port its software, middleware, or databases to HP's Itanium-based servers and that the agreement only covers personnel, rather than software porting.
In a bid to support its case, Oracle began a PR campaign that depicted Itanium as a dying breed and accused HP of planning to phase out Itanium in the first place.
Despite Oracle's arguments, a judge of the Santa Clara County Superior Court ruled in favor of HP, ordering that Oracle is required to continue to develop its products to port to HP's Itanium-based servers.
Despite initially being friendly software partners, tension between Oracle and HP grew after Oracle's acquisition of Sun Microsystems in 2010, effectively becoming a hardware provider directly in competition with HP. Tensions only grew when Hurd jumped ship from HP to Oracle.
In this case, the judge ruled broadly in HP's favor, a decision that could affect how future software partnerships are carried out between vendors, with many analysts predicting that future agreements between software providers will be more carefully handled with an explicit start and end date.
Oracle vs. Google
Oracle does not limit its legal suits to other software companies. Earlier this year, Oracle and Google, the search engine giant, fought a court battle over Google's use of Java APIs in their Android development. Java was developed by Sun Microsystems, which was later acquired by Oracle. Google acquired and continued to develop the Android platform in 2005, using some Java technologies in its development.
In 2010, Oracle sued Google for copyright and patent infringement over the Java code used in the Android mobile operating system. At issue was whether Google had infringed 37 Java APIs in developing Android OS. Ultimately, a California jury found that Android did not infringe Oracle's patents and the judge ruled that APIs do not fall under copyright protection, delivering a victory for both Google and the Android ecosystem.
Java was originally created by Sun Microsystems to be a free and open source technology. So, why is Oracle going to court over Google's use of the Java language? Some analysts surmise that Oracle is hoping to use Java to recoup its investment when it acquired Sun for $7.38 million in 2009. However, Oracle miscalculated their legal hand and at the same time may also have damaged its reputation within the developer community, who may not look kindly at Oracle's attempt to claim copyright over APIs, a move that implicitly calls into question the legal standing of computer languages and programming.
Is Oracle's Dominance Waning?
Oracle's legal woes have kept it in the spotlight–but may have done no favors for its public image. Coupled with growing customer weariness with paying costly maintenance fees for its solutions and an increasing shift towards cloud-based software, Oracle may be failing behind in innovation. Though its large market share and extensive product portfolio will keep Oracle from falling into irreverence, newer, nimbler, and niftier solutions that incorporate innovative technologies may chip away at Oracle's dominance in the enterprise software space.
What do you think of Oracle's legal woes and its standing in the enterprise software market? Share your thoughts in the comments section below.
If you're looking for more insights on the ERP industry and other facets of the enterprise software world be sure to check out the full selection of blog post on our News & Trends section.